- New details of the gruesome murder of Eunice Elisha, a deaconess with the Redeemed Christian Church of God (RCCG), have emerged
- "I then turned back and saw that part of my wife's body was covered. So we began to cry, I even fell and they carried me into the station."
Forty-two-year-old Eunice Elisha, an indigene of Ekiti state, a pastor with the Redeemed Christian Church of God in Kubwa and a mother of seven children, was killed with a machete by suspected Muslim fanatics on Saturday, July 9, in Abuja.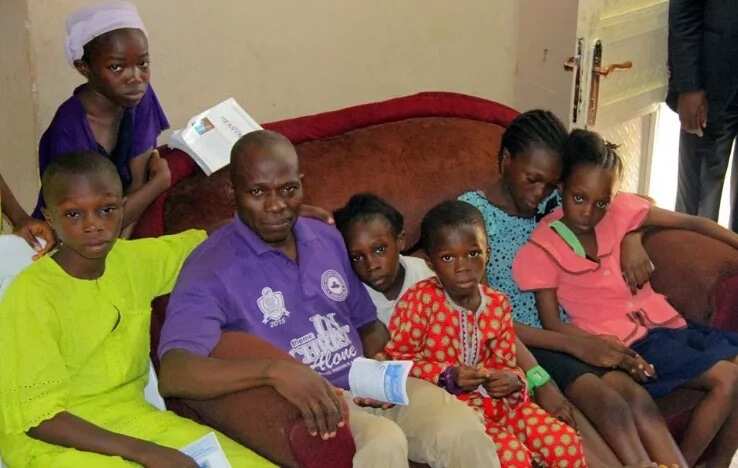 Her distraught husband Olawale Elisha tried to recall all the details of that fateful day while giving an interview to Premium Times in their family house on Monday.
He said: "It was about 6: 30 to 7am. I was in bed, but I had woken up, from sleep. My children approached me and said that some footballers were discussing about a woman who was killed while she was preaching."
READ ALSO: BREAKING: Adeboye makes move over death of RCCG pastor
The man immediately rushed to his phone and began calling his wife but her phone was switched off.
"We (Olawale and his daughter) strolled down to the place, about two or three hundred meters away from our house and we saw people gathered. We passed through the place where she had been murdered, but we did not know. 
We came back again and saw a police man. The officer confirmed what we had been told but said we should go to the Phase 4 police station. At that time, my daughter whose name is Jessica was already crying, but I tried to cheer her up and told her that the murdered preacher could not have been my wife.
As we were entering the station gate, we saw a police van coming out of the station. My daughter looked back and saw something at the back of the police van and suddenly she cried.
READ ALSO: Religious intolerance, hate fingered in death of RCCG pastor
I then turned back and saw that part of my wife's body was covered; from the chest upward. So we began to cry, I even fell and they carried me into the station."
Stricken with grief the man somehow managed to drive back home, where six other children were waiting for news about their mother.
Eunice and Olawale love and life story
The loving couple met nearly two decades ago when they were members of a Christian students' fellowship of the Christ Apostolic Church in Kubwa. The man served as the youth president, Eunice was the group's welfare officer.
Olawale has some difficulties with finding a job thus the duo had to postppne their wedding until July 2000. Since then they lived happily together and were blessed with seven children.
READ ALSO: Killing of Abuja preacher sparks outrage
Mr. Elisha has described his wife as the family's "lifeline, a great giver and a benefactor to everyone around her". Eunice spent most mornings preaching around their home at Gbazango, a backwater area of Kubwa.
More details on Premium Times.
Source: Legit.ng