Fulani herdsmen attacks: Catholic bishops appeal to Buhari
- The Catholic Bishops Conference of Nigeria called on the federal government to build cattle ranches in states where cattle rearing is prevalent
- The bishops also urged President Muhammadu Buhari to investigate the recent attacks by herdsmen and declare the perpetrators of the attacks, insurgents
- The CBCN commended Buhari who restated his administration's resolve to deal decisively and expeditiously with the continued attacks on communities across the country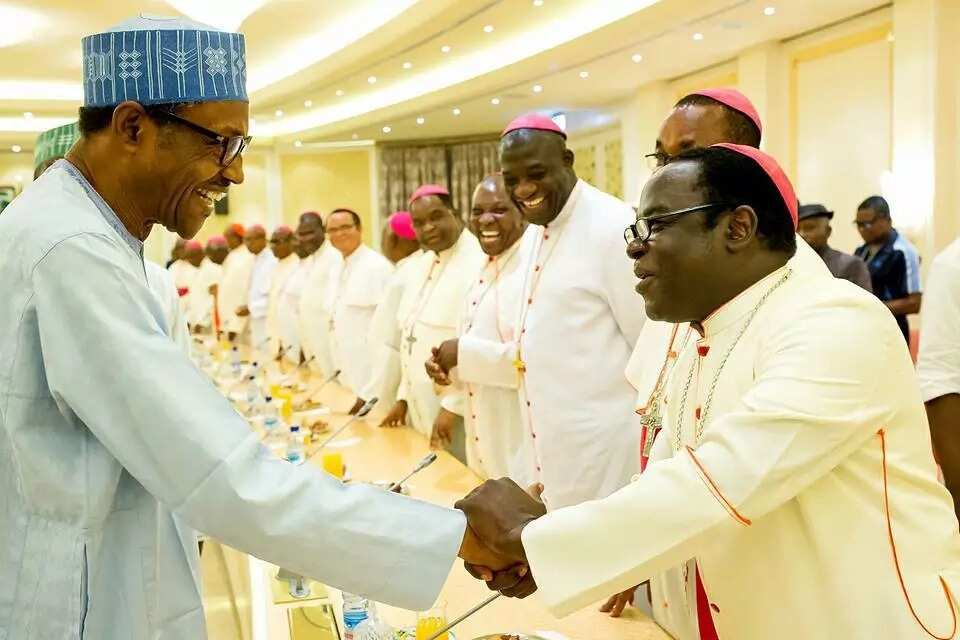 Catholic Bishops urged the federal government to build cattle ranches in states where cattle rearing is prevalent.
Premium Times reports that a delegation of the Catholic Bishops Conference of Nigeria (CBCN) stated this during a meeting with President Muhammadu Buhari at the presidential villa in Abuja.
In his speech, Ignatius Kaigama, the leader of the delegation and the Catholic Bishop of Jos Arch Diocese, called on the president to investigate the recent attacks by herdsmen and declare the perpetrators of the attacks, insurgents.
"Cattle ranches should be created in states known for cattle breeding, with adequate water and fodder provided and nurtured.
"Farmland for root crops and other plants should be protected for their specific products in states known for such.
"This will reduce or eliminate clashes stemming from trespassing," he said.
READ ALSO: Catholic Bishops declare support for PMB, read what they say
Stressing  that Nigerians should not live in perpetual fear of attacks by fellow citizens, Kaigama called on the government to focus on disarming herdsmen.
"The fact that armed attacks and wanton killings have become a national threat, it should be declared an insurgency and treated as such, with the aim of dislodging the insurgents from occupied communities by the security and military operatives.
"Our people cannot continue to live in perpetual fear of attacks by fellow Nigerians with criminal intent," he said.
Kaigama commended Buhari who announced that his administration would deal decisively and expeditiously with the continued attacks on communities across the country.
The CBCN leader called for serious approach towards the investigation into the Agatu and Nimbo killings.
"The Agatu killings, the Nimbo killings and many other killings in Benue, Taraba, Nassarawa, Ondo, Edo, Delta and elsewhere should be seriously investigated, with the perpetrators unmasked and decisively dealt with.
"For a more permanent peace between herdsmen and farmers in our country, some streamlining is necessary for the good of the cattle rearers in the North and for the welfare of farmers in the South and elsewhere in Nigeria," he noted.
READ ALSO: Declare Fulani herdsmen terrorists – Muslim group asks FG
Meanwhile, one of the Fulani herdsmen who allegedly participated in the Enugu massacre has made shocking revelations in police custody.
The suspect confessed that over 100 Fulani herdsmen were recruited for the Enugu attack, after being invited from over six states from across the country. He added that two days before the attack, they all gathered in a community in Kogi and perfected how they would ex­ecute the attack.
Source: Legit.ng