6 Nigerian politicians who married wives outside their religion (photos)
Aside from their political side, quite a lot of people do not know that these Nigerian politicians got married to women outside their faith.
Well, they have been able to manage their social-sphere, political ambition alongside family front, without allowing religious conflicts. In no chronological order, Legit.ng brings to you, top Nigerian politicians who married women outside their religion.
1. Governor Ibikunle Amosun
The Ogun state governor, Senator Ibikunle Amosun, and his beautiful wife, Olufunsho, got married 26 years ago and, if no one told you, you won't know they were not of same religion. In a recent interview with the 51-year-old beautiful wife of the governor, she explained how easy or difficult it was to get her parents approval to marry the governor who is a Muslim while she is a Christian. She said: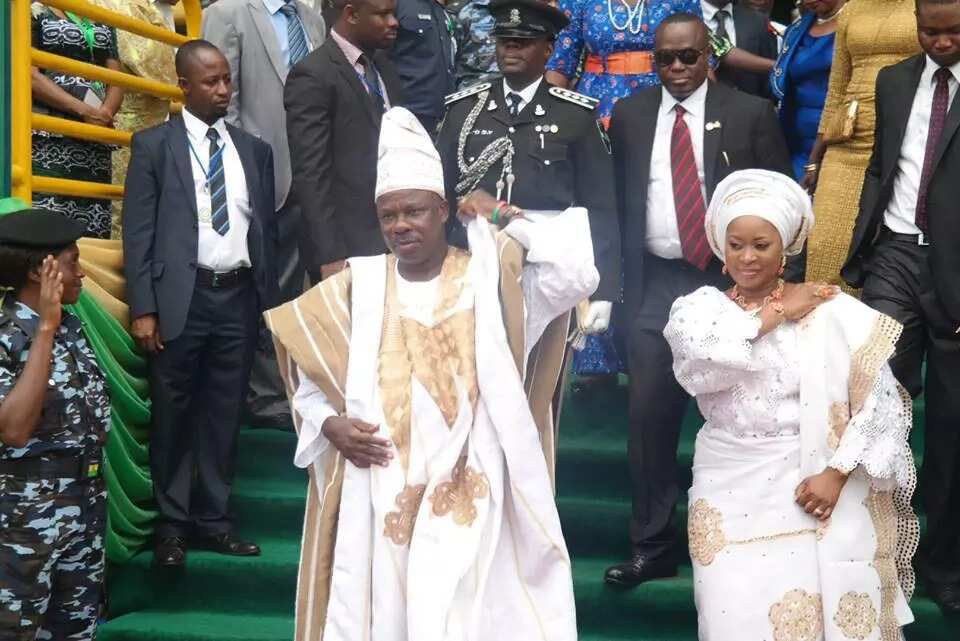 "That is a big one. I had to ask my parents I first asked my mum whether she would allow me to get married to a Moslem; She asked me if I had told my dad? And I said no. And she gave me a mischievous smile and look Very good. But today my mother and my husband are the best of friends. And at times I get my pound of flesh back sometimes when I tease her, when they are talking and discussing I will say mischievously: Ahh! Moslem lo fe fe (meaning ah! You want to marry a muslim) which was what she said to me at the beginning.
"She will now say, yeah! You are just lucky. Through the glory of God that sort of worked itself out. When I told my dad he said ahh! Let's pray about it. He is a Bishop. Somehow, my dad and my husband hit it off very well. The thing about it is having faith in God. My husband is even more religious than I am. He truly believes in God. He has faith in God. You need to have faith in God that all things are possible. He is so committed to God. He always tells God in prayers that I believe in You and You are going to do this for me and You see time and time again other things manifest.
"He has helped me strengthen my fate in God because I know my husband does not believe in any her thing other than God. He just made my faith in God so easy because I could see that God has never failed him. I have faith in his faith. I started off by having faith in his faith. I have faith in his faith to God. And that just made it so easy for me. I pray the Muslim way because we are a very close knit family. In the beginning, I will tell my children, Oya it is time to pray. They will now ask. Mummy, so how come you are now praying with us? Does it mean Daddy's God is different from yours? Does it mean Daddy's God is not a good God? Questions upon questions. So, I had to join."
2. Asiwaju Bola Tinubu
In a world where marriages of popular Nigerians are crashing, this couple just keeps waxing stronger! And did you know that Asiwaju is a Muslim while his beautiful wife, Oluremi, is a Christian? Now you know. They have been married for about 30 years. In a recent chat, the down-to-earth wife of the All Progressives Congress (APC)'s national leader said: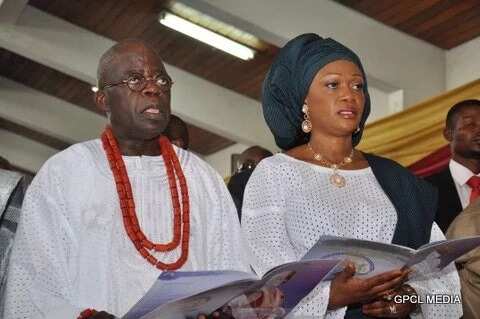 "He has always called me Remi, but now, he calls me mummy and I call him daddy. My husband is very down to earth and not the lovey-dovey type. He is a soft man, though he hides his emotions. On several occasions, he forgets my birthday. He even does funny things on Valentine's day because he knows I like Valentine's. But he would just come, analysing who Valentine was and all the story behind him to the extent that he messes the day up for me. Asiwaju would purposely forget my birthday. I was set in my ideas about marriage, but he made those ideas crumble in his own way. I would say that we have to be together on the 31st of December, because I had this funny belief that the first person one sees on 1 January is the person one would spend the rest of the year with. See how twisted I was! But it is different with this man. I have a lot of people who share him with me.
"It was not like that before he became a politician. He would always remember my birthday and other important events. We don't have a private life anymore because he is always surrounded by a lot of people. On some occasions on my birthday, I would just excuse myself and stay in my room, and he would leave the people quietly when it is midnight, to say happy birthday to me. He would come upstairs and pretend as if he wants to use the toilet or bathroom, just to make sure he doesn't miss saying happy birthday to me when it is exactly midnight. He knows how sensitive I am to such things. So, he tries to bend backwards in his own way. I believe there is a strong love between both of us and also subscribe to the saying that love suffers long and conquers all things. Even when I advise couples, I always emphasize that love endures and has to be made strong."
3. Babatunde Raji Fashola
The love story of a former Lagos state governor, Babatunde Raji Fashola, and his wife, Emmanuella Abimbola Fashola, is a spectacular one! The couple got married at a Catholic church as she's Christian. Even after 22 years of marriage they still practice their different religions, and their children practice both.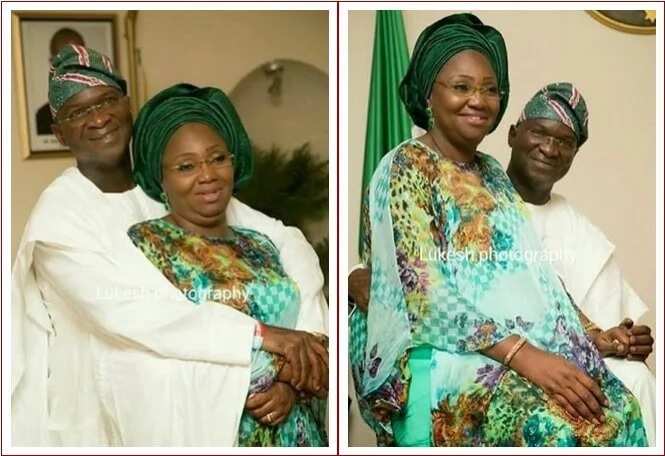 "But ever since then my husband has practiced his religion and I have practiced mine. There is no trouble whatsoever. My husband has his own part of the house where he prays, I have my own altar there with my crucifix and my rosary and everything and everyone is minding their own business. When its time for family prayer, we pray. I pray mine to the name of Jesus Christ while he prays in Allah's name & the children understand all that. My children are baptized and they go to church. When he wants them to go to mosque with him they go to the mosque with him,'' Mrs Fashola said in one of her interviews in 2015.
4. Abdulfatah Ahmed
Kwara state governor's name suggests he is a staunch Muslim. He is married to a Christian, a deaconess - Deaconess Omolewa Ahmed. When asked how she feels being married to a devout Muslim, the blunt woman said:
''This is a tough question. I can say that it is the Lord who has been helping me. I cannot say this is exactly what I do or how I do it; why he has allowed me to be me. It is not me, but God who has been helping me. I will say it has been divine privilege to allow me to be me. I also try not to take him for granted, this is the only thing I actually consciously do because he has given me the opportunity. I try not to misuse it. Really, it has been the Lord.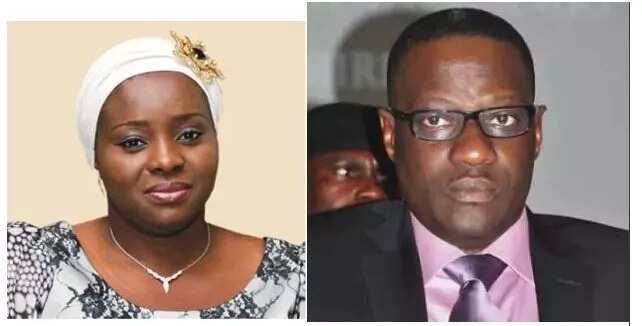 ''I met my husband at District Savings and Loans when I was having my one year attachment. I had my National Diploma at the Kwara State Polytechnic. Our courtship was about a year. My mum did not talk to me for the first five or six years of my marriage! We had our wedding at the registry. It was later that we had the traditional ceremony. At a point, she told one of my aunties that she was sure that my husband used juju on me! She couldn't believe that her Yetunde could choose to marry a Muslim. When I gave my life to Christ, I had a serious issue with my mum because out of ignorance, we were called 'SU' then which is Scripture Union anyway.
"To my mum, it was an abomination as she raked: ''I raised you as a Baptist, why were you fervent at your fellowship then? In fact, she went to report me in school a couple of times, until my principal said: 'Mama, be grateful to God. All the parents that come to report their daughters were those who sneaked out to disco parties'. Though my school then was against SU because all the orthodox churches saw SU as a movement that was going to cripple their children. To cap it all, I then brought home a Muslim as my fiance. She couldn't come to terms with it.''
5. Olusegun Rahman Mimiko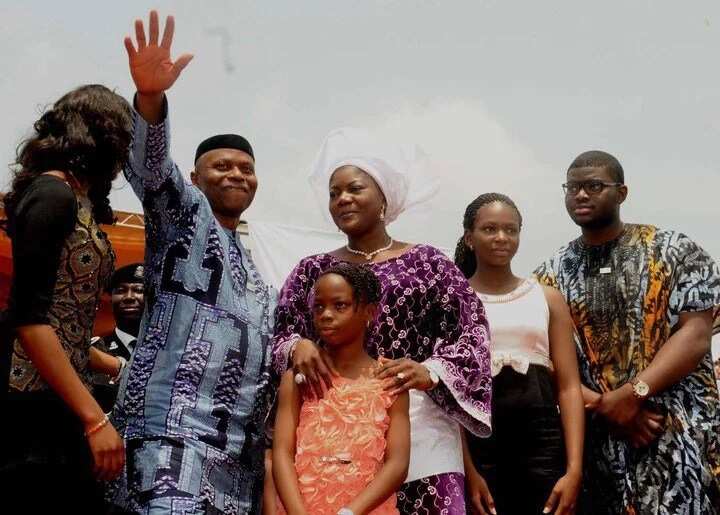 Ex-governor Mimiko's marriage to Olukemi keeps waxing stronger despite the religious difference. Mimiko is a Muslim, while his beautiful wife is a Christian. They are blessed with 4 kids and their life as a couple is going just perfect. Although a little scandal rocked the marriage sometime back, they are fine as a family and they keep on going stronger!
6. Abiola Ajimobi
Governor Abiola Ajimobi of Oyo state is married to a beautiful Benin-born Nigerian woman, Florence.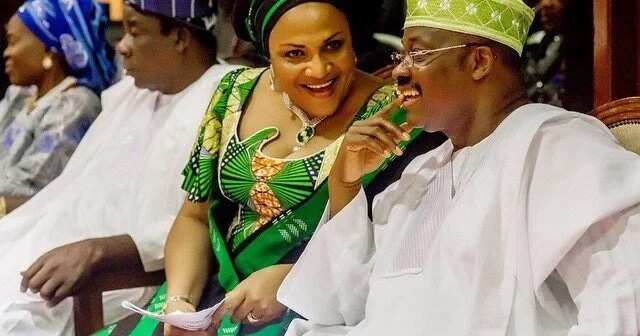 Those who know the First Lady will tell you that one of her most striking features is her love and respect for family. Mrs Florence Ajimobi has very strong family values which help drive her passions and to a large extent define what she is about. No wonder the couple have responsible, hard-working and God fearing children. Together they share a vibrant and happy home, filled with warmth, laughter and love.
Mrs Florence Ajimobi is a devout Christian and deeply committed to the things of God. She has the fear of God in her, which characterises her dealings with all and sundry. Though quiet and reserved by nature, The First Lady has a fun and sociable side to her character. She is a member of The Bodija Lion's Club, where she rose to become President in 1996.
Source: Legit.ng