BREAKING: Troops attacked by Boko Haram at Kareto
- The Nigerian army has successfully repelled an attack by the Boko Haram sect
- Men of the 113 battalion have been attacked by Boko Haram insurgents
- The jihadist allegedly attacked the Nigerian troops at Kareto, in the early hours of the day
- About 30 terrorists killed with several others injured
- Twenty-four soldiers have also been reportedly injured following the clash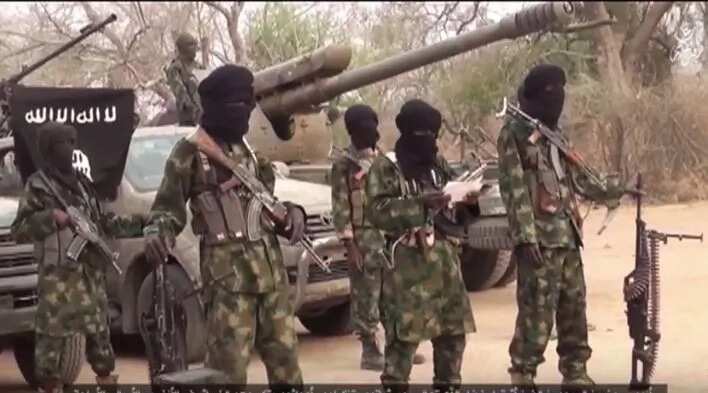 The Nigerian troops have successfully  repelled an attack by Boko Haram terrorists who attempted an incursion into  113 Battalion at Kareto northern Borno state.
According to Colonel Sani Kukasheka Usman, acting director army public relations, the timely response of the troops involved air cover as more reinforcement were deployed to restore calm while mopping exercise was carried out.
READ ALSO: Prophets at war: TB Joshua attacked by Ghanaian prophet
Colonel Usman had earlier stated on Monday, April 18, that  Boko Haram terrorists attacked troops of 113 Battalion at Kareto  Northern Borno state.
Vanguard reports that 30 Boko Haram terrorists were killed while scores escaped with gunshot injuries.
About 24 soldiers were injured, the military said in an e-mailed statement.
"All of them have been evacuated to Military Hospital Maiduguri where they are receiving treatment," the acting military spokesman said in the statement.
"The troops successfully repelled the attack and killed quite a number of the terrorists."
Now in its 7th year of violent operations in a bid to impose its version of Islamic law in Nigeria, Boko Haram has seen to the death of about 20,000 people; leaving 2.3 million others displaced from their homes.
In 2015, it was ranked as the world's deadliest terror group, according to the Global Terrorism index.
On Friday, April 15, the Nigerian army killed 34 suspected members of the jihadist sect in clashes in Borno state. About 455 abducted people were rescued in that operation.
Source: Legit