Top 17 Things Buhari Said In Media Chat
President Muhammadu Buhari held his maiden presidential media chat today, December 30 in the Aso Rock villa in Abuja.
[article_adwert]
Buhari was often criticised for speaking on the crucial issues to foreign media during his frequent trips abroad.
The leader of the nation answered questions from a panel of journalists on a number of national issues. The president has given answers to some questions from Nigerians.
READ ALSO: Buhari Hosts First Media Chat
The panel of interviewers were Kayode Akintemi (Channels TV), Ngozi Anyaegbulam (Media World International), Munir Dan Ali (Daily Trust) and Ibanga Isine.
Legit.ng has compiled top 17 quotes of President Buhari: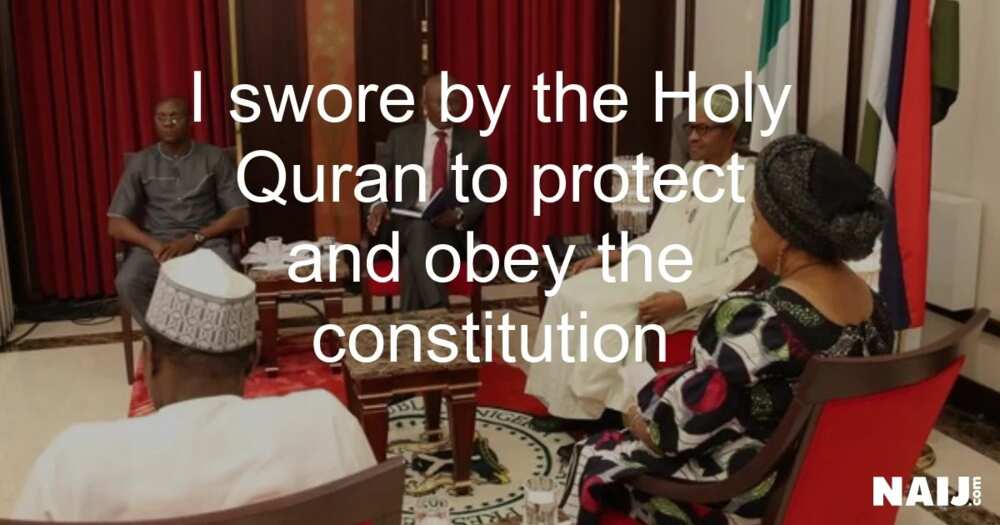 On Boko Haram, Chibok girls
1. "We are looking for a credible Boko Haram leadership that will convince us that Chibok girls are alive. Our priority is on orphaned IDPs to get them back to schools, resettle them and giving them hope."
2. "I am honest with you, I don't know whether Chibok girls are alive."
3. "If Boko Haram continues with suicide bombings, we might consider banning wearing Hijab."
On fight against corruption
4. "Thirty years ago as Head of State, we collected those we perceived to be corrupt and put them in protective custody, until they prove they were not guilty. At present, those suspected of being corrupt are innocent until they are proven guilty."
5. "Nigeria doing quite well in anti-corruption war, treasury looters will eventually end up in courts."
6. "Money has been recovered, whatever has been recovered we have to end up in courts."
7. "I swore by the Holy Quran to protect and obey the constitution, no one will be above the law."
READ ALSO: #PMBMediaChat: Top Eight Questions For President Buhari
8. "If you find any of my 36 Ministers with a corruption case in court name them so I can look into it."
On Shiite clashes with army
9. "I can not comment on the Shite crisis as I am a seating duck, I have to let investigations be."
10. "We have a system of investigation as a government and as the head of the federal government, I have to wait for official report before I comment."
On assets
11. "I have declared my assets four times in the past. You have the constitutional right to go to the relevant government agency to go and seek for it."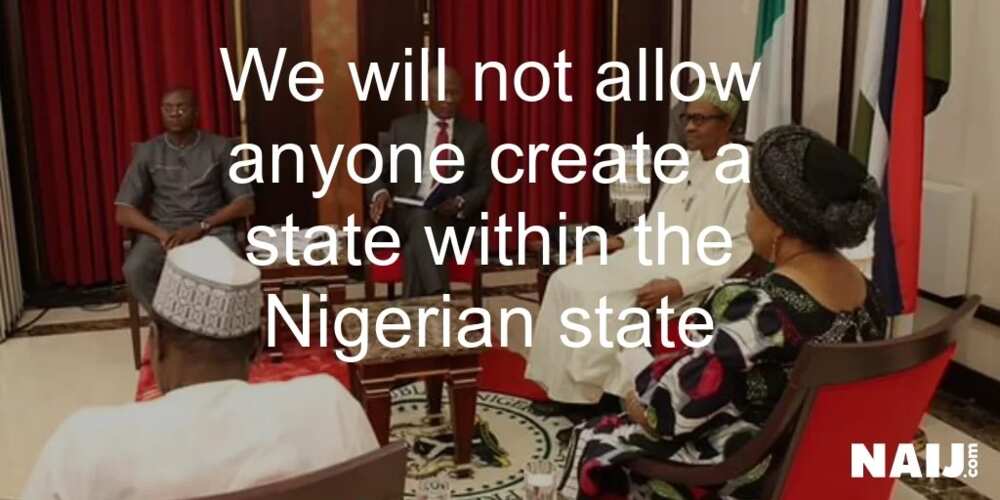 On Biafra issue
12. "We will not allow anyone create a state within the Nigerian state."
13. "There's a treasonable charge against Kanu and I hope the court will listen to the case against him."
On naira devaluation
14. "I need to be convinced. If you devalue the naira, against what? Dollar, sterling, yen, French Franc?"
On Dasuki
15. "If you see the kind of atrocities people like Dasuki committed you won't give them bail."
On minimum wage
16. "I assure you that Federal Government will not touch the minimum wage but we cannot determine what the states will do."
17. "We may have to send the young unemployed youth seeking N5k fee to farm to earn the money."
Source: Legit.ng