IPOB Announces Mega Rally In Lagos
The Indigenous People of Biafra (IPOB) has announced that the pro-Biafran activists will be storming Lagos, the largest city in Nigeria on December 16, 17.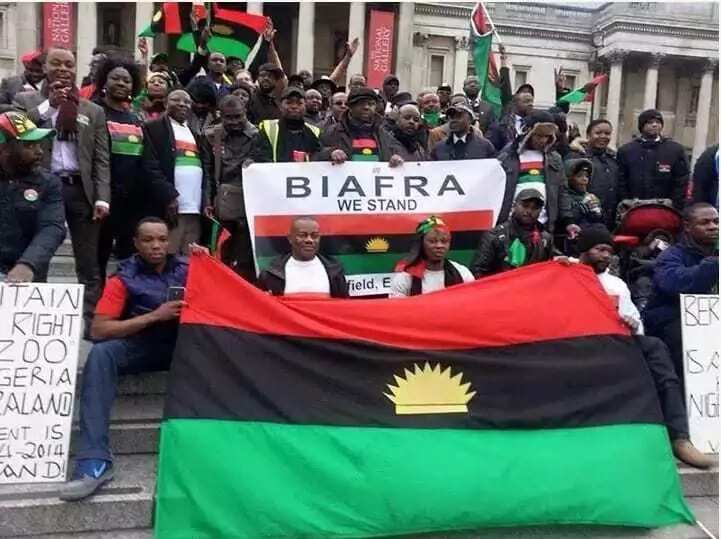 The group issued a statement on its Facebook page, saying that the rally will kick off on the morning of Wednesday from Alaba international market down to Mile 2 on the first day of the protest after making a stopover at Trade Fair international market complex.
The 2nd day of the rally the protesters will be visiting several Embassies and High Commissions in Victoria Island and Ikoyi axis of city to deliver the protest letter as well as Amnesty International and UN offices.
READ ALSO: IPOB Accuses APC Gov Of Onitsha Bloodbath
[article_adwert]
The group said that the aim of the protest is "the unconditional release of director of Radio Biafra, Nnamdi Kanu and all other Biafrans in the zoo custody as well as a right for self-determination."
"Biafra customized T-Shirts and other items will also be available for sale on first come first serve basis," it added.
"Thus all those residing in Lagos are enjoined to come out en masse as we intend to visit major part of Lagos, including World Power Embassies in Lagos. Remember our mantra 'Igwebuike' has always worked in our favour. "The zoo trembles whenever they see mammoth crowd of Biafrans surging relentlessly because they understand that the world is now focusing on them."
"In all of our efforts one thing is certain, Biafra must be restored in our time."
"All Biafrans and friends of Biafra are encouraged to join the rally. Please call your friends and relations in Lagos and neighboring states to join," the statement concluded.
READ ALSO: EXPOSED: Biafra Makes Secret Moves To Form A Government
Another peaceful protest on December 1 by the IPOB against the continued detention of Nnamdi Kanu escalated into a bloodbath when the Joint Military Task force clashed with pro-Biafran activists.
At least nine people have supposedly been killed and 18 sustained different degrees of wounds during a pro-Biafra protest in Anambra state.
Source: Legit.ng