Biafra Protests In Onitsha, Anambra state: Live Report
The protests embarked upon by pro-Biafra protesters in Onitsha have brought confusion, destruction and death to the commercial, cultural and religious centre of Anambra state today, December 2, 2015.
Legit.ng users who are currently present at the scene, and Arinze Esomnofu, Legit.ng columnist and freelance reporter, are providing live photos and reporting.
Yet another pro-Biafran protester was allegedly killed by the Nigerian Navy personnel deployed to the place of the ongoing unrest, contributing to the chain of killings as the protests are gathering pace. The victim was identified by Mr Esomnofu as Nkiruka Anthonia Ikeanyionwu, a 21-year old student of the Fedral College of Education UMUNZE from Adazi-Nnukwu, Anambra state.
READ ALSO: Dying In The Name Of Biafra: The Protests As They Are (Photos)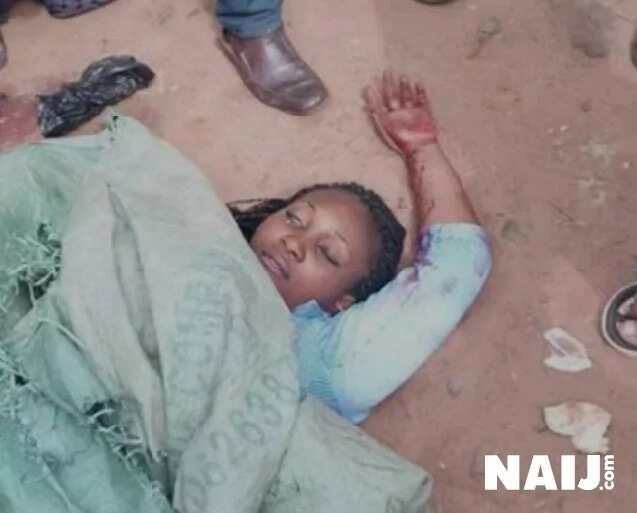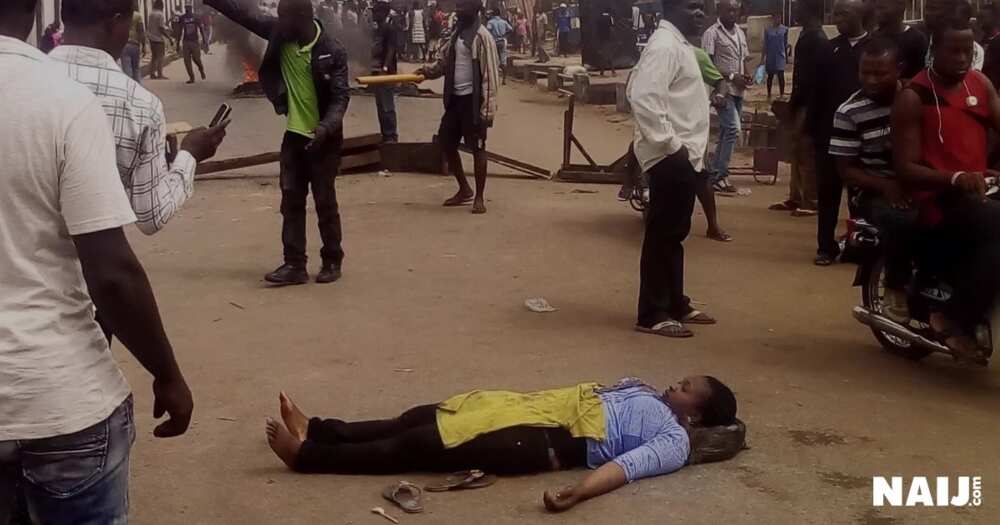 In the words of the witnesses the pro-Biafran protesters invaded the streets of the city yelling in unison: "Release Nnamdi Kanu or we all die". The ongoing unrest is accompanied by destruction of buildings and vehicles, the people sustain injures of different severity levels.
READ MORE: PHOTO: Pro-Biafra Protester Buried With Biafran Flag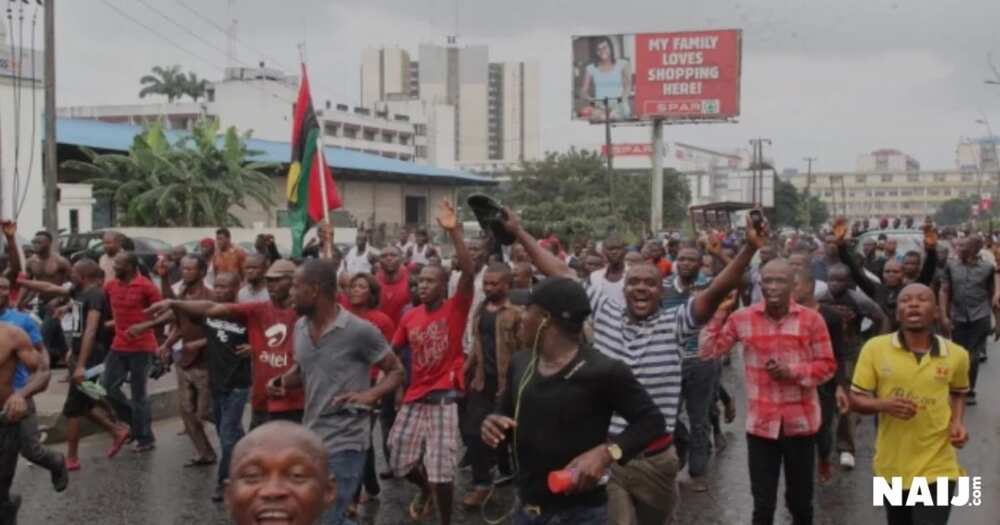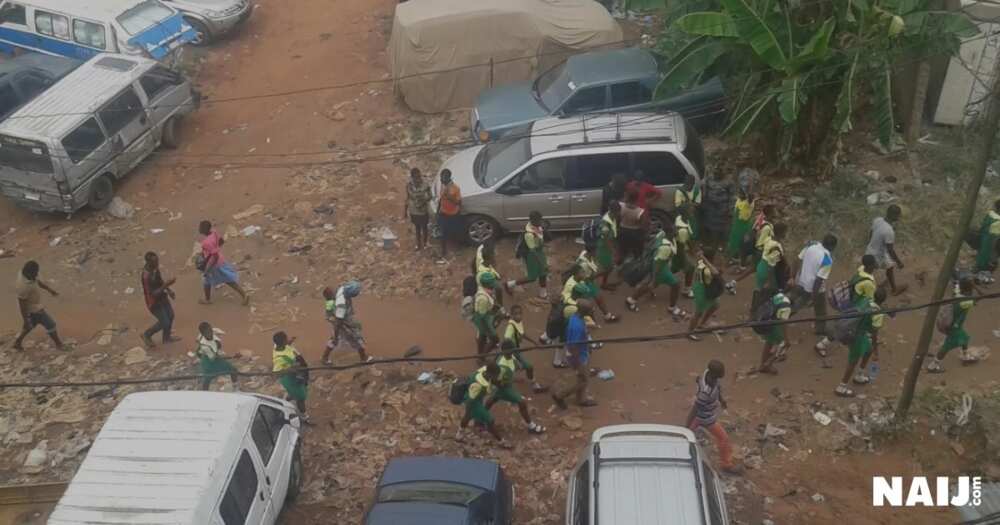 [article_adwert]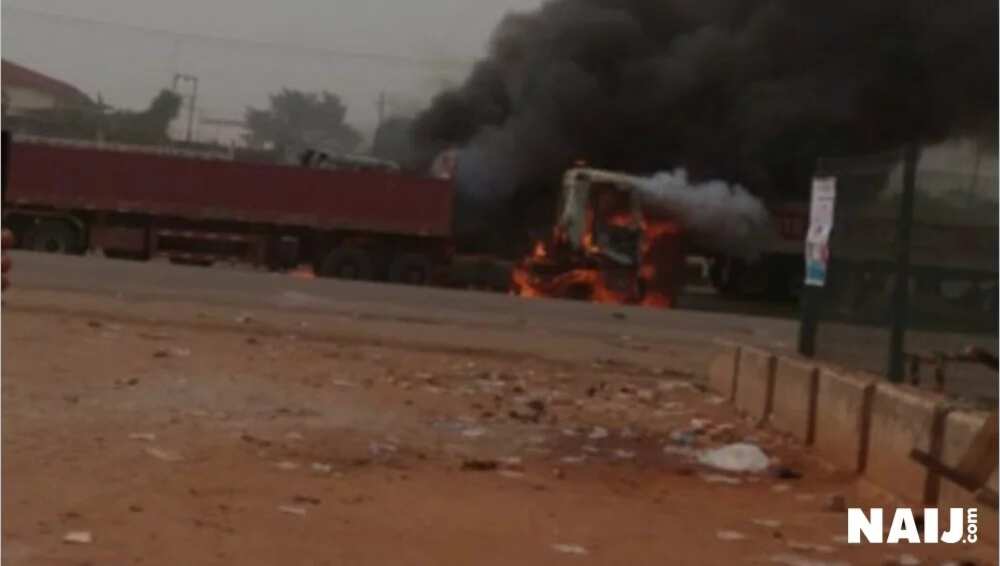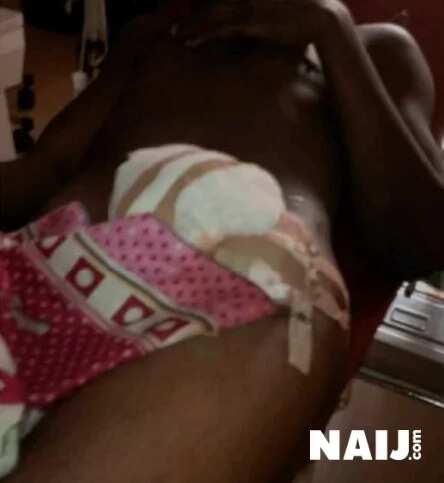 Witnesses caught the Onitsha central mosque enveiled by smoke on camera. The photo depicts fire on the premises of the mosuqe, however, it is not immediately clear if the building itself is on fire. A social media user, who submitted the photo to Legit.ng, claimed it was set ablaze by the IPOB/MASSOB members.
In an interview to SaharaReporters Alphonsus Okechuukwu, the police public relations officer, confirmed that the responsibility for burning the Onitsha mosque and at least six Dangote trucks lay with the IPOB and MASSOB protesting members. "MASSOB and IPOB are responsible for deaths and violence. They are holding people's emotions hostage and setting fires," said Mr Okechuukwu.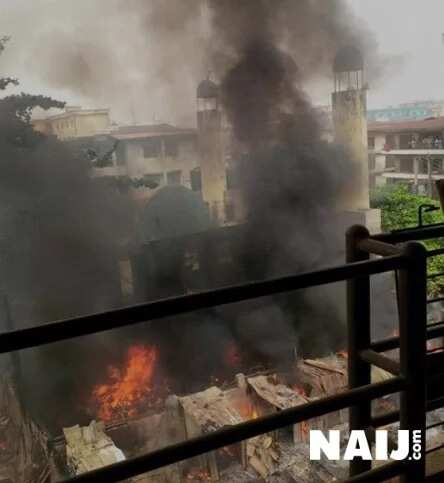 The encounter left about nine people dead: five at Niger Bridge Head, three at Obodoukwu Road, and a Suya meat seller, who died instantly after having been allegedly hit by a stray bullet, Vanguard reports. Alphonsus Okechuukwu told SaharaReporters that two of the killed were the police sergeants. At the moment we are aware of eight people, who are confirmed to sustain injures in the clashes between the police and the protesters.
Do you live in southern Nigeria? Witnessing an ongoing protest in your state? Your messages and photo-reports are welcome at info@naij.com.
Find us on Facebook and Twitter, subscribe to Legit.ng Facebook Opinion page!
Source: Legit.ng