Nigerian Army Warns Pro-Biafra Agitators
The pro-Biafra protests across the South East and South South have attracted the attention of the Nigerian Army.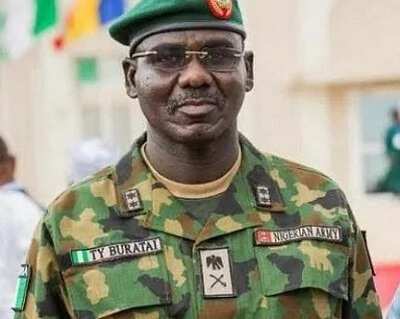 Speaking on the issue today in Jos, the General Officer Commanding (GOC), 3 Armoured Division, Major-General Hassan Umaru warned the groups against committing felony, Vanguard reports.
[article_adwert]
The GOC who hammered on the rules of engagement for internal security operations, noted that the constitution of Nigeria empowers the Armed Forces to suppress insurrection and to restore order when a situation is going out of hand.
READ ALSO: 10 Things To Know About Biafra And The Biafran War
According to Major-General Umaru, internal security operations include principle of minimum force and must be applied at all times.
He said: "The Nigerian Army would like to send an unequivocal warning to all and sundry, more specifically to all those threatening and agitating for the dismemberment of the country, committing treasonable felony and arson as well as wanton destruction of lives and property.
"Once deployed, we shall apply the ROE to the letter. It is however hoped that such circumstances would not arise that we should be deployed on such operations because, within the ambit of the law, we shall apply the ROE to the fullest.
 "It is the duty of an officer or soldier to ensure the enforcement of law and order in conjunction with other security agencies, troops are duty bound to intervene in any situation to avoid a breakdown in peace and stability of an area where they are deployed.
"It is inexcusable for troops to stand aside and watch security situation deteriorate and for avoidance of doubt, the rule of engagement for internal security operations include principle of minimum force and proportionality must be applied at all times.''
READ ALSO: 5 Things Igbo Leader Said About Biafra
The GOC also warned officers and soldiers not to take sides in any conflict adding that anyone found aiding and abetting any act of arson would be severely dealt with according to Nigeria's extant laws.
Meanwhile, the Arewa Youth Development Foundation (AYDF) has charged northern elders to take a stand regarding the ongoing pro-Biafran protests.
In a related development, a prominent Ijaw leader  has warned the federal government to avoid the use of force in their bid to stop  the protest by the pro-Biafrans.
Source: Legit.ng