CACOL Reveals Fashola's Sin In Fresh Petition To Saraki
The Coalition Against Corrupt Leaders (CACOL) on Saturday wrote an open petition to the Senate listing reasons why former Governor of Lagos, Babatunde Fashola, should not be confirmed by the Senate should his name pop-up as a ministerial nominee.
The Senate is yet to reveal the names presented to Senate President, Bukola Saraki by the executive arm of government on the last day of September, 2015.
And in a petition signed by the CACOL's Executive head, Debo Adeniran, in which they copied President Muhammadu Buhari and Speaker Yakubu Dogara, the group urged the senators to visit Lagos, as governed by Fashola, before screening and confirming him for any appointment as a minister.
READ ALSO: Ministerial List Will Be Released Before Midnight- Presidency
[article_adwert]
In the petition titled: 'VISIT THE LAGOS FASHOLA LEFT BEHIND BEFORE CONFIRMING HIS APPOINTMENT AS MINISTER; APPEAL TO THE NIGERIAN SENATE', the CACOL said Nigerians had been made to believe that President Buhari delayed the selection of his would-be ministers to enable him to bring competent and committed people on board as well as make a right decision.
"It would also be recalled that Mr. President had said that the would-be ministers would assist his administration to perform differently from the previous governments because Nigerians desired more than anything else.
"And as a result, CACOL as well as other well-meaning Nigerians were expecting a relatively new set of people with clean records of integrity and competency in public or private services to make the list.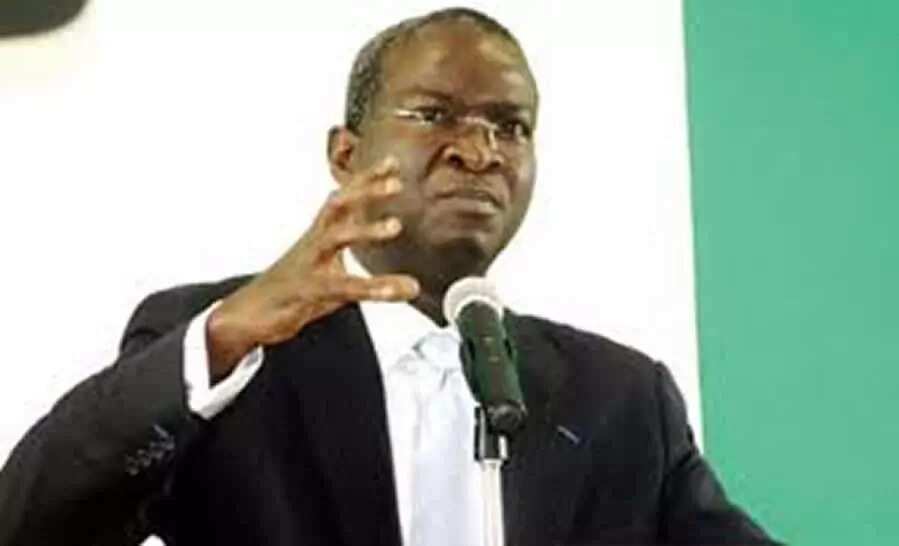 "Howbeit, if the rumour making waves in some quarters, which has also been confirmed by some sections of the media is anything to go by, we would say Nigerians' hope for a true change has been dashed with the inclusion of some names that in a sane environment should not appear on the list, if integrity and honesty are the basis of the selection criteria.
"We are therefore constrained at this point in time to bring to your attention our critical reaction to the rumoured nomination of the immediate past governor of Lagos State, Mr. Babatunde Fashola as a minister in the new government.
"While recognizing the President's constitutional prerogative and right to make appointments as deemed fit, the Coalition Against Corrupt Leaders considers it a service to the nation, by providing information that might be helpful to your ratification in that regard.
"It is gratifying that President Muhammadu Buhari, at various fora, having recognized the need to ensure that square pegs are put in square holes, had promise that his appointments would purely be on merit and that tested technocrats, with impeccable records, would be given their rightful places in his administration, as a way of ensuring good governance to the people of Nigeria.
"It is against this background that our Coalition is appealing to the Senate to please take the pains to dig deep into Mr. Babatunde Fashola's record of overall performance as well as that of financial propriety on the part of his government while in office.
"Going by our corporate policy, CACOL ordinarily does not react to speculations but given the grave implication of having to keep quiet, only to speak up after such appointment must have been ratified, would only amount to crying over spilt milk, we deem it necessary to use this medium to sensitize you on this development," CACOL said.
Stressing that the Coalition had never shirked its basic responsibility of blowing the whistle on issues centering on corruption in whatever form or guise in governance, it gave details of previous petitions it had written earlier as follows:
• February 3, 2010: To the EFCC and February 15, 2010 To the ICPC titled ALLEGATION OF CORRUPTION AGAINST LAGOS STATE GOVERNMENT: ICPC SHOULD INVESTIGATE – our reaction to THE PUNCH newspaper advertorial of January 28, 2010, under the title "The True Face of Lagos" on allegations of corrupt practices, signed by certain Mr. Kasali Martins and Dr. Tunde George who are Lagos residents, against the state government, which catalogued on a number of questionable claims of expenditure incurred by it.
READ ALSO: SHOCKER! PMB Allegedly Submitted Incomplete List To Saraki
• January 20, 2011: To the ICPC titled RE: ALLEGATION OF CORRUPTION AGAINST LAGOS STATE GOVERNMENT: THE ICPC SHOULD INVESTIGATE – REMINDER AND FURTHER ALLEGATIONS – our follow-up action to the above and a fresh reaction to the INSIDER WEEKLY newsmagazine edition of November 15, 2010 which alleged series of fresh allegations of financial impropriety against the state government.
• August 6, 2013: To the EFCC titled RE: ALLEGATION OF CORRUPTION AGAINST LAGOS STATE GOVERNMENT: EFCC SHOULD INVESTIGATE – REMINDER to the original petition of February 3, 2010 in which we made reference to the agency's earlier invitation to us to come and adopt the said petition; an invitation we duly honoured, and expressed our displeasure at what appeared petition be the utter neglect or slow pace at which the anti-corruption agency had handled the matter and urged it to prevail on its personnel to speed up actions on our request to thoroughly investigate the allegations raised in the petition, make its report public and subsequently prosecute those indicted accordingly.
• September 9, 2013: To the EFCC titled FURTHER REMINDER ON ALLEGATION OF CORRUPTION AGAINST LAGOS STATE GOVERNMENT: EFCC SHOULD INVESTIGATE: CACOL complained as it did earlier over the apparent inaction of the agency and reiterated its expectations as regard its request for expediency on the part of the latter.
• February 25, 2014: To the EFCC titled FURTHER REMINDER ON ALLEGATION OF CORRUPTION AGAINST LAGOS STATE GOVERNMENT: EFCC SHOULD INVESTIGATE: We once again expressed our dissatisfaction at the apparent nonchalant attitude of the agency so far on the matter.
• May 29, 2015: To the ICPC and EFCC titled IMMUNITY IS NO LONGER AN EXCUSE FOR NOT QUESTIONING FASHOLA. RE; CALL FOR COMPREHENSIVE INVESTIGATION INTO THE ALLEGATIONS OF CORRUPT ACTIVITIES AGAINST THE LAGOS STATE GOVERNMENT – FURTHER REMINDER: CACOL in its reminder, had detailed the series of its previous petitions to the agencies and had reminded both agencies that they owed it a duty to the nation and its people from whom the government derived its authority to governance, to expedite actions on the petitions as a way of acknowledging the people's right to accountability from those they elected to govern them. It further reminded the agencies that since the then governor of the state in person of Mr. Babatunde Fashola automatically loses the immunity privilege from the 29th May, 2015, they (the agencies) no longer have any excuse for withholding actions regarding investigation and prosecution as demanded.
READ ALSO: #NigeriaAt55: Buhari Addresses Ministerial List, 'Change' Issues
CACOL said it was noteworthy that Fashola had enjoyed so much accolades from the media for exemplary performance as governor during his tenure, but added: "we make bold to say that all the media hype was a mere publicity stunt as they do not reflect the reality on ground.
"In the area of infrastructural development, for instance, especially as it concerns road networks, we implore you not to rely solely on media reports but make further efforts at using the machinery at your disposal to make on-the-spot findings and assessment of the true state of things in the state.
"It would also be recalled that Mr. Fashola has also been accused of constructing his personal website with the taxpaying Lagosians' money to a tune of N78.3 million, whereas every IT person CACOL contacted put an over-bloated estimate of the cost of the website at about N6 million. We make bold to say that the N78.3 million website contract is a trademark of Mr. Fashola's administration.
"The website contract is an eye opener and lending credence to the allegations of the 'True Face of Lagos' where most of the contracts awarded before 2010 were said to have been immorally inflated by the regime of Babatunde Raji Fashola.
"If the former governor could be justifying the cost of his personal website, no matter what he uses it for, then there may be many more shenanigans to be unearthed by the relevant anti-graft agencies.
"It is therefore unheard of that a government that promises frugality and prudence would bring on board a man who is synonymous with obscene affluence. We believe that such a person would be a clog in the wheel of progress rather than a driving force.
"We must state here that we are not out to witch-hunt anyone; rather we are only serving as the voice of the voiceless and of course, the whistle-blower.
"We also would like to sensitize you to the spill-over impact that mass protests and petitions from relevant quarters that might trail such appointment if eventually made, may have on this esteemed administration; this is why we consider it pertinent for you to do the needful by engaging in the necessary in-house cleaning ahead of the exercise.
"We and other well-meaning Nigerians wish this administration success in your quest to bring about that comprehensive change that we have all been yearning for."
This recent whistle blowing may not be unconnected to recent reports which revealed that the former governor's name alongside some ex-governors, are on the list of ministerial nominees sent to the National Assembly for screening and approval.
Source: Legit.ng