MTN Project Fame West Africa Crowns Jeffrey Akoh For Season 8
Jefferey Ufedo Akoh is the proud winner of the MTN Project Fame West Africa season eight. He got a brand new SUV, five million naira cash reward plus a recording contract worth millions of naira.
[article_adwert]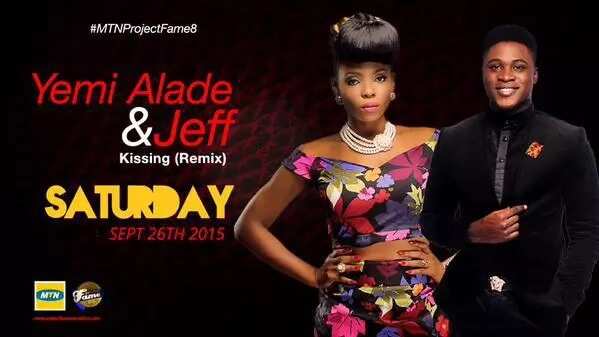 The sound engineer/ singer performed a remix of Kissing with pop singer Yemi Alade on Saturday, September 26 in a partnership project put in place by 960 Music and Ultima productions to help the contestants increase confidence, as well as get a hang of the happenings in mainstream entertainment.
READ ALSO: Nigerian Stars Perform At MTN Foundation Anniversary
Akoh outshined five other finalists (Ada, Arewa, Anderson, Deinde, Jeff, and Pearl) to clinch the prize.
He entered the Project Fame West Africa academy with voting number 11 and gave the competition a good fight through an 8week period that was soaked with tension, fun and pure talent.
In addition to his vocals, he had a positive mentality through the course of the show, and he showed this via his Twitter account.
On September 25 he tweeted: "Amazed by the support so far! Months ago I never imagined myself in this position. Grace alone has brought me this far!
"The winner of MTN project fame west Africa gets revealed this weekend. Only your votes can help me pull through.. Pls text 11 to 306 on mtn."
On the night he was announced winner of the competition; he had written these words earlier via his Twitter:
READ ALSO: Superstars Surprise MTN Project Fame Season 8 Contestants 
"Whatever happens this evening, please know that I appreciate everyone out there. Friends, family, and fans who have turned to family.
"I will sign out now.Hopefully when I come back here, I'll be reading your congratulatory messages. Am a winner! #mtnprojectfame8."
The 18-year-old singer who started music at a tender age draws inspiration from Chris Brown, Kim Burrell and Lawrence Flowers.
Source: Legit.ng