Emir Sanusi Married Adamawa Princess As Fourth Wife
The Kano Emir Muhammadu Sanusi II has married Sa'adatu Barkindo-Musdafa, the 18-year-old daugther of the Lamido of Adamawa.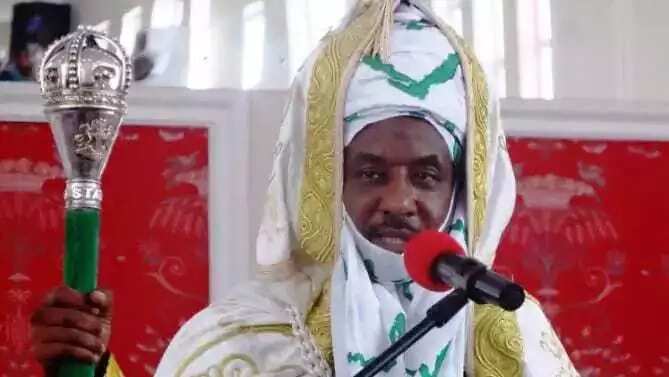 Premium Times' sources within the palace say the lowkey wedding ceremony was held in the Lamido's Yola palace on Friday, right after the Jumma'at prayer. Selected few dignitaries from across the country and Kano government officials have entered Yola in secret to avoid media attention.
Abdullahi Ganduje, Kano state governor, reportedly acted as the groom's guardian, with his Adamawa counterpart Jibrilla Bindow filling the same role for the bride.
A top Kano government official who was present at the wedding ceremony spoke to Premium Times about the event.
"His [Sanusi's] decision to take a new wife is in line with Islamic injunction," he said. "Islam allows having a maximum of four wives for those who can treat all of them equally and provide for a large family."
The marriage was also confirmed by another source within the palace, with the additional information that Sa'adatu is not to move in with the Emir immediately.
[article_adwert]
Also speaking on the issue, Dan'Almajiri Ibrahim, a social commentator, provided a history background for the practice of marrying a number of wives: "So, the engagement of the Adamawa princess to Emir Sanusi II may also be a move to deepen royal bond between Adamawa and Kano.
"You see, historically, both emirates have similar origins in the 19th Century Uthman Bn Fodio's jihad."
Emir Sanusi is currently away in Saudi Arabia where he is acting as leader of Nigeria's delegation to this year's Hajj.
Sanusi has three other wives: the daughter of the late Kano Emir, Sadyia, also Maryam and Rakyia. The 18-year-old Sa'adatu has recently graduated from a secondary school and has enrolled for advanced level studies.
Source: Legit.ng