Olu Of Warri's Brother Emerges King
The first son of the late Olu of Warri, Ogiame Atuwase 11, Prince Tsola Emiko has been disqualified from succeeding his father because his mother is not Itsekiri.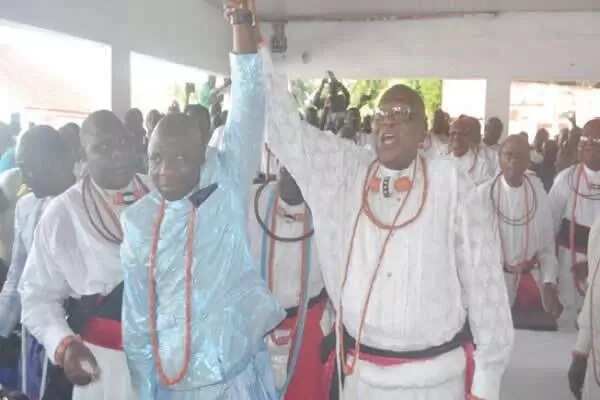 The Warri Traditional Council of Chiefs yesterday, September 19, officially announced the demise of Olu of Warri, Ogiame Atuwase 11, and declared Prince Godfrey Ikenwoli Emiko, as the new Olu designate, to be known as King Abiloye.
READ ALSO: Dogara Mourns Demise Of Olu Of Warri
[article_adwert]
Chief Yaya Pessu, Ojomo of Warri, representing the Ologbotsere (Chief Priest) of the kingdom, explaining the tradition, said: "By the tradition, a son who must succeed his father must be born of a mother who must not be outside of Itsekiri or Benin by birth, origin. This is a standing tradition and the son does not fulfill this requirement."
Prof. Jim Omatseye noted that in a situation where a son is not qualified, the princes of the kingdom from the ruling houses will choose among themselves. Prince Emiko was chosen and it was gathered that he is generally accepted by the Itsekiri nation.
This is the first time a brother is taking over from a brother in a monarchy that's purely hereditary.
According to The Nation, a regent is to oversee the affairs of the king pending the coronation of the Olu. Dr Duakpemi Andrew Ayu, the head of the ruling house, has assumed the position, in line with Section 8 of the traditional rulers and chiefs edict, 1979 of the defunct Bendel state (now Edo/Delta states).
Emiko, who is said to be about 60 years of age, is the younger brother to the lateAtuwatse II, and a graduate of business administration from the University of Benin.
READ ALSO: FOCUS: The Late Olu Of Warri
Itsekiri nation within the next 90 days, will go through mourning on the passage of Atuwatse II.  All natives, particularly male and female adults, are expected to wear their traditional wrappers upside down.
The coronation of the successor will commence only after the passage rites of Atuwatse II has been concluded.
The late Olu of Warri, his royal highness, Godwin Edomi, Ogiame Atuwatse II, passed away on Saturday, September 5, from an undisclosed illness at a private hospital in Lagos state. He reigned for over 28 years.
Source: Legit.ng