Buhari Vows To Name Cabinet In September
President Muhammadu Buhari on Monday, September 7,  publicly vowed to appoint his cabinet before the end of September.
The president's special adviser on media and publicity, Femi Adesina, disclosed that the Nigerian leader had made a claim in Aburi, Ghana, in the course of the press conference with President John Dramani Mahama.
It should be noted that after Buhari's inauguration the ministerial list has been the most widely-discussed political issue in the country. The president has been on numerous occasions criticized over his failure to announce the cabinet. The Nigerian leader has been explaining that he was carefully studying all the available documents to choose the right people adding there should not be rush over such an important matter.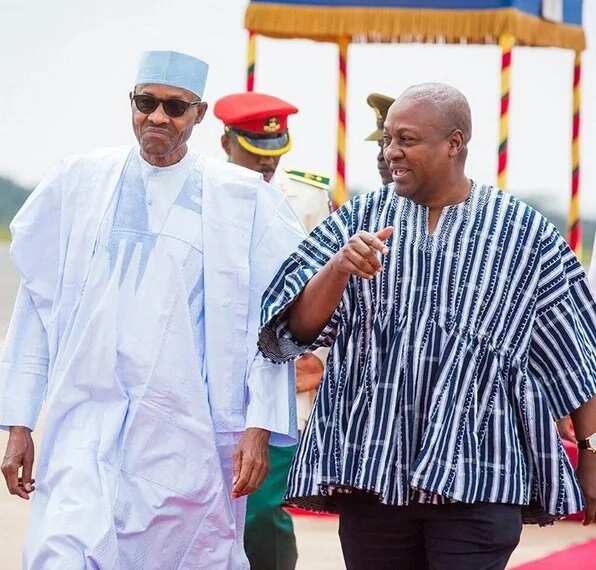 In an article published on Washington Post ahead of the visit with US President Barrack Obama Buhari claimed:
"When cabinet ministers are appointed in September, it will be some months after I took the oath of office."
READ ALSO: Buhari Arrives Ghana For Security Talks
Following months of allegations and suggestions, Buhari seems to have confirmed to the international community his vow to finally come up with the highly-anticipated appointments soon.
He said at the Monday conference:
"After I was sworn-in, I said I will have my cabinet in September. I expect that Nigerians should ask me questions after the 30th of September if I do not do so."
Regarding the ongoing anti-Boko Haram offensive, carried out by the Multi-National Joint Task Force, Buhari spoke about the noticeable progress in the development.
"The first thing I did after I came into office was to reorganize the military and clear orders were given to them in terms of retraining, re-equipping and redeployment of troops.
"In the northeast, the military is gaining ground and Boko Haram has been limited to the Sambisa Forest.
"Internally Displaced Persons are gradually moving back home and they are being reintegrated into their respective communities."
President Buhari also commented on the issue of assets declaration. Recall that he and his vice Yemi Osinbajo not only timely submitted the documents in accordance with the law, but also made their content public.
[article_adwert]
READ ALSO: Buhari, Osinbajo Declare Assets
"I recall that in 1975 when late Murtala Mohammed became the Head of State, we were lined up - governors, ministers, members of the Supreme Military Council. Officials of Ministry of Justice were brought and every individual was made to declare his assets.
"All heads of states and government, governors, ministers, permanent secretaries have to declare their assets because it is a constitutional requirement.
"I have declared my assets four times. When I was governor in 1975, I declared. After being minister of petroleum and as a member of Supreme Military Council, I declared. When I was a head of state and now as a president, I have also declared."
Speaking earlier, President Mahama claimed the two leaders had agreed on closer cooperation between the countries in terms of intelligence and anti-corruption war. He also thanked his Nigerian colleagues for the visit and pledged support to Nigeria from the Ghanaian side in the fight against terrorism.
Buhari's media aide, Garba Shehu, on Monday evening informed Nigerians via his Facebook page that the president's plane had touched down at the Nnamdi Azikiwe International Airport in Abuja at 7.18pm.
The president's one-day visit to Ghana came amid talks among Nigerians about his first 100 days in office. Buhari has been under harsh criticism over having failed to appoint ministers. Many insisted the period was enough for him to finally make a choice.
Source: Legit.ng