Buhari In Cameroon To Hold Talk Over Boko Haram Threats
President Muhammadu Buhari has arrived Cameroon on Wednesday July 29 to hold a critical talk with his Cameroonian counterpart  to fashion out the best way to tackle the escalating threat of Boko Haram sects.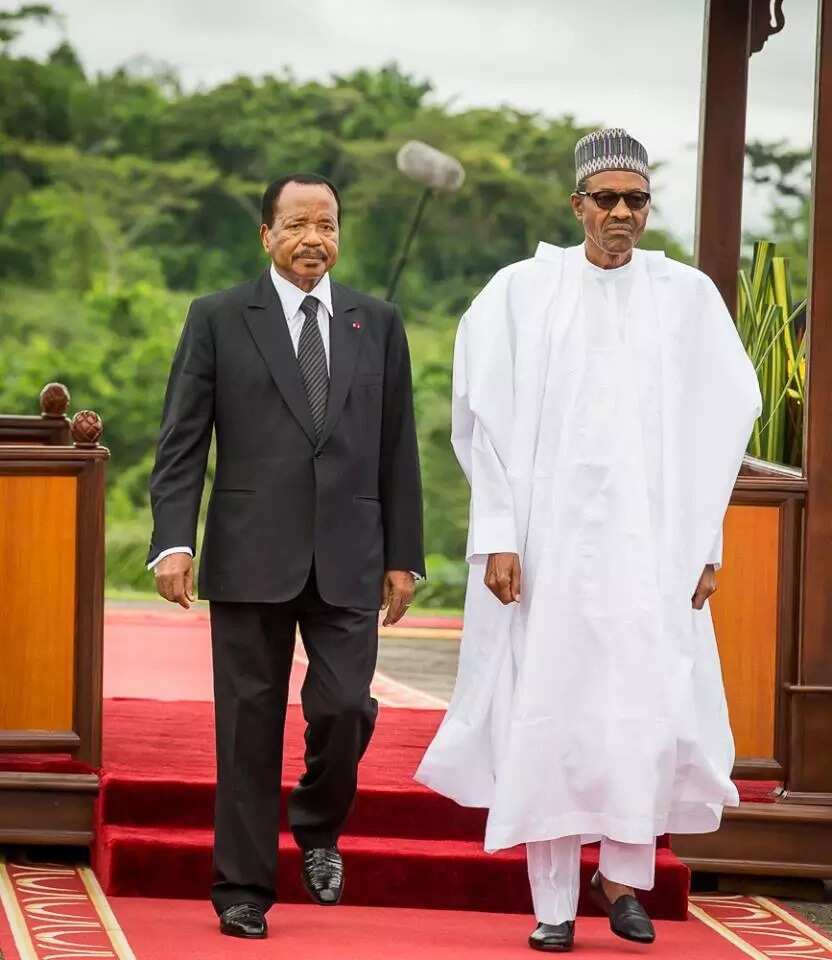 Boko Haram has intensified campaign targeting Cameroon, Niger, Chad who have formed a multinational force to tackle terrorism.
It was learnt that Cameroonian authority beefed up security 24 hours for Buhari visit after Boko Haram sects have conducted several suicide bomb attacks in the country.
Vangaurd reported that presidential guard  and soldiers were spotted on rooftops of houses and along the route from the airport to the presidential palace in Yaounde, while vehicles armed with machine-guns patrolled the streets and access to the hotel where Buhari will stay was blocked.
READ ALSO: Boko Haram Threat Forces Cameroonians To Shut Mosques, Islamic Centres
This visit comes just a day after federal government stated that a newly constituted regional force will soon smoked out terrorists from their hideouts.
The presidency said that Buhari talks with President Paul Biya were part of his "ongoing effort to build a more effective regional coalition against Boko Haram".
It was reported that Boko Haram sects have killed over 800 people since Buhari was inaugurated as president on May 29 2015.
President Buhari had earlier visited Chad and Niger as part of talks to end insurgency in the sub-region.
Agence France-Presse quoted defence spokesman, Major General Chris Olukolade on Tuesday July 28 as saying that the new regional force will commence action soon but decline to give a specific date.
READ ALSO: Boko Haram Insurgency: Why PMB Should Urgently Address Nigerians In A Live Broadcast
The 8,700-strong Multi-National Joint Task Force, drawing in Nigeria, Niger, Chad, Cameroon and Benin, is expected to be more effective than the current alliance in the battle to end Boko Haram's six-year insurgency that has claimed some 15,000 lives. Cameroon itself also announced Tuesday it would be sending 2,000 more troops to the north to take on Boko Haram.
Meanwhile, Buhari has signified his desire to negotiate with the dreaded Boko Haram sects if they are ready to lay down their arms so that peace can reign.
Source: Legit.ng