Nigerians Berate Okorocha For Parading Obama's Picture
Yesterday a picture surfaced on social media showing a banner in Owerri, the Imo state capital, which showed the Imo state governor, Rochas Okorocha, exchanging pleasantries with the United States of America president, Barack Obama, while President Muhammadu Buhari looked on.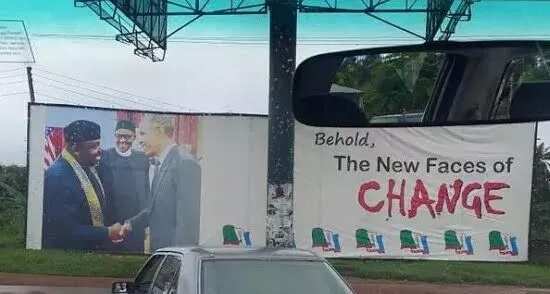 The picture, which has generated so many comments on Nigeria's social stratosphere, had the caption, "Behold, the new faces of change".
It is however not clear who is responsible for putting up the banner, even as the Imo state governor or his government have not reacted to the issue yet. The issue is one of the trending topics on the micro-blogging site, Twitter.
See the comments below:
Apparently, the governor still has some supporters who think there is nothing wrong with the banner, but the majority of comments are actually not in support of the decision.
Okorocha was one of the governors in President Muhammadu Buhari's entourage to the US last week.
Source: Legit.ng