Ijaw Leader Urges Buhari To Maintain Amnesty
Chief Edwin Clark has urged President Muhammadu Buhari to take the Niger-Delta amnesty programme seriously as it has a way of affecting the nation.
Vanguard reports that the South-South leader said this in a letter which was read out to journalist at his residence in Asokoro, Abuja.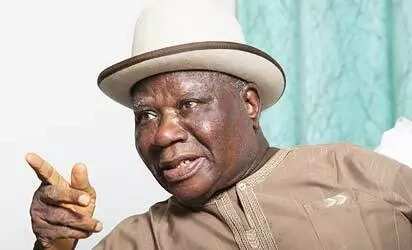 The Ijaw leader said the president should be aware of how important it is to have peace in the Niger Delta region. He emphasized that the situation of things in the region would affect other parts of the country.
READ ALSO: We were denied opportunity to vote for Buhari - Igbo Leader
The elder statesman urged the president to appoint a new chairman very quickly or install an acting one so as to fill the void left by the former chairman, Chief Kingsley Kuku
He said the current void was already creating tension in the region and without a leader to main peace and stability, the nation might experience what it did some years back when it was producing about 7,000 barrel per day due to the activities of militants.
He said the current output of 2.5 million was a result of the amnesty programmer and the need to appoint a leader to manage the amnesty account was important.
READ ALSO:Nigeria military is still capable of defeating Boko Haram - Buhari
Part of the letter read: 'I now respectfully wish to bring to the attention of Mr. President the imminent danger facing the Amnesty programme. It would be recalled, that the former chairman of Amnesty programme and dviser to Mr. President on Niger Delta Affairs, Chief Kingsley Kuku has since vacated his office as a result of change of government, but unfortunately, he has not been replaced by an  appointee even in acting capacity by Mr. President, and as a result, the whole  programme for now, is without leadership, and no one has the authority to operate the account of the Amnesty programme."
Earlier, Clark urged President Buhari to take a stern stance in dealing with corrupt officials in order to save the country and serve as a deterrent to other people.
Source: Legit.ng