Buhari Makes A Blunder While Talking About The APC
President Muhammadu Buhari during the meeting with his American counterpart Barack Obama has made another blunder while speaking about his party the All Progressives Congress (APC).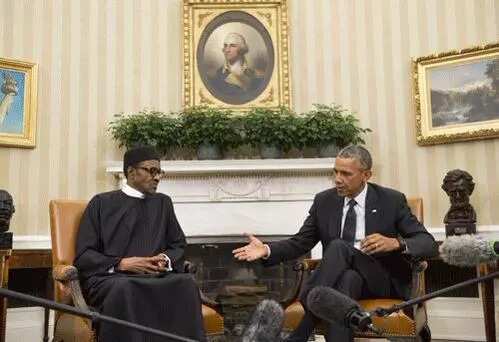 President Buhari while speaking about the peaceful transition of the power made a mistake when he referred to the APC as the All Nigeria's People's Congress.
He praised the American government under the leadership of Obama for mounting pressure on previous Jonathan's government to conduct a free and fair election in Nigeria.
READ ALSO: What Obama And Buhari Discussed During The Meeting 
He said: "We will ever remain grateful to you because there are fundamental objectives that are identify of All Nigeria's People's Congress — security, economy, employment especially of youth, and then fighting corruption."
Watch the moment:
It would be recalled that after the shift of the the general elections from February to March, the APC's candidate Buhari granted the interview to Aljazeera on February 8.
During the interview, Buhari was talking about elections and main Nigeria's challenges such as corruption, the Boko Haram, economy crisis.
READ ALSO: USA Speaks About Its Expectations From PMB 
Buhari made a blunder when he named the INEC as the Independent Nigerian Electoral Commission. He also referred to his party as the "All Progressives Confidence".
It should be noted that Nigerian president is currently in the USA with state visit and had already had talks with Obama.
Source: Legit.ng