5 Reasons Why Naira Rate Will Begin To Fall
Despite Nigeria's central bank holds official rate of naira atN196.90 against one dollar, the real value of the national currency is falling. See five reasons behind that trend.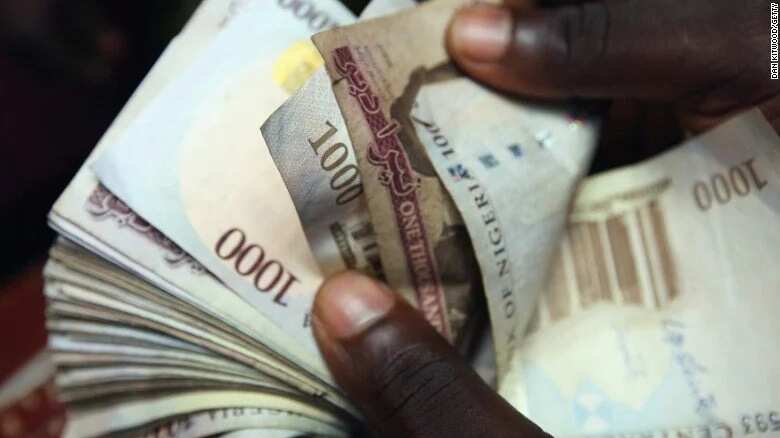 Despite central bank's efforts to keep naira's exchange rate at level of N196.90 for one dollar, which didn't change from June 11, there are signs that naira is about to start falling soon.
In fact, at the parallel market on Friday it was sold for N221 against the dollar already, while a week before one dollar was sold for N220.
READ ALSO: I Will Ensure Naira Is Equal To Dollar In Value - Buhari
The reason behind that depreciation is the first reason for naira to fall further. There is a growing shortfall between increasing demand for foreign currency and the foreign exchange available for sale. And while the central bank tries to keep its official exchange rate low, this tendency of a shortfall between the demand and supply is about to grow further.
READ ALSO: Nigeria Is Half Bankrupt 
The second reason is the decreasing demand for Nigeria's crude oil in the international market. Due to that the Nigerian National Petroleum Corporation had to reduce the price of the country's crude oils to their lowest points in over a decade.
World Bank ex-vice president, Dr. Oby Ezekwesili, has warned recently in an interview that Nigeria is facing hard times as it has to end what she called the "addiction to free oil money".
Many state governments are already unable to pay the salaries as their monthly allocation from the federal government falling drastically due to falling oil revenues. Now the federal government has only one immediate solution to that problem – printing more money which means starting the mechanism of further inflation. And this is the third reason for naira's possible fall in the nearest future.
READ ALSO: Nigeria Suffers Tensity Rise Because Of Unpaid Salaries
The fourth reason is the threat from JP Morgan to exclude Nigeria from its Government Bond Index (GBI-EM) by the end of the year unless the central bank removes its tight measures preventing the outflow of foreign currency from foreign exchange market and thus keeping naira's rate afloat.
READ ALSO: JP Morgan Recommends UBA Shares Over 45% Upside Potential
Besides that, tight regulations and restraints that have been clogging the market of foreign exchange, cause an outflow of foreign investment, and that doesn't add any good to the desperate economic situation.
READ ALSO: CBN Gives Up Controlling Foreign Investment
This might be the fifth reason for CBN to let naira's exchange rate to float freely – and for the national currency in a critical economic situation that can mean free falling.
The central bank representatives together with commercial banks' executives had a meeting on Friday to decide the further fate of weakening naira.
Falling prices of oil, Nigeria's main export,have heavily hit naira's stability which in turn caused a sell-off in assets by foreign investors.
In February Nigeria's central bank had to impose tight measures of control on the foreign exchange market to save Nigeria's dwindling foreign reserves.
Three months ago the central bank of Nigeria announced that there are no plans to introduce capital controls despite the current economic challenges facing the nation.
Six months ago the central bank of Nigeria announced the devaluation of the naira, with the new exchange officially at N168 to a dollar, and no longer N155.
Source: Legit.ng