Mother Murders Her Own Son
A 26-year-old woman, Funmilayo Tijani, has been arrested by the Ogun state police for allegedly stabbing her two-year-old son to death in Sango Ota area of the state.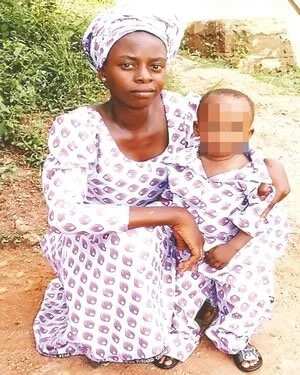 Funmilayo, a fashion designer, had reportedly separated from her husband, John, about two years ago.
This forced her to live with her father at Ogunso Street, Orelope Estate, in Egab Sango, together with her son.
According to The Punch, neighbours noticed that she held a bloodstained knife and the son was found  in a pool of his own blood.This prompted neighbours to alert the Sango Police Division.
READ ALSO: Man Murders Prophet
An eyewitness, identified as Akeem Ijaola, said that the boy died on the spot before he could be taken to hospital.
He said, "Funmilayo and her son stayed with her father in a one-room apartment. The boy attended a private school in this area. About 4pm on the fateful day, we noticed that something was going wrong in the apartment.
"When people went near, they saw the boy in a pool of blood. He had been stabbed many times. Funmilayo at that time looked like a mentally-derailed woman. The boy died before anyone could take him to a hospital.
"Although no one could ascertain the cause of her action, Funmilayo is divorced, and the child was born out of wedlock about three years ago."
Funmilayo's father, identified as Adebayo, 53, a native of Ikare Akoko, Ondo state, said that he is stunned by his daughter's action. He revealed that the suspect's mother died about 20 years ago leaving him to raised her alone.
READ ALSO: Cooks Poison Vegetable Soup To Kill Boss (PHOTOS)
Adebayo said that his daughter had been staying in his one-room apartment after she separated from her husband.
He explains"John initially refused to accept her pregnancy. But they went for a DNA test, which confirmed him as being responsible for the pregnancy. Thereafter, he took her to a place in Apapa, and they were planning to travel to his hometown in Delta State,. but I refused and asked her to come back home."
A resident, who does not want her named mentioned, said that Funmilayo's problems could be linked to frustration as she was emotionally and financially unstable.
In her words, "She tried to borrow money during that week from her boss, but she failed. There are also arguments whether her husband was the father of the boy or her father, who she stayed with.
"Also, her former husband, John, has married another wife who gave birth a few weeks to the incident. I think all these contributed to Funmilayo's emotional breakdown."
The police public relations officer in Ogun state, Muyiwa Adejobi, confirmed the incident and said that the police had taken the body to a morgue.
Source: Legit.ng