DISCLOSED: How Much Buhari, Saraki, Dogora And Others Will Earn
Numerous sources repeatedly state that senior officials of Nigeria earn huge amounts of money and finally the Revenue Mobilisation, Allocation and Fiscal Commission disclosed these figures.
READ ALSO: REVEALED: Annual Incomes Of Buhari And Osinbajo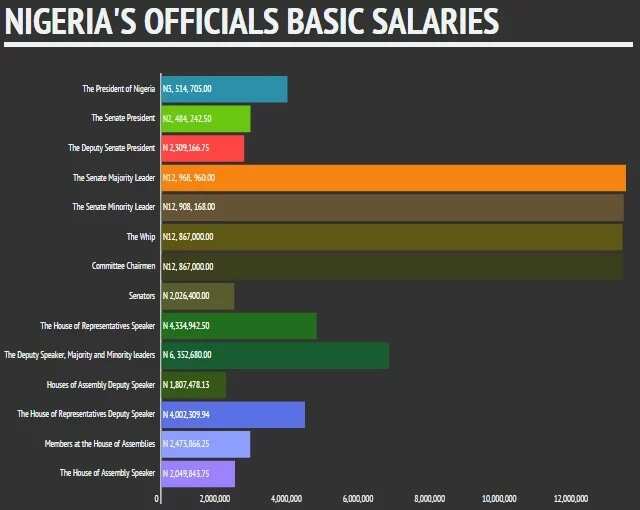 The Senate President
He has a total Annual Basic Salary of N2, 484, 242.50 and Annual Allowance of N6, 210, 606. 25 , making a total Annual salary of N8, 694, 848.75 which brings the monthly salary to about N724, 570.75.
The Deputy Senate President
He enjoys the same benefits except that his Annual Basic Salary stands at N 2,309,166.75, total allowance N 5,772,916.8, bringing total annual salary to 8,082,083.63 and a monthly pay of N 673,506.97
READ ALSO: Nigeria Suffers Tensity Rise Because Of Unpaid Salaries
The Senate Majority Leader and The Senate Minority Leader
According to the information provided by Vanguard they receive a salary of N12, 968, 960.00 and  N12, 908, 168.00
The Whip receives N12, 867,000.00
Senators
They receive a basic salary of 2,026,400.00. And with  annual allowance of N10,739,920.00 , bring it to a total of N 12,766,320.00.
The House of Representatives Speaker
He receives a total annual salary of N 4,334,942.50.
The Deputy Speaker
His annual salary stands at 4,002,309.94
The Majority Leader of the House, the Minority Leader, the Chief Whip and Chairmen of Committees receive annual salaries of N 6, 352,680.00.
Speakers of the State Houses of Assembly
Their annual salaries stand at N 2,049,843.75
Houses of Assembly Deputy Speaker N 1,807,478.13
Members at the House of Assemblies receive annual salaries of N 2,473,866.25.
Source: Legit.ng