Insecurity: Benue Should Establish Security Outfit, Says Gov Umahi
- Communities on the border between Benue and Ebonyi states have been attacked severally by armed herdsmen
- There has been confusion as to whether the communities attacked are that of Benue or the neighbouring Ebonyi state
- Governor Dave Umahi of Ebonyi says authorities in Benue should set up their own security outfit over the attacks
PAY ATTENTION: Join Legit.ng Telegram channel! Never miss important updates!
Abakaliki - Governor David Umahi of Ebonyi on Tuesday, June 1 asked the Benue government to establish its own security outfit, considering the spates of killings in the state.
Umahi made the suggestion at the Alex Ekwueme Federal Teaching Hospital 2, Abakaliki when he visited victims of the recent killings in both Benue and Ebonyi states.
According to Umahi, the Benue government exhibited the height of irresponsibility when it went on air and announced it didn't know whether victims of the attacks were from Ebonyi or Benue states.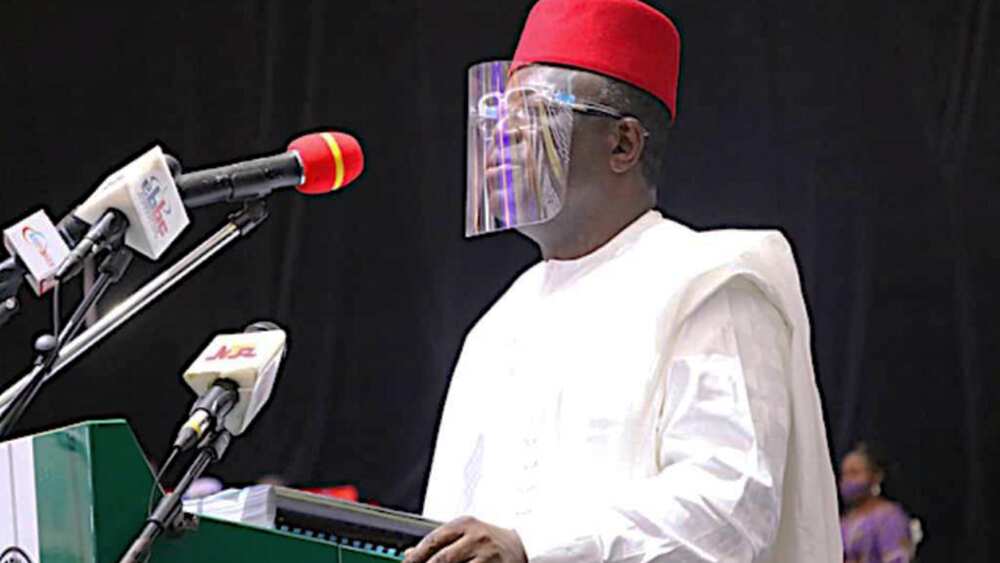 PAY ATTENTION: Install our latest app for Android, read the best news on Nigeria's #1 news app
The Punch quoted the governor as saying:
"What I saw this afternoon is nothing but an act of wickedness and satanism. It is important that the people of Benue state form their own Ebube Agu to protect their own people instead of blaming Mr. President. Mr. President cannot be everywhere."
Some Nigerians have been reacting to the suggestion made by the Ebonyi state governor, via social media.
Peter Idowu wrote on Facebook:
"It's imperative for the Benue state government to establish protective instruments for the safety and security of its people. Retired military and security personnel should form the bulk of the building blocks to facilitate quick handling of weapons to decimate intruders of any guise."
Inno Tex asks:
"But Ebonyi people were also killed, what's the difference between Ebonyi that has security, and Benue that his Excellency wants to establish a security outfit?"
Ogunronbi Gladys Adepeju asks:
"What benefit will the security outfit bring? Police and army have uniforms,but they are loyal to the government and not the people,so if you have your own ebube nonsense they will be loyal to you and not to the people.
"Ebonyi people have security but they were killed, so it won't still make a difference. It's time for us to stop listening to all these politicians because they don't have our best interest at heart, anything they do is majorly for their benefit."
Ameen Sanusi wrote:
"States creating security outfits is just a tool for personal vendetta. This is the reason why state police should and would never work out."
Zumji Yakubu wrote:
"People are dying in your state and you are advising Ortom. Fix your state before talking to Benue state governor."
Meanwhile, 127 civil society groups on Friday, May 28 staged protests across Nigeria calling attention to the violence, lawlessness, and bloodletting that have taken over all parts of the country.
The groups urged the presidency to provide political and moral leadership for the security crisis and ensure governmental actions are humane in tandem with section 17 (2)(C) of the Nigerian Constitution.
At the protests in the Federal Capital Territory, Abuja covered by Legit.ng, organisers of the processions, Joint Action Civil Society Coalition, called on the government to act fast.
On the same day the protests were held nationwide, two Nigerian Air Force personnel attached to Air Force Regiment, Owerri, Imo state were shot dead in the state capital.
The duo had gone to a selling point around a market to buy food to eat when they were shot dead by unknown gunmen.
Source: Legit.ng