OPINION: Imolites, Not Uzodinma, After Okorocha by Cajetan Duke
Editor's note: Public affairs commentator, Cajetan Duke, writes on the recent utterances of Senator Rochas Anayo Okorocha, a former governor of Imo state, during his interview with Channels Television.
PAY ATTENTION: Join Legit.ng Telegram channel! Never miss important updates!
As Imolites continue to react to the former governor Rochas Okorocha's recent frustration, induced misguided outburst on national television, Channels TV to be precise, wherein he accused Governor Hope Uzodimma of being after him as well as envious of his political achievements, it became imperative to subject the said submissions of the Ogboko born senator to critical scrutiny as to find out whether or not his successor in office is actually after him for any personal political goal.
Interestingly, the duo of Okorocha and his successor, Uzodimma, are not only from the same Imo West senatorial zone, but are senior stakeholders and members of the same political party, the All Progressives Congress, APC. As it is a norm in our present-day political culture, former governor Okorocha, to his opinion, deserves all manner of executive protection from his fellow party man to enable him to enjoy the fruits of his labour with his family and cronies in peace, devoid of any distractions.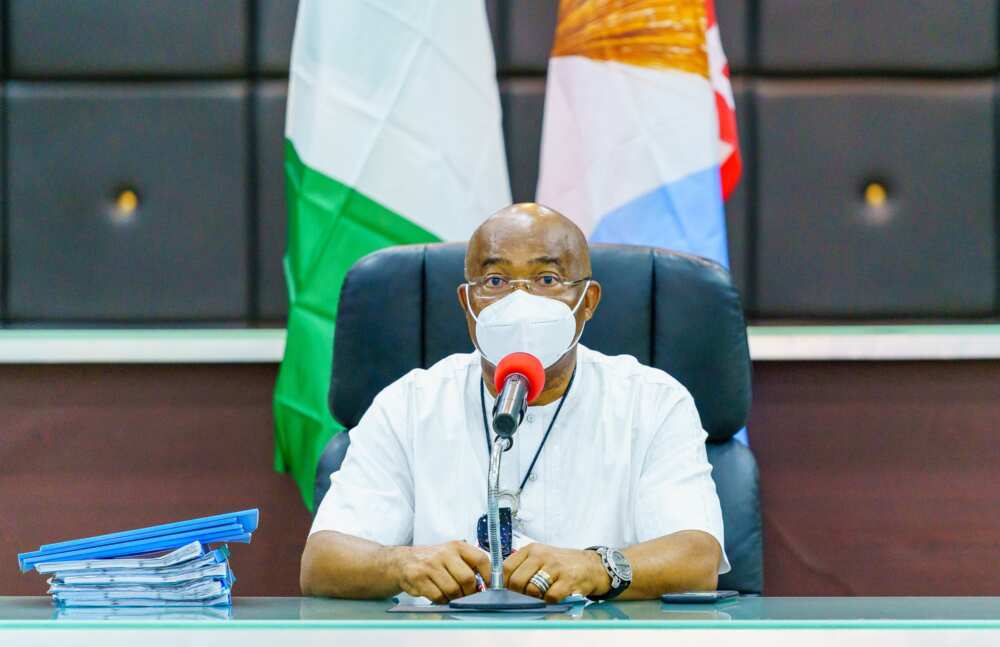 PAY ATTENTION: Install our latest app for Android, read the best news on Nigeria's #1 news app
For Okorocha and his few sympathizers and accomplices, it is unheard of and politically unreasonable, for a member of the same political party, to champion the investigation and possible prosecution of a fellow party man. Yes, in Okorocha's world, he deserves to be celebrated with a pat at the back for a job well done and not a call for an account of his stewardship.
From his line of argument, as he was been drilled by the sensational Channels TV presenter Seun Okinbaloye, it was obvious Okorocha was excepting nothing less a national civic reception for all he did within his eight years reign, including but not limited to his provocative conversion of both public and private land assets to personal and family uses, criminal distortion of Owerri master plan, substandard projects and littering of the entire landscape with economically unviable and uncompleted projects like street gates, street iron ornaments etc.
To his chagrin, instead of an invitation for a state organized civic reception, Okorocha was invited to give an account of how he served his employers - the government and people of Imo state. What an affront? A magnanimous servant, who used his personal savings to serve and work for his employers. He even became poorer than he was, prior to his employment. A man who should be asking for a refund of what is called in organizational structure as out-of-pocket expenses from ndi Imo, is finding it difficult to give an account of his financial integrity What a contradiction?
A deep analysis into the allegations as levelled by Okorocha against his "brother," one will understand that Uzodinma has no need to envy Okorocha. Except there is something we do not know between the two, because there is nothing Okorocha has attained that Uzodimma had not achieved before becoming a governor.
The crux of the matter is very simple and unambiguous. The Okorocha's expectation of esprit de corps was dashed by Uzodimma's uncompromising stands against business as usual, corruption, and abuse of public trust, irrespective of whose ox is gored.
In this case, Governor Uzodinma is not seating in an enviable position. For this situation, I do not envy him. Undoubtedly, he found himself on the assumption of office in the middle of two contented forces. The former governor on one side and Imolites on the other side. The former governor is arguing that he served ndi Imo with his personal savings as a private individual while the people are crying wolf that their treasury has been looted like COVID-19 palliatives. While UzodiNma as an arbiter has two options available to him, either to sing along with his fellow party man or to listen to the voice of the people. Conventional politicians interested in the next election will go for the former, while uncommon leaders interested in the next generation will opt for the letter and exactly what UzodiNma did, even though to the surprise and appreciation of all included opposition leaders.
As difficult as that decision is, Governor Uzodimma has continued to explain the audacity of his intentions and sincerity of his purpose, no wonder on many occasions and on different platforms he had stated unequivocally that he has no personal issues, be it political, economic or otherwise with his senator.
The truth is, Uzodinma is a loyal, obedient, and committed servant who is doing the bidding of his employers- the people. Uzodinma is holding the mandate of the people and must at all times listen to the yearnings and aspirations of the people. In other words, it is ndi Imo that are after Okorocha and not Uzodinma. The people have mandated their governor to recover all illegally acquired public properties by the former governor and his family and friends. Also, to recover all looted funds, investigate all obnoxious contracts awarded to fleece our common patrimony. Uzodinma has the mandate of Imo people to restore sanity and public confidence in our government businesses.
It is very important that Senator Okorocha appreciates the sense of discipline as demonstrated by Uzodinma in calling him (Okorocha) a fellow party man to give an account of his stewardship as a hallmark of leadership and not a sign of political vendetta or witch hunt.
Imo must be Recovered, Rehabilitated, and Reconstructed.
Disclaimer: The views and opinions expressed here are those of the author and do not necessarily reflect the official policy or position of Legit.ng.
Your own opinion articles are welcome at info@corp.legit.ng— drop an email telling us what you want to write about and why. More details in Legit.ng's step-by-step guide for guest contributors.
Contact us if you have any feedback, suggestions, complaints, or compliments. We are also available on Twitter.
Source: Legit.ng