Heated Reactions as Diplomat is Filmed Urinating on the Road in Nigeria
- A man alleged to be a diplomat was filmed peeing on a Nigerian road while his driver stands
- The incident has generated mixed reactions from Nigerians on social media
- While some outrightly condemned his action, some others reacting to the incident expressed a contrary view
PAY ATTENTION: Join Legit.ng Telegram channel! Never miss important updates!
The purported video of an unidentified diplomat peeing on the road in Nigeria has caused heated reactions on social media.
The video was published by Linda Ikeji's Blog (LIB) with no detail regarding the identity of the said diplomat and the particular road where the incident happened.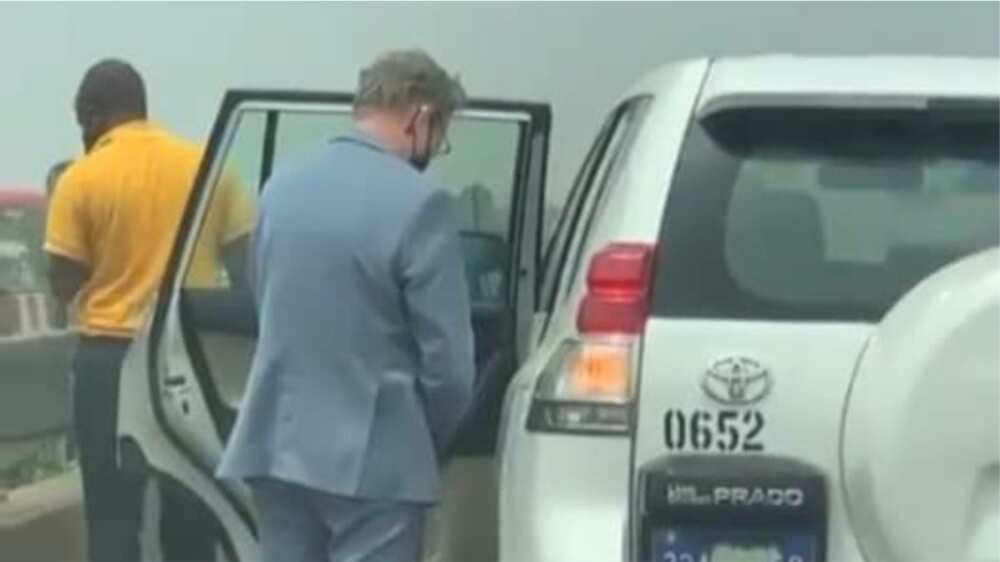 Another blog, Instablog, subsequently shared a screenshot from the footage on Twitter. The photo has since drawn mixed reactions from social media users.
While some condemned the man's action, others said his action should be excused especially considering the health complications of holding a pee.
Below is a collection of a few of the reactions:
Everest, @novieverest, said:
"When we say it is the system people doubt. He can't do this in a place with a good system. It is Nigeria. Nothing happens.
"Don't come here with the ambassador stuff and style for defending."
Kelz, @Edward_Onoriode, insinuated that the diplomat's driver (probably a Nigerian) who stood by as he peed told him it was okay to do so.
The tweet reads:
"The driver apparently told him he can pee on public road.
"What the driver ought to have done is to drive him to a restaurant or nearby supermarket or gas station where he can ease himself.
"The govt should take the diplomat up and send a deterrent to others mostly Nigerians."
NamasteWahala Gracey said:
"Why pee so close to your car? Maybe he really needed to go so bad. But, I don't think in European countries you can do this. I have time where I needed to pee so bad and we has to search for a cafe or something to pee. Anyways, why are we stressing ourselves over this sef."
Négritude, @alumsson, said:
"Can you do that in developed countries? Can he do that in his country?
"That's the question. Let's quit normalizing the abnormal."
Daniel Regha, @DanielRegha, said:
"I see nothing wrong for someone to pee in public; Almost everyone does this. It's better to urinate in public cos holding urine for too long makes one feel uncomfortable & weakens the bladder muscles; This can also cause UTIs & kidney disease which is deadly. Health is wealth."
OracleGodfather, @Oracle_GF, said:
"So he should pee on his trouser because he is a diplomat? Assuming the man is in heavy traffic and is on some diuretic medication? Unless you haven't been pressed before, you won't relate. Let the guy be pls."
IconicAmaka, @Amina_Eke22, said:
"Don't you people do it everyday? Why is his own different? He wouldn't do this in country but he can do it here because no regulations in our country. It's a chaotic nation."
PAY ATTENTION: Install our latest app for Android, read the best news on Nigeria's #1 news
Meanwhile, a previous investigative report by Legit.ng revealed that there had been a major decline in the patronage of public toilets in Lagos state as some residents prefer to answer nature's call in the open, thereby affecting the income of public toilet operators.
Subair Mohammed, Legit.ng's regional reporter, reported that the Lagos state government through its Wash Sanitation and Hygiene (WASH) policy was seeking to eradicate the menace of open defecation and urination in the state but the ugly trend remained unchecked.
Source: Legit.ng