Reverend Father Mbaka Makes U-Turn, Begs Catholic Church for Forgiveness
- Reverend Father Mbaka has reacted to the controversy surrounding his recent comments about the Catholic Church
- Mbaka alleges that some people hijacked the protest that erupted when his whereabouts were unknown for some hours.
- The cleric said he has no problem with the church
PAY ATTENTION: Join Legit.ng Telegram channel! Never miss important updates!
Reverend Father Mbaka has apologised and begged the Catholic Church to forgive him over his mistakes in recent times.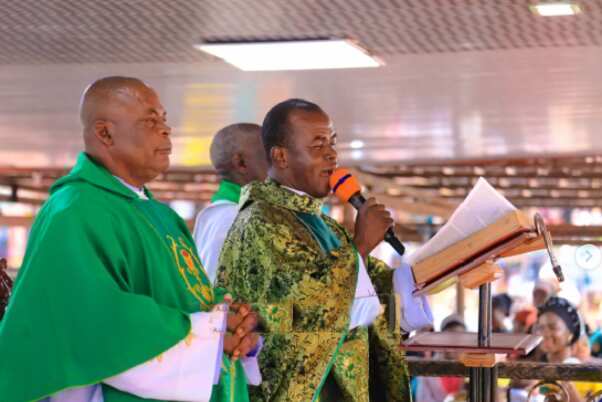 The spiritual director of Adoration Ministries Enugu Nigeria (AMEN) has been in the news following his spate with the presidency.
The issue escalated when supporters of the cleric attacked the official residence of the Catholic Bishop of Enugu Diocese over the rumour of his (Mbaka's) disappearance.
However, Mbaka during a sermon on Sunday, May 9, pleaded with Callistus Onaga, bishop of Enugu diocese, to forgive him and his followers for their actions, The Cable reported.
He said he was sorry for his statement which was misunderstood to be in favour of the violent protest by his supporters.
Part of Mbaka's apology read:
"I wish to apologise for whoever that misunderstood my statement. I did not clap for anybody for destroying anything. I heard that the search for Father Mbaka was hijacked; people joined and started breaking things.
"I am here standing on your behalf and I render my sincere, unalloyed apologies to the Holy Catholic church where I belong, and say, may the mother church forgive us in any way we didn't do it well.
"Even in all that I said, where I didn't say it well, I pray for forgiveness. I am on your (the worshippers) behalf, kneeling down for the church and I tell the church, forgive."
According to Sahara Reporters, the cleric reaffirmed his loyalty to the Catholic Church and also cautioned his supporters against violence.
PAY ATTENTION: Install our latest app for Android, read the best news on Nigeria's #1 news app
He noted that he has been serving the Catholic Church for 25 years and never intends to go against the organisation.
Meanwhile, Most Rev Ignatius Kaigama, the metropolitan Catholic archbishop of Abuja Diocese, says Father Ejike Mbaka violated his oath the moment he dabbled into partisan politics.
PM News reported that Kaigama stated this while commenting on the Father Mbaka/presidency saga.
Speaking to the press at a conference on the 2021 World Communications Day celebration, Bishop Kaigama reminded Mbaka of the Canon Law 285.
He reportedly explained that the law prohibits the clergy from engaging in anything that is strange and unbecoming to the Catholic clerical state.
Source: Legit.ng