CBN Extends Naira for Dollar Promo Until Further Notice
- Two days to the deadline, the Central Bank of Nigeria has extended the end of Naira for Dollar scheme
- The financial regulator extended the remittance promo until further notice to encourage more official channel dealings
- The Naira for Dollar scheme is meant to increase remittance flow and also stop unofficial forex exchanges outside the banking system
PAY ATTENTION: Join a community of CEOs, founders, and decision-makers: subscribe for a free monthly business newsletter Digital Talks and succeed BIG!
The Naira for Dollar Scheme of the Central Bank of Nigeria (CBN) has been extended by the financial regulator as the Federal Government plans to attract more remittances through official channel.
In March, the CBN had introduced the Naira for Dollar Scheme to redirect remittances that are outside the banking system. Through commercial banks, the CBN was offering N5 for every dollar exchanged at the bank.
The initiative was expected to mop up funds circulating outside the reach of the central bank, with a deadline date of May 8, 2021. The deadline has now been extended until further notice.
CBN directed Deposit Banks and International Money Transfer Operators (IMTOs) to continue with the Naira for Dollar Scheme until it says otherwise, as the initiative will further encourage exchanges through official channels.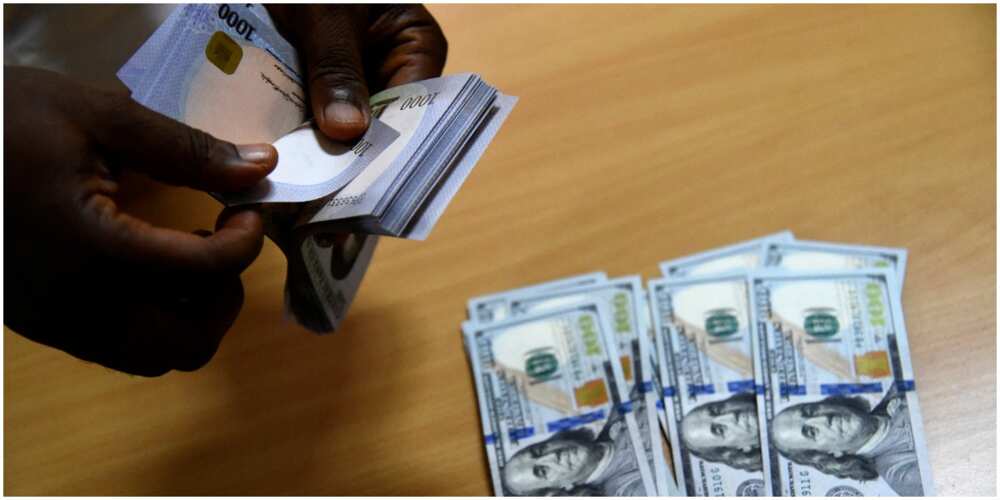 In the statement to banks and IMTOs, CBN said:
"Further to the CBN Circular referenced TED/FEM/PUB/FPC/01/003 dated 05 March 2021 on the above subject matter, which was originally scheduled to end on 08 May 2021, we hereby announce the continuation of the scheme until further notice."
With the extension until further notice, it means Nigerians still stand to gain N5 for every dollar received at the point of exchange. With the COVID-19 pandemic dragging forex down, the initiative will boost foreign exchange liquidity.
Note that some Nigerians in the diaspora have began to use the cryptocurrency market as another channel to send money to their family and friends in Nigeria - this crypto is also affecting remittance flow through banks and IMTOs.
Meanwhile, Legit.ng had previously reported that a couple was accused of defrauding many Nigerians through their forex and investment company named SU Global.
The investment company had allegedly scammed unsuspecting investors about N50 million to N3.5 billion. According to one of the victims, it was stated that the couple got married recently without paying victims their money.
It was learnt that investors had been lured with 20 percent to 350 percent return on investment, but neither initial capital invested or profit was given to the investors.
Source: Legit.ng News