Appzone Founder Reacts to $10million Raised Amid Rising Competition
- Appzone, a payment solution service provider, raised $10 million from five investors as competition rises
- The Obi Emetarom-led firm plans to use part of the funds to expand into new countries as it deepens operation in Nigeria, Ghana, DRC aand three others
- Prior to the new fund raising, the Nigerian startup had raised $15 million since it started operation twelve years ago
PAY ATTENTION: Join a community of CEOs, founders and decision-makers: subscribe for a free monthly business newsletter Digital Talks and succeed BIG!
Obi Emetarom, the Co-Founder and Chief Executive Officer of Nigerian-owned Fintech firm, Appzone, has reacted to the $10 million raised by his company in a Series A round amid rising competition in the Fintech market.
The capital raised was to improve its competitiveness in the African market which has Sinqia, Vermeg, Codix, ARGO and telco giants. The fund was secured from five local and foreign investors.
The round was led by CardinalStone Capital Advisers with participation from V8 Capital, Lateral Investment Partners, Constant Capital, and Itanna Capital Ventures. Prior to the recent capital infusion, Appzone had raised $15 million in equity funding.
Part of the funds will go into expansion of presence in new market. The startup presently serve as a local payment solution service provider to clients across Nigeria, Ghana, Gambia, Democratic Republic of Congo, Tanzania, Senegal and Guinea.
Appzone's 12years operation has increased the company's customers to 18 commercial banks and over 450 microfinance banks, while recording $2 billion as annual transaction value and $300 million as loan disbursements since it started operations in 2008.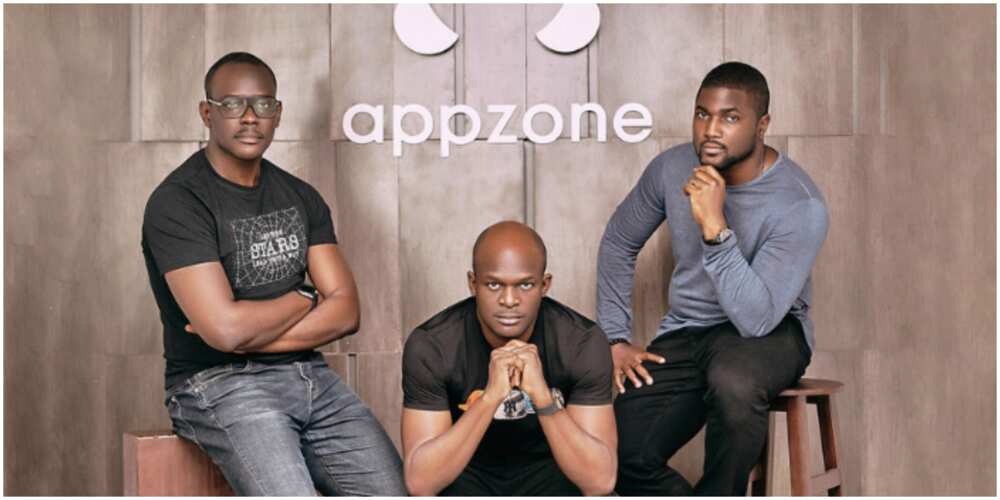 In a statement sent to Legit.ng, Emetarom said:
"We're excited not only to be securing a significant capital raise, but also welcoming on board some strategic investors whose support will be key to our growth journey. Today's news allows us to scale Appzone's products and services rapidly.
"For the last 12 years, we've worked in stealth mode, building the really complex infrastructure to power the continent's growing digital financial services space and forging partnerships with the continent's biggest financial institutions."
On employment, he said the focus now is to create more employment opportunities for African engineers and entrepreneurs as the company plans to increase its over 160 workforce.
"In terms of next steps, we are now looking to hire from Africa's top 1% to grow our team of elite talent who have proven themselves to be true  African builders; the brightest senior software engineers and domain experts, doing the incredibly hard work of building the backbone and next generation infrastructure for digital financial services at a level beyond world-class.
"We are seeking out gifted and audacious engineering and entrepreneurial minds, hungry to accelerate economic prosperity and tackle challenging technology with us. We are not just trying  to bring African fintech on-par with the rest of the world - we exist to make our financial sector the most innovative and technologically advanced on the globe through solutions built for Africa by Africans."
Commenting on the faith of the investor in Appzone, Yomi Jemibewon, Co-Founder and Managing Director of Cardinal Stone Capital Advisers said:
"Our investment in Appzone is further proof of Africa's potential as the future hub of world class technology. Appzone is building a disruptive FinTech ecosystem that will be the backbone of Africa's finance industry with products across payments, infrastructure and Software as a Service.
"The impact of Appzone's work is multifold - the company's products deepen financial inclusion across the continent whilst providing best-fit and low cost solutions to financial institutions. Its emphasis on premium talent also helps stem brain drain, rewarding Africa's best brains with best in class employment opportunities."
Meanwhile, Legit.ng had previously reported that MTN Nigeria, Glo, 9mobile and Airtel are being threatened by association of subscribers for increasing the usage fee of the USSD code.
The body had stated that if the network providers and the Central Bank of Nigeria don't revert to the old fee, the apex bank and the telecommunications companies would be slammed with a lawsuit.
The new USSD usage fee was put at N6.98kobo following a disagreement between the deposit money banks and the telcos on commission from the USSD usage by their customers.
Source: Legit.ng