Gov El-Rufai Announces Plan to Lay Off More Public Servants in Kaduna State
- Massive financial reforms will soon begin under the administration of Governor Nasir Elrufai in Kaduna state
- The governor has announced that a purge will take place in the state civil service which he described as over-bloated
- The announcement has triggered reactions from Nigerians on social media
PAY ATTENTION: Join Legit.ng Telegram channel! Never miss important updates!
Governor Nasir El-Rufai, on Monday, April 12 made known his administration's plan to disengage some public servants in the state for fiscal reasons.
This was contained in a statement issued by his spokesperson, Muyiwa Adekeye, and seen by Legit.ng.
The governor stated that the decision was painful but necessary to salvage the state's finances.
According to him, a significant amount of the statutory federal allocations is being spent on the wages of public servants monthly.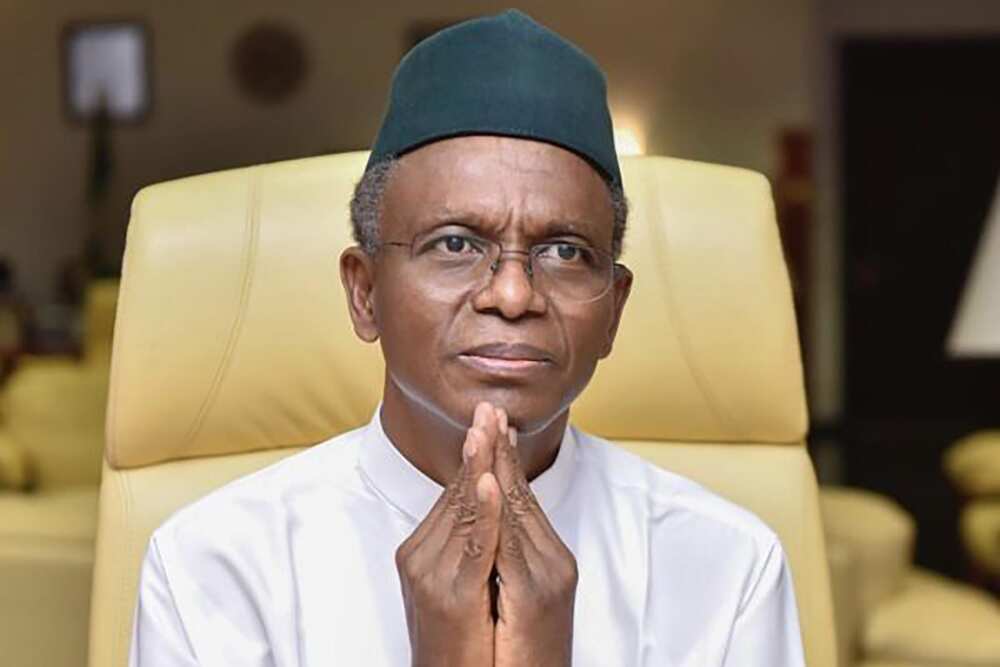 PAY ATTENTION: Install our latest app for Android, read the best news on Nigeria's #1 news app
A part of the statement read:
"The public service of the state with less than 100,000 employees and their families) cannot be consuming more than 90% of government resources, with little left to positively impact the lives of the more than 9 million that are not political appointees or civil servants.
"It is gross injustice for such a micro minority to consume the majority of the resources of the state."
The statement has triggered reactions from Nigerians on social media monitored by Legit.ng.
Saiki Mukthar wrote on Twitter:
"Sad thing is, the hard work Elrufai is putting into public/civil service reform in Kaduna could, and would most likely, be undone by another mistake of a governor. Now, look at the Abuja that he spent sweat and blood on its reform, at least, to a never-before-seen standard."
Otitokoro Ayelabola wrote:
"Elrufai always sacks workers two years to his exit from whatever office he occupied. APC frenzy is over."
Aliyu Abdullahi Gunigi wrote:
"Elrufai is such an arrogant man that doesn't tolerate the opinion of others and cruel in governance. This is the same man who wants to rule Nigeria. Even as a resident of Kaduna, I would rather support Tinubu or Rochas than such a tyrant."
Osim Victor wrote:
"He should go ahead and do it. Those that will be laid out, if given the chance to vote him out, will accept N500 and vote for him again. Nigerians will continue to pay through their nose, for the stupidity we display during elections of leaders."
Ndudim Brown wrote:
"One of our major problems in Nigeria is over-bloated civil service."
Oloye Ajikawo asks:
"I don't get - is there a spike in the employment rate in this state? Is there a spike in new private businesses opening up? When you lay these guys off, is there an alternative? What is the cost-benefit of this action? Would it reduce or increase poverty?"
Legit.ng had earlier reported that the previous decision of the administration of El-Rufai to disengage 4000 workers across the 23 local government areas of Kaduna sparked outrage across the state.
Opposition parties, labour unions and some residents condemned the action of the government, describing it as cruel and insensitive.
Recall that unemployment in Nigeria recently surged to the second-highest on a global list of countries monitored by Bloomberg.
The jobless rate in Nigeria rose to 33.3% in the three months through December 2020, according to a report published by the National Bureau of Statistics.
Source: Legit.ng