Heated Reactions from Nigerians as Report Reveals Ex-Governors, Senators, Ministers Own 130 Assets in Dubai
- A new report has indicted many former governors and others in a corruption scandal involving Dubai
- The report which was commissioned by HEDA revealed that more than 130 choice assets have been bought with looted funds in Dubai by the unnamed ex-governors and others
- HEDA said it has submitted the report to Nigeria's anti-graft agency, EFCC, to act upon
PAY ATTENTION: Join Legit.ng Telegram channel! Never miss important updates!
A new report has revealed that Nigerian former governors, senators, ministers and other Politically Exposed Persons (PEPs) have acquired with looted funds over 130 assets in Dubai, United Arab Emirates (UAE).
The report, UAE Component of the Three Countries (Nigeria, UAE and the UK) Comparative Study of Fixing Illicit Financial Flows, was commissioned by an anti-corruption group, Human and Environmental Development Agenda (HEDA), The Nation reported.
Legit.ng gathers that the report which was researched and compiled by Professor Gbenga Oduntan of Kent University has been submitted to the chairman of the Economic and Financial Crimes Commission, (EFCC), Abdulrasheed Bawa.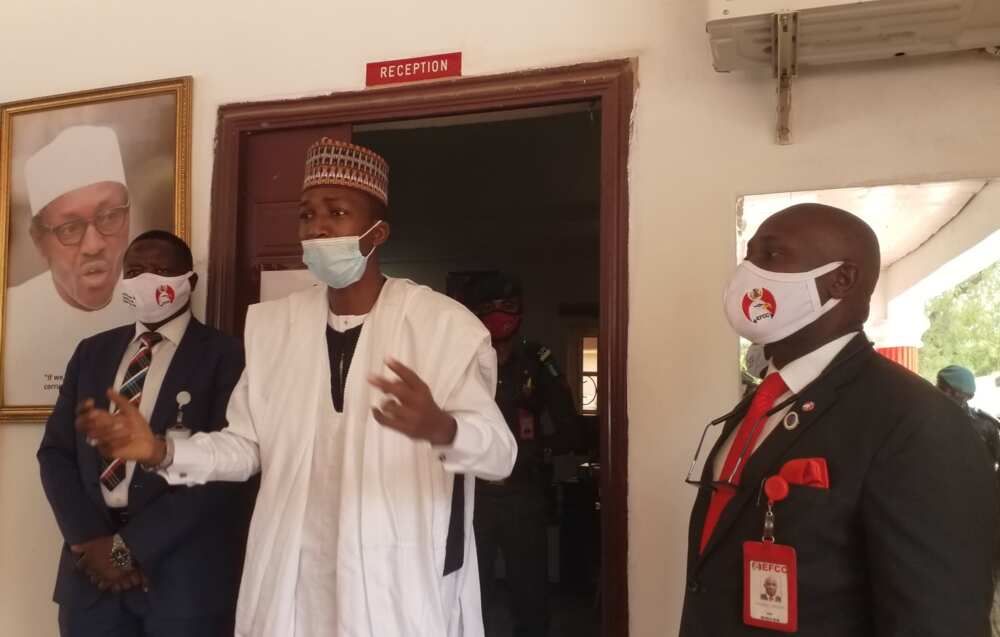 According to the report:
1. 34 Nigerian ex-governors own 71 properties
2. Seven senators own 33 properties
3. 13 federal ministers own 26 properties
The above listed are among the over 800 traceable to Nigerians in the UAE, including top security and military officers.
However, the report did not reveal the identities of the indicted ex-governors and others. The chairman of HEDA, Olanrewaju Suraj, said the organisation has left it to the EFCC to unravel them.
He said:
"We have left it to, EFCC to unravel them. It is so sad that our funds are being looted and stashed abroad. We are not even talking of assets in the UAE identified with some military officers."
Receiving the report on Wednesday, March 32, Bawa charged Nigerians to be vigilant and play their part in checking the illicit flow of the nation's resources out of the country.
How public funds are looted
The report also identified four major areas through which politically exposed persons loot the nation's resources. These are:
1. Bribery and corruption
2. Proceeds from commercial tax evasions
3. Illicit activities engaged in by corporations and business ventures
4. Proceeds derived from criminal activities.
Nigerians react
Nuhu M. Mbaya commented on Facebook:
"Their plan B to flee out of Nigeria when the so-called poor, uneducated and illiterate youth have began killing themselves in the name of civil war. No political leader will remain in this country by the time the nation is in Chaos."
Austin Ogbaka said:
"I wonder the mentality of these politicians.
"Buying choice properties, with looted funds, not minding what is life after now. My advice to these looters if they care to take it is there is a place called tomorrow"
Isaiah Gabriel said:
"They said when the head is not good the body will be affected. The problems in Nigeria are caused by bad governance. The religious sentiment, political war, instability in economic growth, lack of peace, and all the social vices r root cause of bad governance.
"Believe me, Nigeria is blessed. If a father can not handle his responsibilities well enough, problem is bound to take it's root in dat family.
"Use the concept of an irresponsible father who can't manage his home and use Nigeria as a preference. U will agree with me that we sincerely lack an outstanding leadership in Nigeria."
Bose Gold Akinlabi said:
"Is this not craziness looting your country's money to build and invest in another country whereas back home your citizens are jobless many turned turn to fraudsters, it is well."
Adewumi Omoola said:
"They thought Dubai is paradise where they will spend eternity."
PAY ATTENTION: Install our latest app for Android, read the best news on Nigeria's #1 news app
In another report, Abubakar Umar, a witness of the EFCC, has claimed that he handed over $15.8 million to a former governor of Benue state, Gabriel Suswam, at the former governor's residence in Maitama, Abuja.
According to a statement by the EFCC, Umar made the claim on Wednesday, March 24, when he appeared before the Federal High Court in Abuja.
The EFCC is prosecuting the former governor alongside his then Commissioner for Finance, Omadachi Oklobia, for allegedly diverting N9.79 billion belonging to Benue state.
Source: Legit.ng