Food blockade: Governor Bello shares details of what he did to avert north/south 'war'
- The governor of Kogi state, Yahaya Bello, has explained why he decided to act as a mediator between traders from the north and the south to end the six-day food blockade
- Governor Bello said the situation was fast degenerating and nobody was doing anything about it until he intervened
- According to the governor, he was able to convince the northern youths to allow peace to reign
- Though he did not mention any name, Bello said some prominent people faulted his intervention
PAY ATTENTION: Join Legit.ng Telegram channel! Never miss important updates!
Governor Yahaya Bello of Kogi State has explained the role he played in averting a 'war' between the northern and southern region of Nigeria during the recent food blockade.
He claimed some youths from the north had mobilised, ready for reprisals against the south during the recent food blockade, The Nation reports.
Recall that on Thursday, February 25, the Amalgamated Union of Foodstuff and Cattle Dealers in Nigeria declared a nationwide strike which led to a stoppage of food supply to the southern part of the country.
Bello told select journalists in Abuja that a crisis was looming already and he had to step in as the National Assembly, governors and stakeholders were not doing anything about it.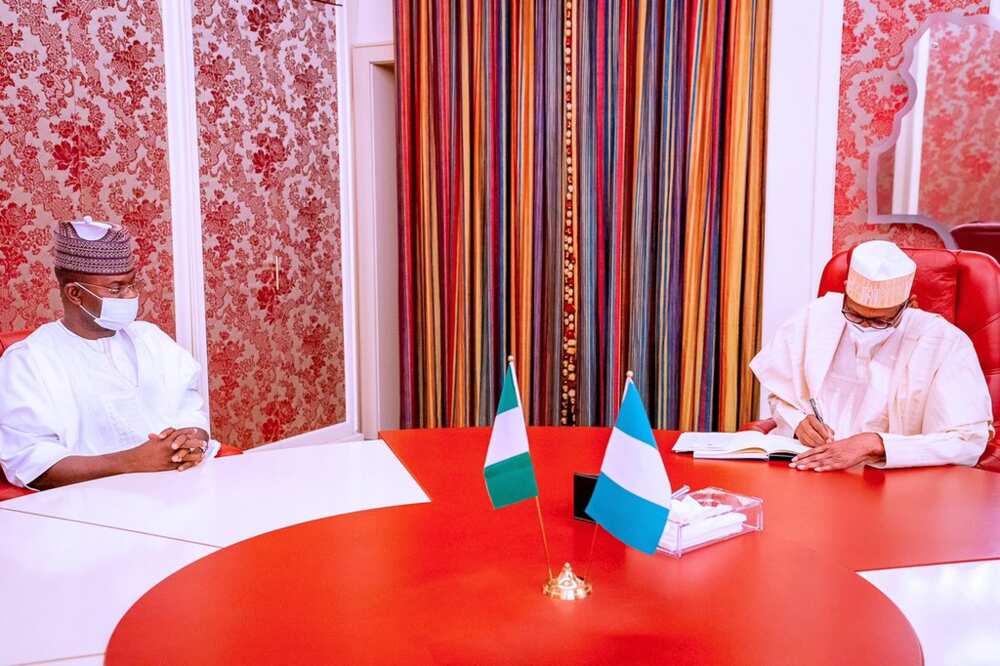 Kogi governor faced opposition for taking action
According to him, though he had the backing of President Muhammadu Buhari to resolve the issue between the northern and southern traders, some of his colleagues were against him.
He disclosed that his action did go down well with at least one state governor and someone close to the seat of power in Abuja as they challenged him, asking why he intervened.
The governor stated:
"Somebody just quickly drew my attention to it that Nigeria was heading towards catastrophe and I should do something.
"While I invited them and we were interacting, I received a call from the Presidential Villa that I should quickly go into the matter. As the youngest governor, as a gateway state, they said I should do everything to move into the matter. Then I moved into the matter and, God willing, the strike was called off."
Former minister condemns food blockade
The blockade of food supplies to southern Nigeria, which has since been called off, has continued to generate reactions.
Lending his voice to the matter, a former minister of youth and sports, Solomon Dalung, said things were fast degenerating in the nation.
Legit.ng reported that the Plateau-born politician explained that the faceoff was an extension of an overall weakness of the country, adding that if ignored it could determine the federation.
He also noted that proactive measures must be taken to avert ugly consequences as the drums of ethnic tensions are getting louder daily.
---
Nkem Ikeke is a senior editor at Legit.ng with over 8 years of experience. She is a graduate of Mass Communication from the University of Nigeria, Nsukka. Music, books and her sewing machine keep her busy when she's not copy-editing or writing for Legit.ng.
Source: Legit