Legit.ng weekly price check: Prices of drinks rise in Lagos market
- Prices of drinks especially table water increase further in market across the state
- At the market this week, Legit.ng sought to find out how the economy, the coronavirus pandemic and recent happenings in the country have resulted to the rising price of drinks
- Sellers attributed the increment in the cost price of table water to the high cost of raw materials used in production as patronage on drinks remains same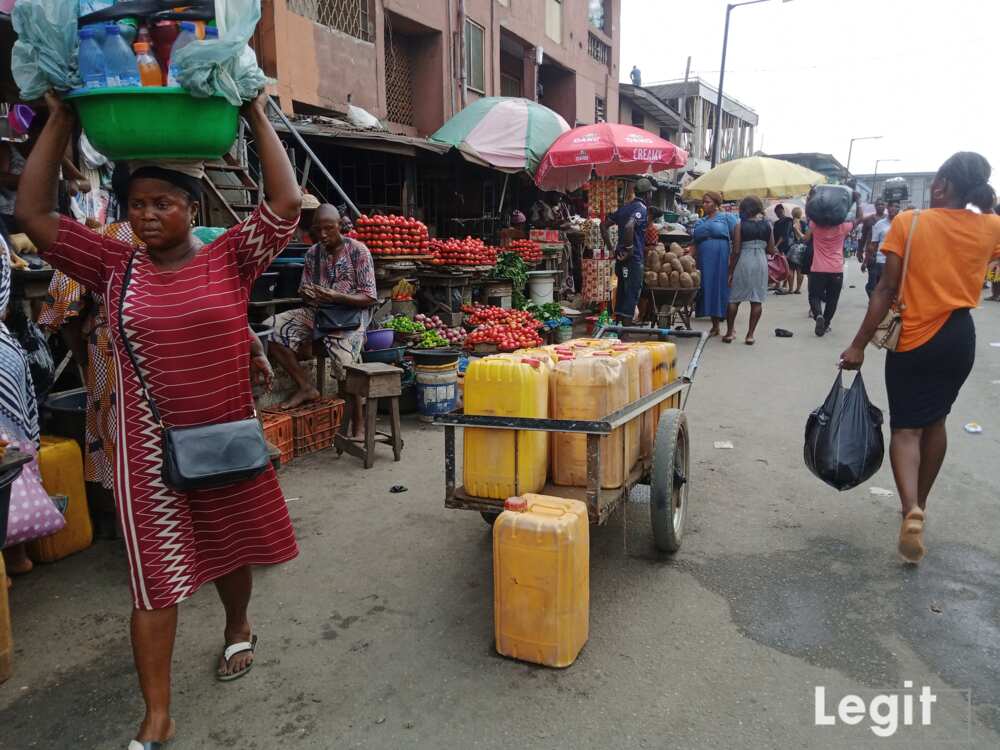 The rising cost of goods in the market affects not only business owners but the consumers as well. Following recent happenings in the country, some goods have become very scarce in the market.
Traders attribute the high cost of goods in the market now, to pressing issues like insecurity in the country, abduction in the northern region of the country, grappling economy, effect of the pandemic on businesses and high cost of transportation.
Whilst some traders are struggling to keep their business afloat by purchasing the goods at a high rate from suppliers, buyers at the market lament over low resources which in turn affects their purchasing power.
Water is vital to our health daily and drinking water is beneficial to the body system as it helps us stay hydrated always and keeps us refreshed. As an essential necessity, water goes well in every and any occasion and can be served chilled or at room temperature.
In view of the above, the cost price of drinks and even table water have been inflated in recent times. Sellers informed that the items have increased by N150 and N200. This not only affects their profit margin daily rather their quantity of purchase as wholesalers but patronage level is still intact.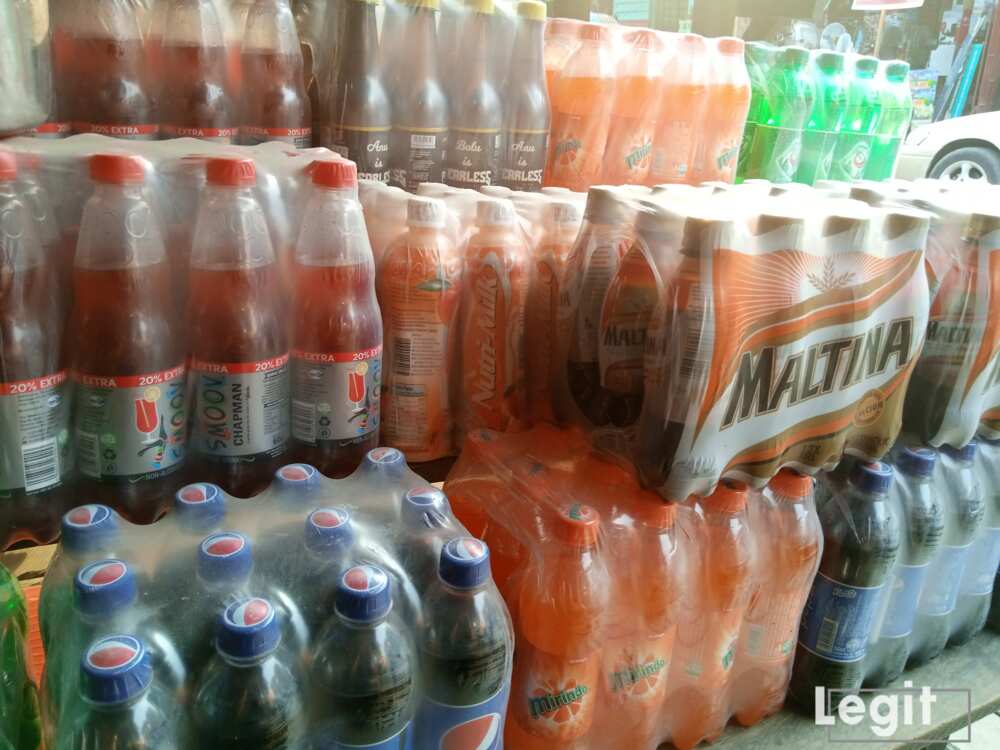 A businesswoman at Ketu market, who own a shop and sells drinks at wholesale price explained to Legit.ng the recent increment in the cost price of drinks and its impact on the pace of her business.
She said: "The increment in the cost price of goods affected business to some extent, buyers are lamenting over this increase and are demanding we seek help where necessary. The increase has been a gradual one but it was normalized from January and rises further from February, last month.
"Before, pack of soft drinks are sold from N850 but it increased to N900 and later to N950. Now, it is sold from N1,050 and some sell from N1,150. This has affected our pace of business as some street hawkers who buy and resell, their profit margin has dropped but patronage on drinks is intact, it didn't change at all as buyers shop more of new variants by popular brands.
"Generally, we are not making good profit from this new pricing as we have lost some loyal customers who have resolved to selling just sachet water when they cannot afford the new price of table water and the ones who still patronize us, opt for just a pack or half pack of table water."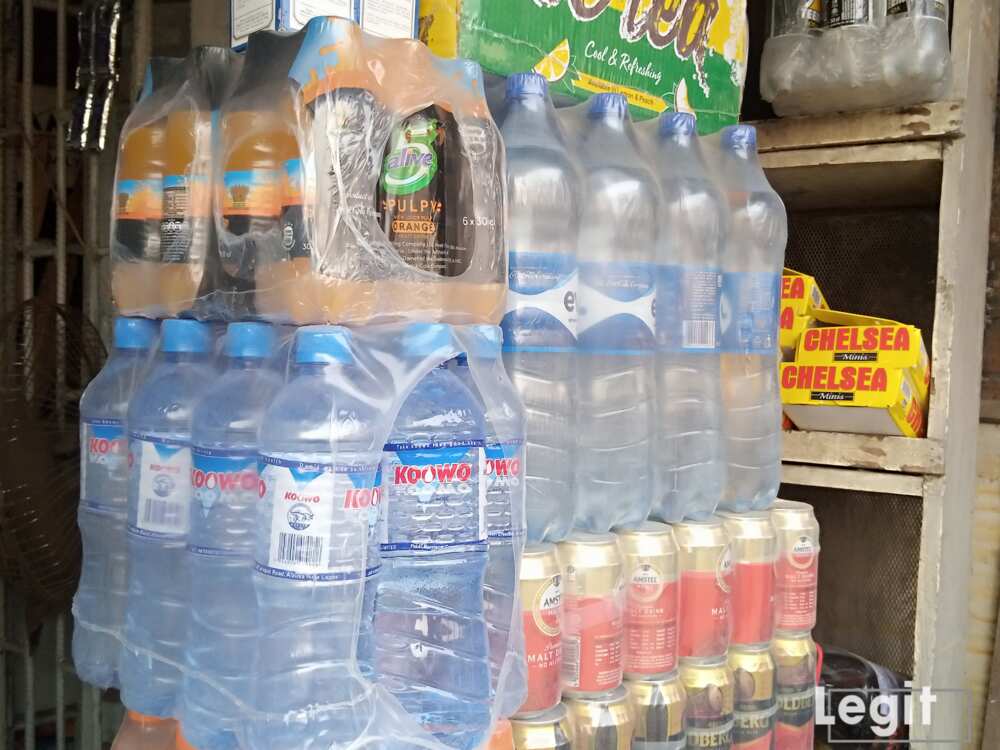 Another trader in the market who sells drinks like canned malt, juice and table water of reputable brands reveal to our correspondent that not all items witnessed increment in their cost of purchase. Adding that the increment is as a result of the high cost of materials as occasioned by the pandemic.
"For some time now, the cost price of drinks increased and it didn't affect the actual price it is sold to consumers and retailers but the cost of purchased. The reason for the increase according to suppliers was that some of the raw materials are not purchased here, but imported. So, with the effect on the coronavirus pandemic on global economy, the raw materials are very expensive now and the cost of bringing it into the country has risen further. This added together, inflate the cost price of drinks and water but patronage on drinks is not affected by this new development.
"Moreso, the cost price of the ingredients used in producing the drinks here have also increased. Doing business in Nigeria in recent times have been very difficult for some manufacturing firms as the cost of running and keeping the business afloat rises daily and the only way, they can make a return on their investment is by increasing the cost of purchase of the goods. the cost of purchased increased but the amount in which it is sold to the general public did not change hence patronage did not drop.
"Now, the cost price of canned drinks and plastic drinks of reputable brands have increased from N2,650 to N3,200 upwards. This price difference has affected our profit to a large extent as we do not make enough money from it again and, what we sell to retailers' who resell is by N50 or N100 difference. The profit is very small now and it is not encouraging; yes we make sales but the money we making from selling the item before, has dropped now, not the patronage level.
"Not all table water experienced a change in prices. Some like Eva water and Nestle water maintained their actual cost of purchase and their cost price in the market did not change because they have increased their prices before, the ones that just increased theirs are the ones that were very affordable in previous months, and the increase on a pack is just by N100/ N150 depending on the brand that manufactured it and location it is sold.
"A pack of eva water, big size sells for N1,300 before and now. Also, we sell to consumers at the initial price. The cost price of drinks vary now on the market location and level of patronage around the area. Soft drinks are sold from N120 while canned malt or bottles are sold from N170 upwards as table water sells from N70," A business owner at Ketu market informed.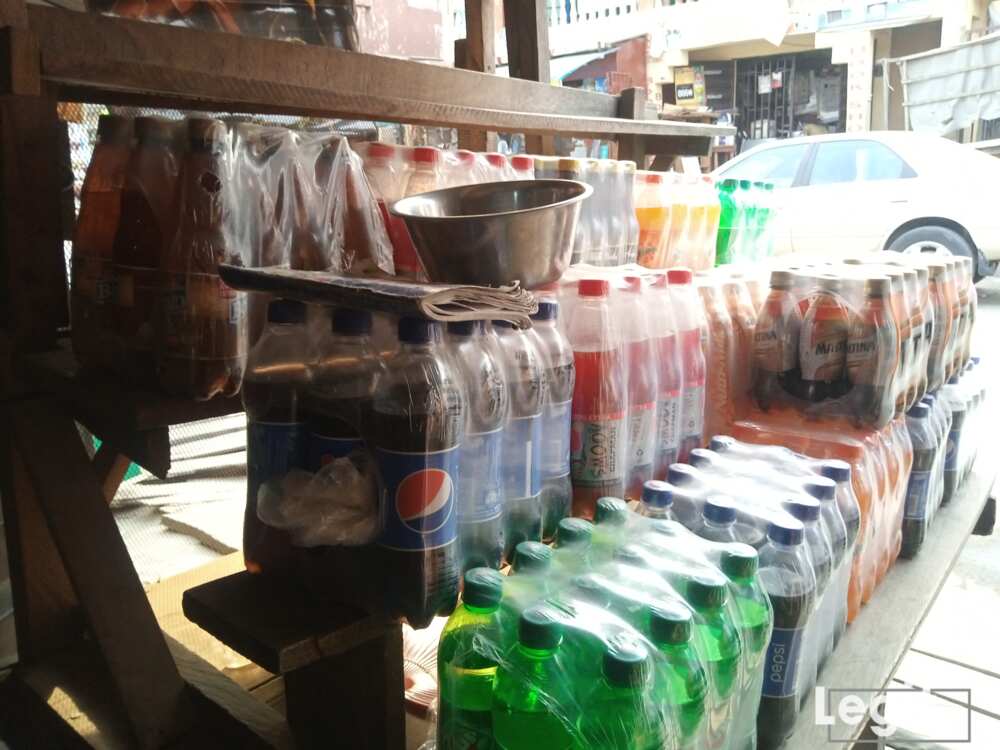 For a trader who sells same item at Ojota market, following the increment in the cost of purchase of table water/ bottle water, she makes more sales from sachet water. Adding that, she purchases sachet water in large quantity than bottle water in recent days.
She stated thus: "It is only the cost of purchase of drinks and water that increased, their cost price did not increase as sachet water is still sold for N10 but the quantity at which it is supplied to us reduced since the previous year while table water sells from N70 upwards now as its cost price increased further in some markets.
"We purchase five bags and half of sachet water from N500 and eleven bags for N1,000 but now, it has increased to N550 for just five bags and N1,100 for ten bags. It is not funny as we sell a bag to consumers from N120 before, but now we sell a bag for N150. The only difference now is that the gain we realize daily from the drinks dropped while patronage is still the same.
"For table water, we purchase a pack of 50cl from N400 and N450 before, but now it has increased to N500 and N550 respectively. For street hawkers whom we resell to, they complained of the inconveniences they experienced lately in selling bottle water from N60 and N70 upwards and others of reputable brands are sold from N100 upwards.
"The problem now is, getting to return the customers change of either N30 or N40, it is a huge task. So, they purchase more of sachet water than table water. Presently, when we want to purchase drinking water, we purchase more quantity of sachet water as it sells faster and less quantity of table water because the profit margin is very slim to that of sachet water.
"We make a profit of N30 from each bag of a sachet water we resell to traders especially street hawkers and we make just N50 from that of table water but before, we make N50 profit from a bag of sachet water and N100 or N150 profit from a pack of table water. In fact, table water is not moving like before because of this new price variation and we support our business now by selling soft drinks and recharge cards."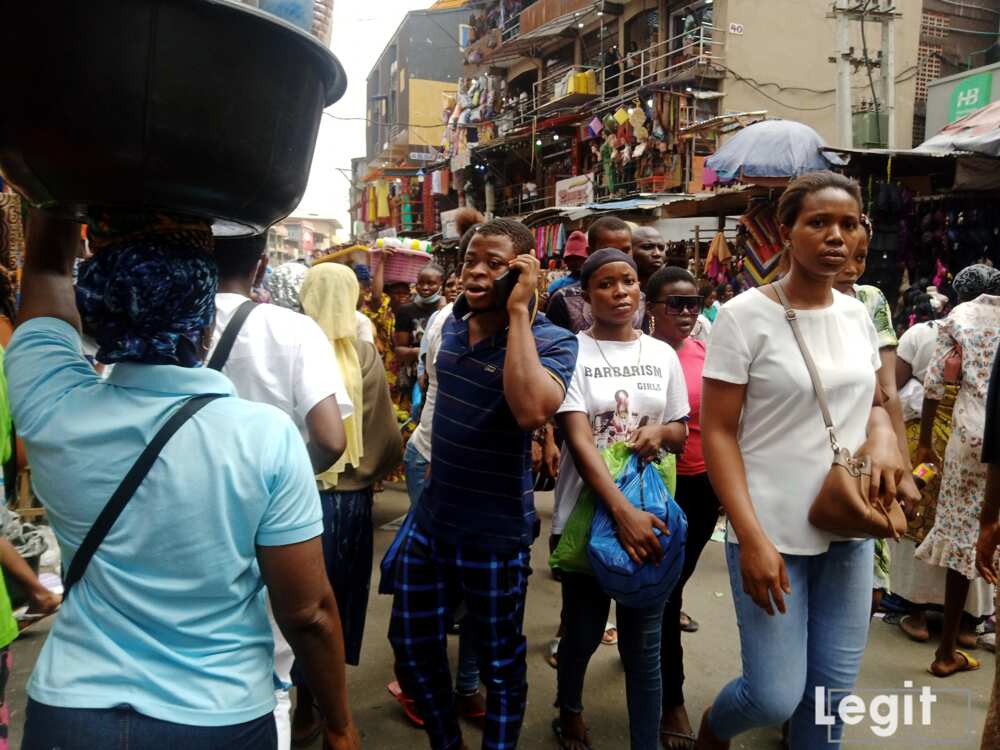 Further findings by our correspondent showed that some street traders and hawkers sell bottle water from N100, especially when there is traffic on some major roads in the state as buyers have no option than to purchase at such exorbitant rate.
A street hawker at Ikeja, who pleaded anonymity, told Legit.ng that occasionally, he sells table water from N100 instead of N70.
"I don't sell sachet water; I sell table water and soft drinks and I don't sell table water on the road for N70, rather I sell from N100 upwards occasionally. This is because asides purchasing the water at an increased rate now, we purchase iced blocks that would keep the water chilled as often demanded by consumers due to the present weather condition. The weather is very hot.
"For soft drinks, I sell soft drinks from N120 upwards, as the new cost of purchase did not favour us, the sellers, hence we sell from N120 upwards and malt drinks from N170. I would say the market location influence the cost price of the drinks now; some sell below N120 but on the island, it is sold from N120.
"It is stressful when you sell below N100 as one would need to look for change of small notes like N10 and N20, the small notes are a big challenge to us now. What we do is, add the cost of iced blocks to the cost of purchase and then sell at such exorbitant prices due to the unstable power supply we are experiencing in some parts of the state; which affects the pace of most businesses. There is money in the business but the present economy situation of the country is not helping us grow in it.
"This business is risky and at the same time tasking. Sometimes we make sales, at other times we do not; we have no choice than to keep moving and hustling to make ends meet. We make more sales now due to the sunny weather; and buyers on the road, when there is traffic, they tend to purchase and not even bother about the cost price.
"So, the patronage is very encouraging but we hope things return back as it were, because the increment in the cost price of goods, generally affects business owners and the buyers as well," The trader, who sells drinks and table water affirmed.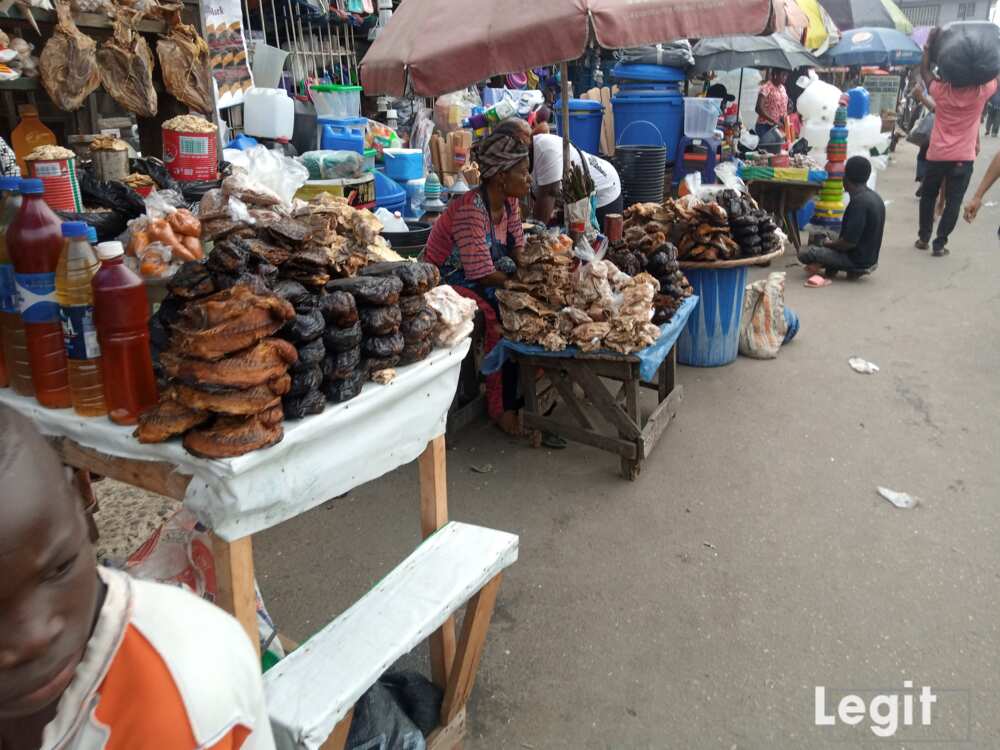 In another development, there's been a noticeable change in the cost price of goods like vegetables, perishables, beef and other foodstuff items in markets across the state. This was due to the strike by the leadership of the northern cattle and foodstuff dealers under the umbrella of Amalgamated Union of Foodstuff and Cattle Dealers of Nigeria (AUFCDN).
The strike which commenced on February 25th, 2021, lasted for some days but brought about the scarcity of some goods in the market and increment in the cost price of the available ones.
Although the strike has been called off by the association after an extensive dialogue and deliberation with the governor of Kogi state, Yahaya Bello on March 3rd, 2021, yet the cost price of major goods is still on the rise.
At the market lately, vegetables like pumpkin leave is very expensive same with beef, as buyers like food sellers informed that they sell their beef at an expensive rate now due to the increment in the cost of purchase but other goods like provisional items, rice and garri maintained their previous price same with yam.
A trader who sells food items like rice, beans, garri and vegetable oil, shed more light on the current prices of food items in the market.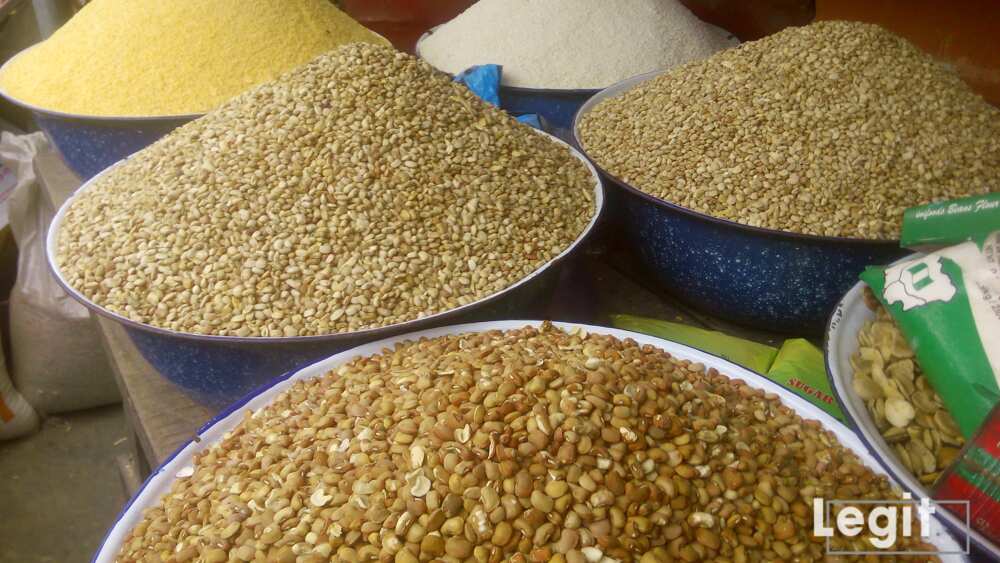 Expressing displeasure over the recent hike in cost of food prices, the trader explained how the increment has affected the quantity of purchase on the part of business owners.
He said: "There is increment in the cost price of goods even before the strike especially goods coming into the market from the northern region of the country, this is due to security issues and abduction within the region that has put a hold on activities of most farmers in affected states.
"In previous weeks, goods like pepper and tomato were very expensive same with goods like sweet potato but rice and garri, maintained their initial prices while groundnut-oil and palm-oil, their cost price dropped a bit. Sales was not really affected except for the quantity of purchase by our customers, dropped further.
"A 25-litre of palm-oil sells from N18,000 while a 25-litre of groundnut-oil sells from N19,000 and N20,000. For rice, a bag is sold from N25,000 and local rice, a bag is sold from N23,000. For garri, a bag is sold from N12,000 upwards and some traders sell at a higher rate depending on the market visited. But for beans, it is very expensive now.
"A bag of beans is sold from N50,000 upwards and we have to purchase different types; this makes it hard for us at the moment as the money at hand is not enough to do business and to purchase the goods in reasonable quantity. With the current market situation that we are all faced with now, we are managing to survive, because business is very dull, market is not moving as expected and sales not good enough but we still sell. We are still here because our regular customers patronize us daily and purchase goods in reasonable quantity hence we would have close down the business."
As it is now, the market environment is tensed as goods are still very expensive and traders lament low patronage while fruits affected by this latest development are also very expensive in the market only fruits in season are affordable, in wake of the second wave of the coronavirus pandemic in the country.
INTERVIEW: Can N5000 feed a Nigerian family for a month? via Legit TV
Source: Legit.ng