Donald Trump makes big political comeback, announces plans to reclaim presidency
- A former US president, Donald Trump, has made his first public speech since he left office
- Trump refused to acknowledge that he lost the US presidential election
- The politician is confident that a Republican president can return to the White House
PAY ATTENTION: Join Legit.ng Telegram channel! Never miss important updates!
A former Unites States president, Donald Trump, has spoken about his likely plan to reclaim the presidency in the 2024 election, less than six weeks after leaving office.
Trump gave the hint about his presidential come back at a Conservative Political Action Conference (CPAC) in Orlando, Florida on Sunday, February 28, The VOA reported.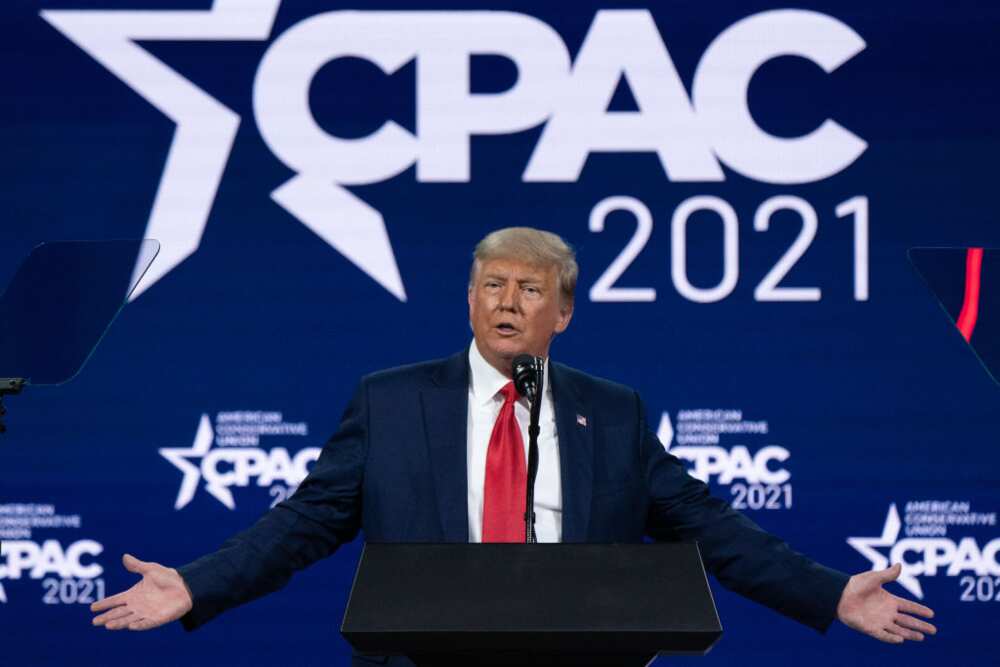 He said:
"I may even decide to run again.''
Trump criticised the administration of President Joe Biden, describing the current regime as the most disastrous first month in modern history.
CNN reported that he is repeating his claims that he won the US presidential election, which President Joe Biden won resoundingly with 306 to Trump's 232 electoral votes.
He expressed the confidence that he will defeat Biden in another presidential contest.
The Republican leader said:
"With your help, we will take back the House, we will win the Senate, and then a Republican president will make a triumphant return to the White House.''
In his speech Sunday, Trump named all 10 Republicans in the House who voted to impeach him a week before he left office January 20 and all seven US senators who voted to convict him in the five-day Senate trial.
PAY ATTENTION: Install our latest app for Android, read best news on Nigeria's #1 news app
He urged his listeners to vote them out.
Meanwhile, despite his controversial exit from office, Trump has been honoured by some members of the Republican party.
According to Reuters, Trump was praised by the US conservatives at the just-concluded gathering CPAC. The news media stated that the conservatives said Trump remains a political force for the Republican party just as they showed him loyalty.
One of the highlights of the events was the display of a gold-coloured statue of the former president, dressed in a jacket, red tie and Stars-and-Stripes boxing shorts, at the conference site.
Kess Ewubare is a senior political/current affairs correspondent at Legit.ng. He has both a BSc and a Master's degree in mass communication. He has over 10 years of experience in working in several fields of mass communication including radio, TV, newspaper, and online. For Kess, journalism is more than a career, it is a beautiful way of life.
Source: Legit.ng