- Vice President Yemi Osinbajo has reacted to the recent mayhem in the Shasha area of Oyo state
- VP Osinbajo says the area where the mayhem occurred represents unity as a fusion of all tribes in Nigeria
- The vice president canvassed that criminals hiding under ethnicity to cause chaos must be dealt with by the authorities
PAY ATTENTION: Join Legit.ng Telegram channel! Never miss important updates!
Vice President Yemi Osinbajo has called for peace between northern traders and southwest people after reported clashes between both sides in Shasha area of Oyo state.
A statement sent to Legit.ng by Laolu Akande, the vice president's spokesman, quoted Osinbajo as saying people should not hide behind ethnicity to perpetrate crime.
Osinbajo was said to have made the comment while speaking to some journalists in Lagos after he paid a condolence visit to the family of a former governor of the state, Late Alhaji Lateef Jakande, who passed on earlier this week.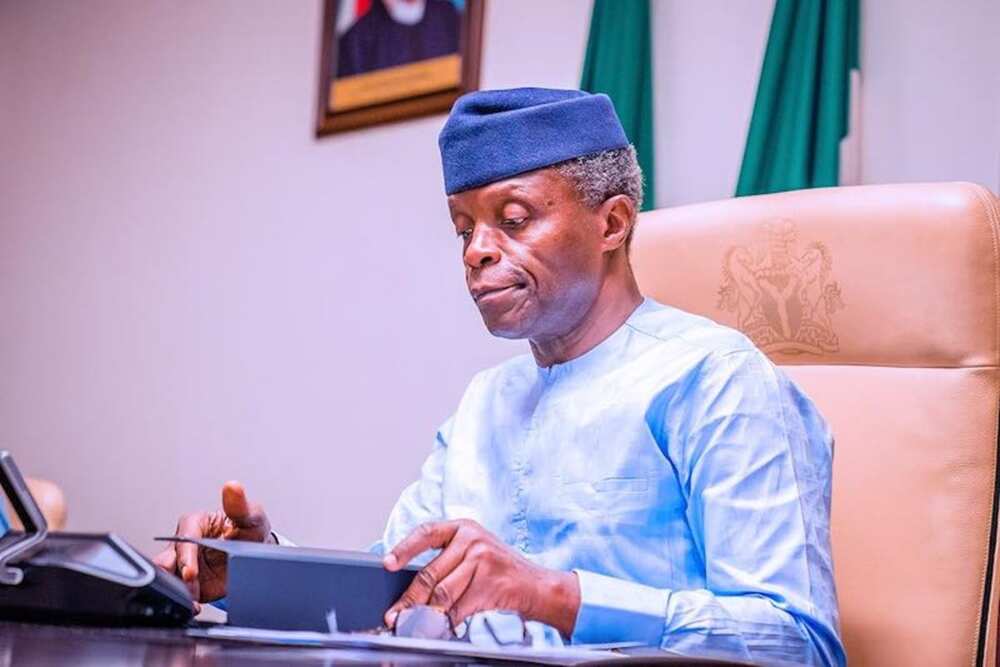 PAY ATTENTION: Install our latest app for Android, read best news on Nigeria's #1 news app
His words:
"I have heard about the unfortunate mayhem and the tragic loss of lives at the Shasha market in the past few days.
"Shasha market has been a melting pot for traders bringing foodstuff from the north to the southwest for decades.
"For decades traders from the north have done business with their brothers from the southwest and they have lived in peace and even inter-married. Shasha is a place of unity.
"So when a disagreement arises between individuals or a criminal act is committed by one against the other we must ensure that we see it for what it is,  a criminal act, which must be punished according to law. Not an ethnic conflict.
"Every Nigerian has a constitutional right to live, work and enjoy their lives in safety, peace under the law.
"It is the duty of the government through the police and other law enforcement agencies to arrest and prosecute any person who commits a crime against a citizen of this nation. It is the role of the citizen to assist the police to identify the criminals.
"We must never take the law into our own hands, if we do we will be promoting chaos, and a breakdown of law and order, and all of us especially the most vulnerable amongst us, will be at risk. 
"I urge all community leaders to work together to preserve the brotherly co-existence that our people from different parts of the country have enjoyed in Shasha market for several decades.
"I commend the governor for his swift and decisive action and all the law enforcement agencies for their prompt intervention."
Meanwhile, Rotimi Akeredolu, governor of Ondo state, has dabbled into the mounting ethnic tension in Shasha community of Ibadan, Oyo state.
In a statement on Sunday, February 14, Governor Akeredou maintained that all hands must be on deck, warning that actions stoking ethnic tension in the southwest will not be condoned by the government.
In a related development, Oyo state governor, Seyi Makinde is currently visiting the Shasha market, the venue of the rival clashes.
The governor was joined by Governor Akeredolu, the Oyo state commissioner of police, and others.
Jerrywright Ukwu is an Abuja-based senior political/defence correspondent at Legit.ng. He is a graduate of the Nigerian Institute of Journalism, Lagos and the International Institute of Journalism in Abuja. He is also a member of the Nigeria Union of Journalists. He spends his leisure-time reading history books. He can be reached via email at jerrywright39@yahoo.com.