- Hours after being arrested by police for protesting alongside some other Nigerians at Lekki, comedian Mr Macaroni has been granted bail
- The Lagos state police charged the comedian to court for breaking pandemic restrictions and taking part in a banned protest
- A lawyer to the protesters confirmed the bail without giving details about the conditions
A Nigerian comedian, Mr Macaroni, who was arrested on Saturday, February 13 after taking part in a protest at the Lekki Tollgate in Lagos state, has been granted relief by the court.
Legit.ng reported how there was pandemonium in Lagos on Saturday as the police in the state arrested some protesters at the Lekki TollGate.
The protesters had stormed the tollgate to march against its repossession by the Lekki Concession Company but police officers dressed in riot gear would have none of that. They arrested marchers that were in sight.
Mr Macaroni was one of the protesters arrested at the scene of the protest.
However, the comedian was granted bail on Saturday after he was arraigned before a mobile court by the Lagos State Police Command.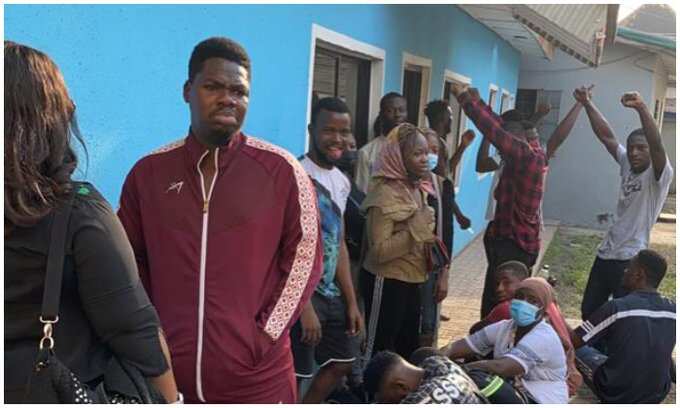 This bit of information was disclosed by one Moe Odele, a lawyer to the EndSARS protest who tweeted some details of the case brought against Mr Macaroni by the police.
According to her, Mr Macaroni was charged on two counts of breaking COVID-19 pandemic restrictions and ignoring a direct order not to protest.
Odele had earlier tweeted how lawyers had been following the movement of the arrested protesters by police on Saturday.
Earlier, Legit.ng reported how earlier reports that Mr Macaroni had been ordered released was retracted.
Confirmation was issued that the comedian and other protesters were undergoing trial by a mobile court at the State Criminal Investigation Department, Panti, Yaba.
Meanwhile, a disappointed former vice president of Nigeria, Atiku Abubakar, reacted to the numerous arrests of Lekki tollgate protesters carried out by police officials in a tweet on Saturday.
Atiku condemned the actions of the security agency and cited the 1999 constitution which gave all Nigerian citizens the right to engage in peaceful protests.
-------
Akinyemi Akinrujomu is a professionally trained journalist with over 16 years of experience. His knowledge spans print, broadcast, and online media. He has worked in several top media organizations in Nigeria. He has also pioneered several print media publications. He is a graduate of History and International Studies from the Lagos State University and he also holds a professional National Diploma in Journalism. He loves reading, travelling and listening to music.