Exclusive: LAX opens up about his music growth, philanthropy and lessons learnt from Wizkid
- Nigerian singer, LAX recently had a chat with Legit.ng about his music career
- The Gbefun crooner spoke about his experience during his time at Star Boy Records owned by Wizkid
- According to the singer, he would love to be remembered for his music and philanthropy
PAY ATTENTION: Join Legit.ng Telegram channel! Never miss important updates!
LAX in an exclusive interview with Legit.ng talked about his music and how he tries to focus on the positive side of everything he does.
The singer whose real name is Damilola Abdul Rasak Afolabi revealed his music comes from his heart and that he receives tons of Instagram messages from people who tell him how their lives have been touched by his music.
According to the singer, he is happy with touching lives and needs no award.
On doing giveaways, LAX revealed he has been doing giveaways behind the scenes since he was 12 years of age and not for clout as many people believe.
On his reason for going public with his selfless deeds, he said:
"I feel like people need to be inspired."
About his music during his time at Star Boy Records owned by Wizkid, and now, he explained that during his time with Wizkid, he was more about experimenting with sounds and figuring out what he wants.
As of now, LAX says he is more decisive about his music as he knows what he wants. The singer also spoke about his desire to be known for his music and philanthropy.
About working with Wizkd, LAX had this to say:
"Everything Wizkid was doing, I was watching. I learnt how to record more than one song in a day from Wizkid. He'd record 3, 4 songs in a day and all the songs are bangers."
About the things he learnt concerning business, LAX described Wizkid as being very patient and careful in his decision-making process.
"Wizkid can wait five years to make the right move."
LAX also talked about how he applied this in how he deals with brands and has learnt to turn down offers that do not align with his vision.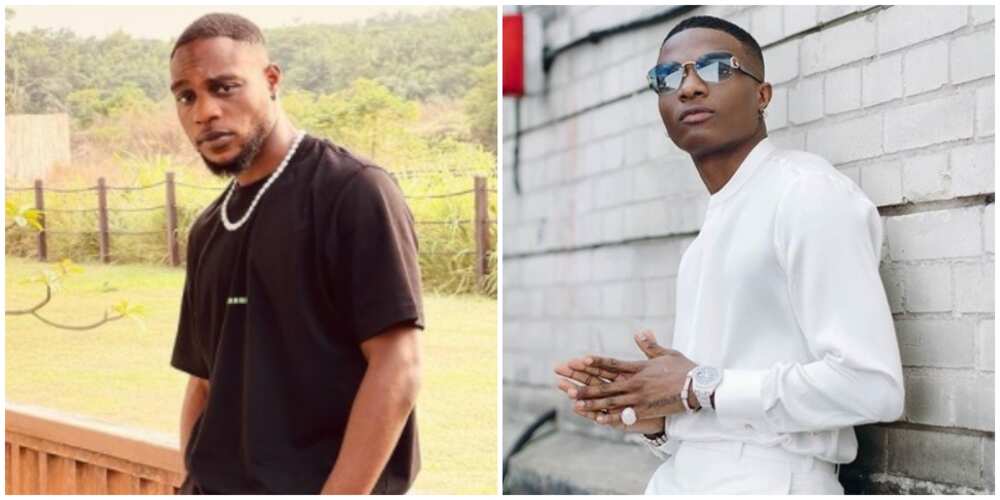 Contrary to what many people think, the singer is still very much on good terms with Wizkid and has revealed that Starboy vets most of his songs.
In a similar story, LAX - two months ago - responded to a fan who said his music career started to thrive after he left Wizkid.
The fan identified as Dawobodu on Twitter shared a post which read:
"Ever since this guy left wizkid, he has has a thriving musical career. Another way to prove to you that Wizkid only helps himself."
Well, it appeared the fan was very wrong because LAX responded to the tweet and showed his allegiance to Wizkid.
Source: Legit.ng