Nigerian man reveals his wife almost died from doing house chores
- A Nigeria man has had his view on house chores changed after an ugly incident in which he almost lost his wife
- The man identified as Oluwanishola Akeju took to Twitter to share why he now thinks division of labour with chores is the way to go
- He said feeding baby is the most difficult work he has ever done all his life
PAY ATTENTION: Join Legit.ng Telegram channel! Never miss important updates!
A Nigeria man has described the task of feeding baby as the most difficult he has had to do all his life.
The man identified as Oluwanishola Akeju took to Twitter on Thursday, February 4, 2021 to narrate an almost-ugly incident that informed his decision to always assist his wife with house chores.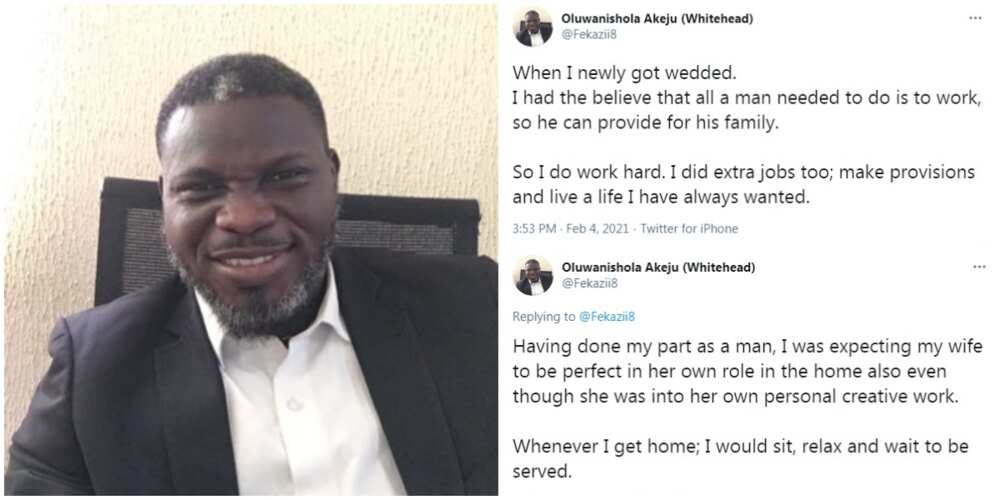 In the post seen by Legit.ng which has been generating massive reactions from Nigerians, Oluwanishola said he was an ardent believer of the school of thought that all a man needed to do was to work hard and provide for the family while it is the sole responsibility of the wife to do house chores.
According to him, whether or not a woman has a handiwork, she must still tend to needs of the home as her sole duty. But that orientation changed following an incident that almost cost his wife's life.
He said he had returned from work one fateful day to the smell of burnt food.
He had moved to put it out just as he prepared to scold his wife for allowing their food to get burnt.
"My first step in the kitchen, i saw my wife sitting on a stool, with her arms folded leaning on a cupboard asleep. I put the cooker off and angrily tapped her. She didn't wake up. I tapped her well again. No response. I did again. No response still. I got scared..."
Oluwanishola recounted that he had rushed his wife unconscious to the hospital where it was revealed that his wife had lacked sleep and overworked herself which led to her unconsciousness.
Nigerians gave mixed reactions to his story.
@tosinolaseinde wasn't happy with the man, she reacted:
"She was running a business, caring for a toddler/baby and doing ALL the chores at home and you didn't know why she was exhausted. She had to have a health scare."
@IfyCynthetic recounted:
"All I knew was one evening, everything turned black and I woke up in the hospital. This brought tears to my eyes because I can relate.
"Since then, it's been division of labor in my home. We've never been happier. Parenting, work and home chores plus city stress is overwhelming."
@iucurrent lamented:
"My little sister didn't survive. She died."
PAY ATTENTION: Click "See First" under the "Following" tab to see Legit.ng News on your Facebook News Feed!
Meanwhile, Legit.ng earlier reported that about a man who stopped his friend from coming to his house as a result of the remark he passed on his wife.
According to @Shigoopompey, his friend visited him for dinner and after they finished dining, he tried to clear and clean the table. The Twitter user said that his friend stopped him and said that he should call his wife.
Source: Legit.ng