Inside Floyd Mayweather's amazing £20m car collection with white vehicles in Las Vegas and same motors in black in LA
- Floyd Mayweather reportedly made over $1billion during his remarkable boxing career
- The boxing legend has reportedly spent nothing less than £20m acquiring exotic vehicles
- Mayweather has black car collections in LA as well as same set of collection in white Las Vegas
PAY ATTENTION: Join Legit.ng Telegram channel! Never miss important updates!
When it comes to luxurious cars, Floyd Mayweather is the GOAT as he has reportedly spent nothing less than £20million acquiring exotic vehicles.
The retired American boxer reportedly raked home over $1billion in a boxing career that saw him go undefeated in 50 professional fights.
'Money Man' as he is fondly called has amassed dream motors which include four Bugatti Veyron cars costing £1.7million, a series of Rolls-Royces reportedly £3million and a host of others.
SunSport are reporting that something unique about Mayweather's vehicles are because they come in just two colours, black or white which are split between his two mansions in Las Vegas and Los Angeles.
Within his white cars are exceptional cars which includes a Lamborghini Aventador (£275,000), as well as a Ferrari 488 worth around £238,000.
There's even a classic Porsche 911, but the Bentley Mulsanne - the most expensive Bentley you can buy with a starting price of £238,700 - takes centre stage.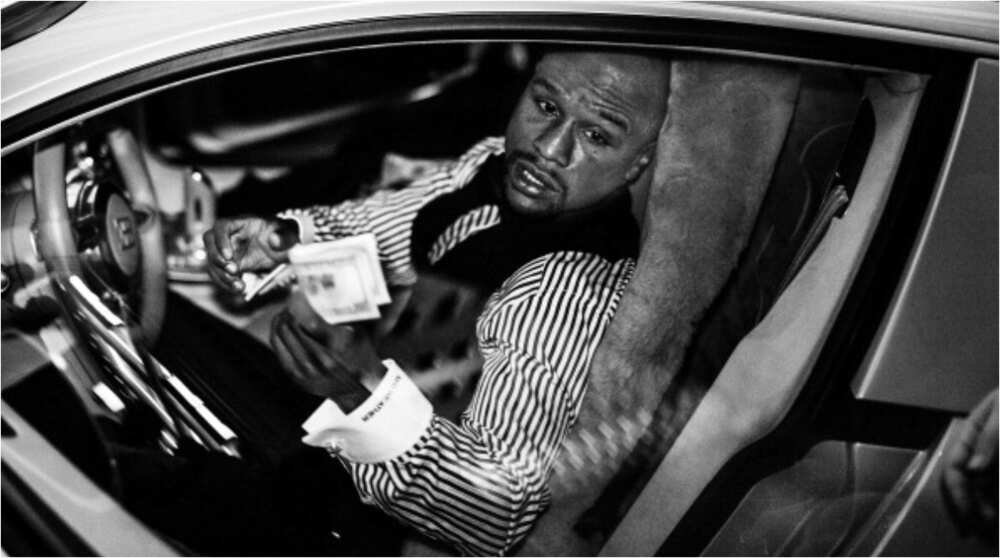 And he'll even park them in front of a private jet, just to show off his impressive range.
One of the Ferraris comes in a red and silver colour and the boxer has occasionally shown off wads of notes as well as the interior of his cars.
Sometimes he parks his cars in front of a private jet just to show his classic and luxurious lifestyle.
5 Rolls-Royces have been spotted in Mayweather's Beverly Hills' garage, in total worth over £2 million.
Meanwhile, Legit.ng earlier reported that Floyd Mayweather and Conor McGregor are set to hit the stage again for the second as talks of a rematch is now on the cards.
The fight is set to be staged on a luxury boat in Saudi Arabia due to the lockdown restrictions as organisers look to take the lucrative fight to another level.
The fight made 4.4 million per-pay-view in the United States alone while in the United Kingdom it was close to 875,000.
At the MGM Grand Arena in Las Vegas, around 16,000 tickets were sold for the showpiece as McGregor reportedly took home £100million despite losing the fight.
Source: Legit.ng