Adorable father daughter quotes for all the daddy's girls out there
Nothing compares to the love a father and daughter have towards each other. A father is his daughter's best friend, first love, and number 1 supporter and protector. It is for this reason that there are numerous father daughter quotes that speak of this untouchable bond.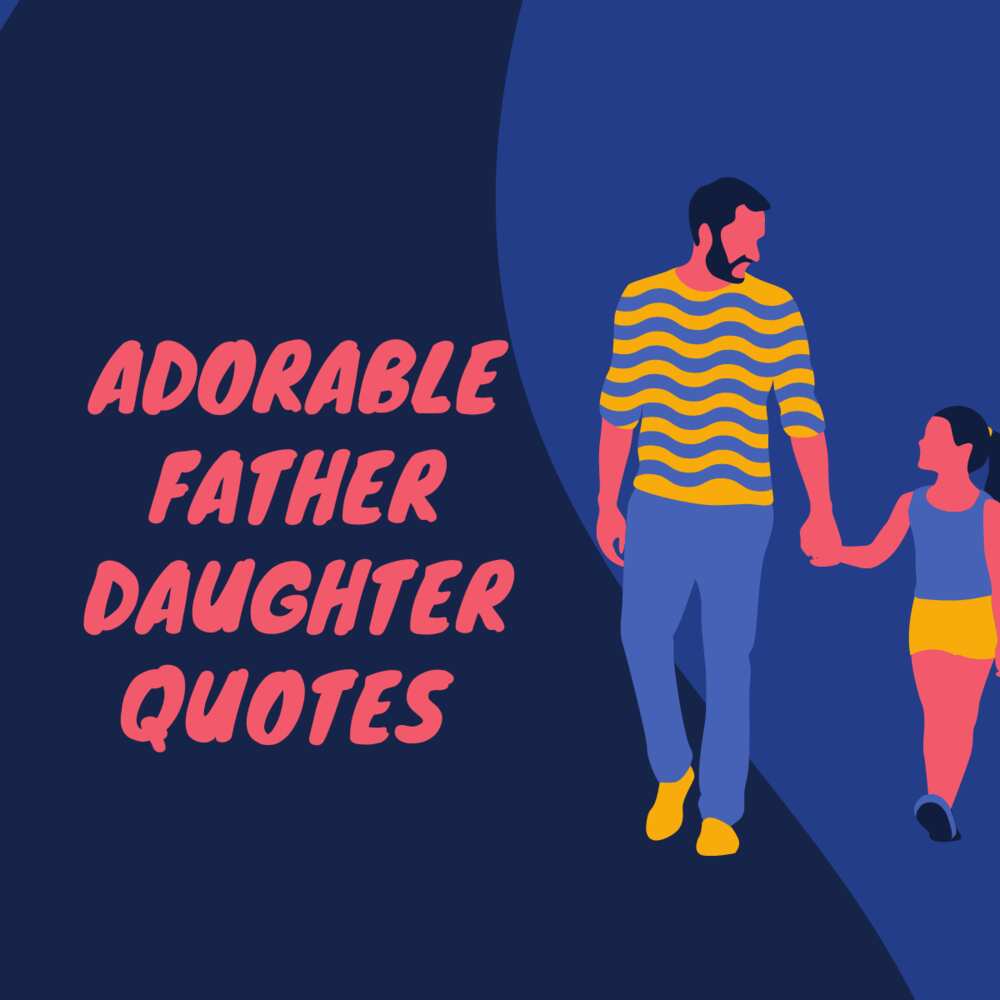 Have you been looking for dad and daughter quotes that you can use to make your dad feel special? Or are you a dad who has been looking for quotes about daughters? You will find them all here.
Heartwarming father daughter quotes
How do you describe a father's love to his daughter? No words can fully describe the beautiful, lifelong bond between a dad and his daughter. However, there are some that come close.
Check out these quotes about fathers and their daughters:
"It is admirable for a man to take his son fishing, but there is a special place in heaven for the father who takes his daughter shopping." – John Sinor
"Old as she was, she still missed her daddy sometimes." – Gloria Naylor
"I think my mom put it best. She said, 'Little girls soften their daddy's hearts.'" – Paul Walker
"I love my daddy. My daddy's everything. I hope I can find a man that will treat me as good as my dad." – Lady Gaga
"I am not ashamed to say that no man I ever met was my father's equal, and I never loved any other man as much."—Hedy Lamarr
"Being a daddy's girl is like having permanent armor for the rest of your life." – Marinela Reka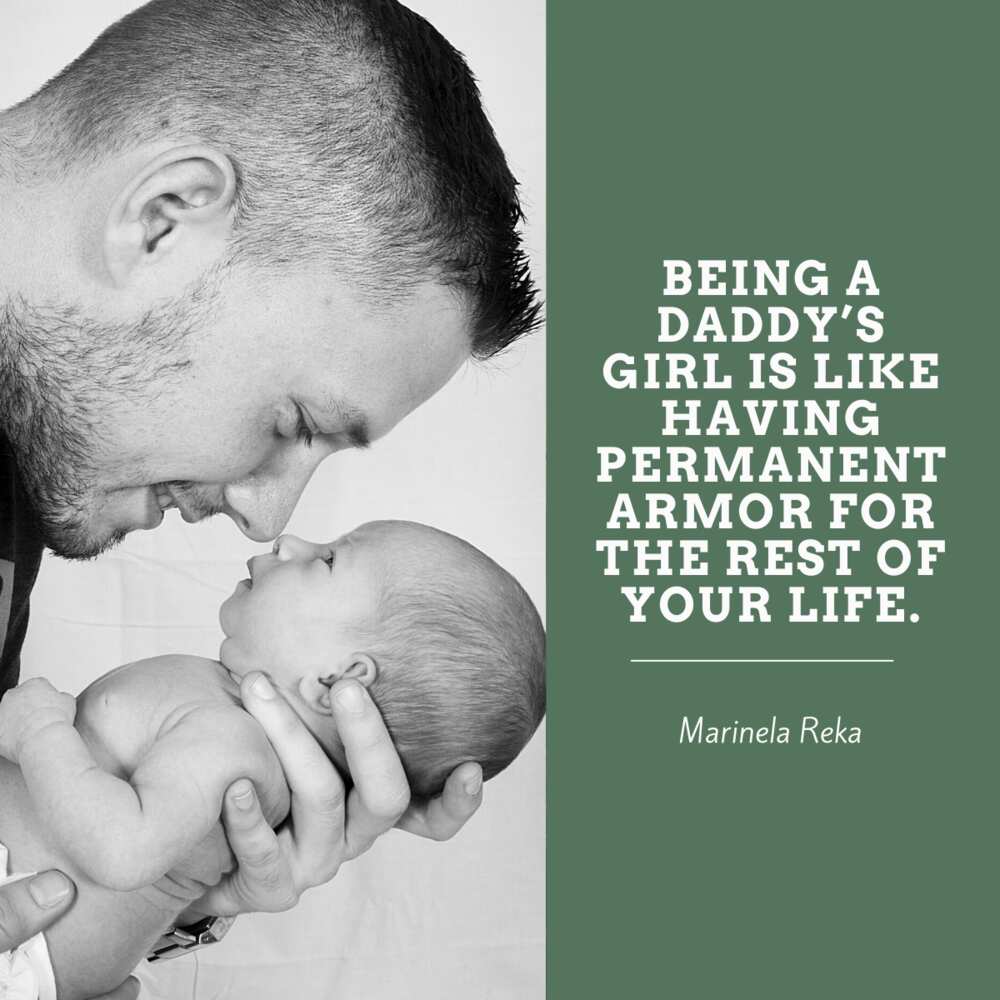 "When you're young, you think your dad is Superman. Then you grow up, and you realize he's just a regular guy who wears a cape." – Unknown
"Many a man wishes he were strong enough to tear a telephone book in half — especially if he has a teenage daughter." – Guy Lombardo
"There's something like a line of gold thread running through a man's words when he talks to his daughter, and gradually over the years it gets to be long enough for you to pick up in your hands and weave into a cloth that feels like love itself." – John Gregory Brown
"To her, the name of father was another name for love." –Fanny Fern
"Fathers, be good to your daughters. You are the god and the weight of her world." – John Mayor
"There will always be a few people who have the courage to love what is untamed inside us. One of those men is my father." – Alison Lohman
"A girl's first true love is her father." -Marisol Santiago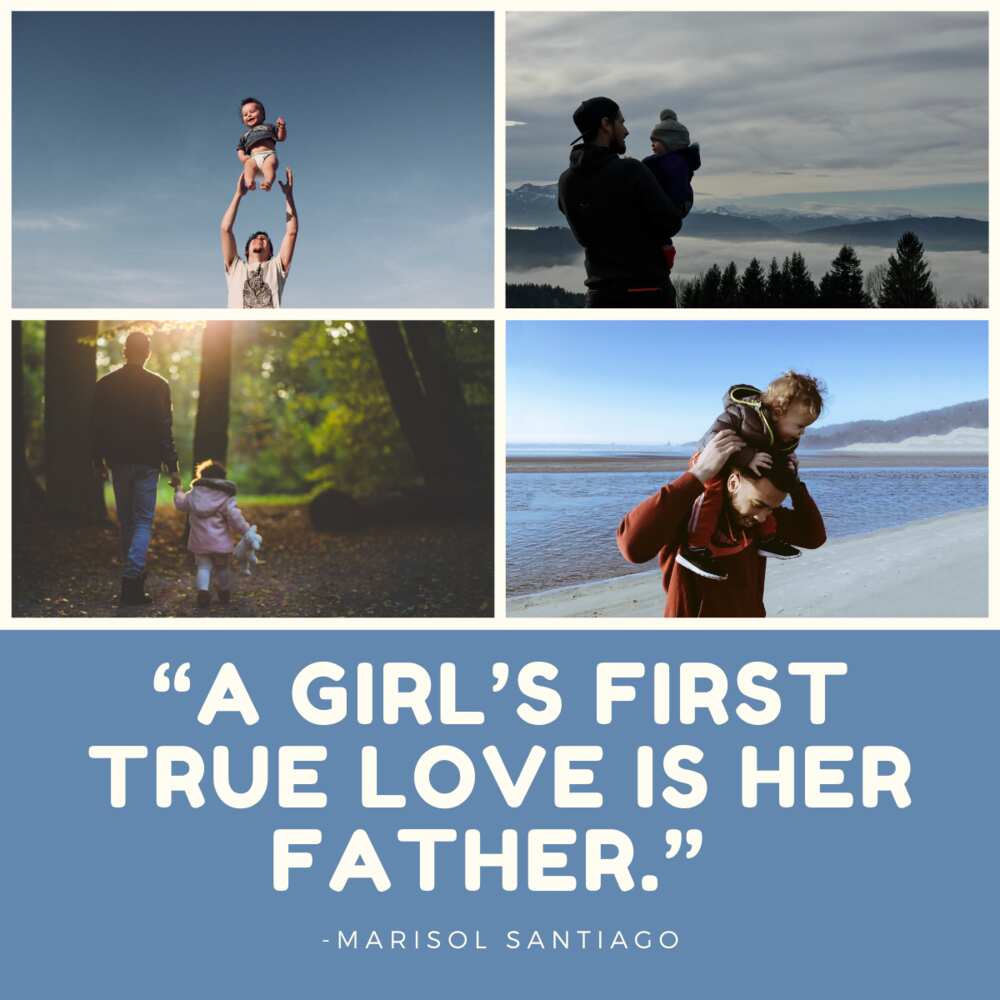 "My dear father; my dear friend; the best and wisest man I ever knew, who taught me many lessons and showed me many things as we went together along the country by-ways." – Sarah Orne Jewett
"My Daddy was my hero. He was always there for me when I needed him. He listened to me and taught me so many things. But most of all he was fun. —Bindi Irwin
"Daddy, thanks for being my hero, chauffeur, financial support, listener, life mentor, friend, guardian, and simply being there every time I need a hug." – Agatha Stephanie Lin
"When my father didn't have my hand, he had my back." – Linda Poindexter
"I smile because you're my father. I laugh because there's nothing you can do about it." – Unknown
"A father's job is not to teach his daughter how to be a lady. It's to teach her how a lady should be treated." – unknown
"Big fathers, complimenting their tiny daughters, are so beautiful." – Unknown
"Certain is it that there is no kind of affection so purely angelic as of a father to a daughter. In love to our wives there is desire; to our sons, ambition; but to our daughters, there is something which there are no words to express." – Joseph Addison
"When daughters have engaged dads, they benefit from that relationship for a lifetime." – Kevin Leman
"My father died many years ago, and yet when something special happens to me, I talk to him secretly not really knowing whether he hears, but it makes me feel better to half believe it." – Natasha Josefowitz
"The reason I am bad at cooking is my father always appreciated the dish I prepared, and I believed him." – Alia Bhat
"A little girl giggles when she is denied an ice-cream by her mother. She knows daddy will get her some later." – Unknown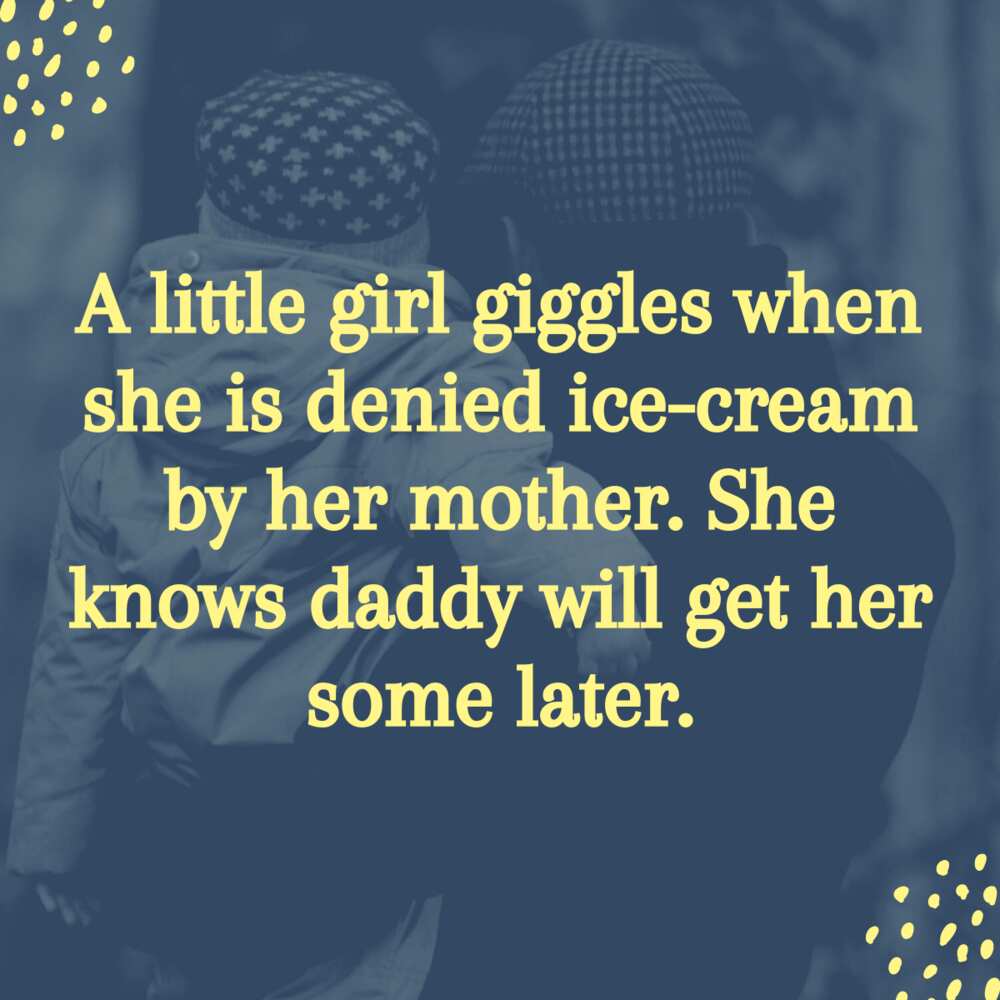 "You've had me wrapped around your finger since the day you were born." – Tim McGraw, "My Little Girl"
"There is no place higher than on Daddy's shoulders." – Unknown
"A son is a son till he gets a wife; a daughter is a daughter for the rest of her life." – Irish Saying
"A daughter needs a dad to be the standard against which she will judge all men." – Gregory E. Lang
"The reason why daughters love their dad the most is…that there is at least one man in the world who will never hurt her." –Anonymous
"It was my father who taught me to value myself." – Dawn French
"Behind every great daughter is a truly amazing dad." – Unknown
"No one in this world can love a girl more than her father." – Michael Ratnadeepak
"Dad, you've always been the coolest – like all those times you said 'yes' when Mom said 'no.'" – Unknown
"When my daughter says 'Daddy I need you!' I wonder if she has any idea that I need her billion times more." – Stanley Behrman
"To a father growing old, nothing is dearer than a daughter." – Euripides
"The father of a daughter is nothing but a high-class hostage. A father turns a stony face to his sons, berates them, shakes his antlers, paws the ground, snorts, runs them off into the underbrush, but when his daughter puts her arm over his shoulder and says, 'Daddy, I need to ask you something,' he is a pat of butter in a hot frying pan." – Garrison Keillor
"Every dad wants his daughter to grow up with dignity, self-respect, grace, humility, virtue, and significance." – Darrel Billups
"Behind every great daughter is a truly amazing dad."
"Having a daughter makes you see things in a different way. This is my only girl. So I don't care what it takes to protect her. You can call it what you want to call it. As long as you treat her the same way I treat her, like my princess, I don't mind." – Tracy Morgan
"Fathers and daughters have a special bond. She is always daddy's little girl." – Richard L. Ratliff
"I never thought my dad would be my best friend." — Meet the Robinsons
"I love being a girl because I'm my Daddy's little girl and that rocks!" – Unknown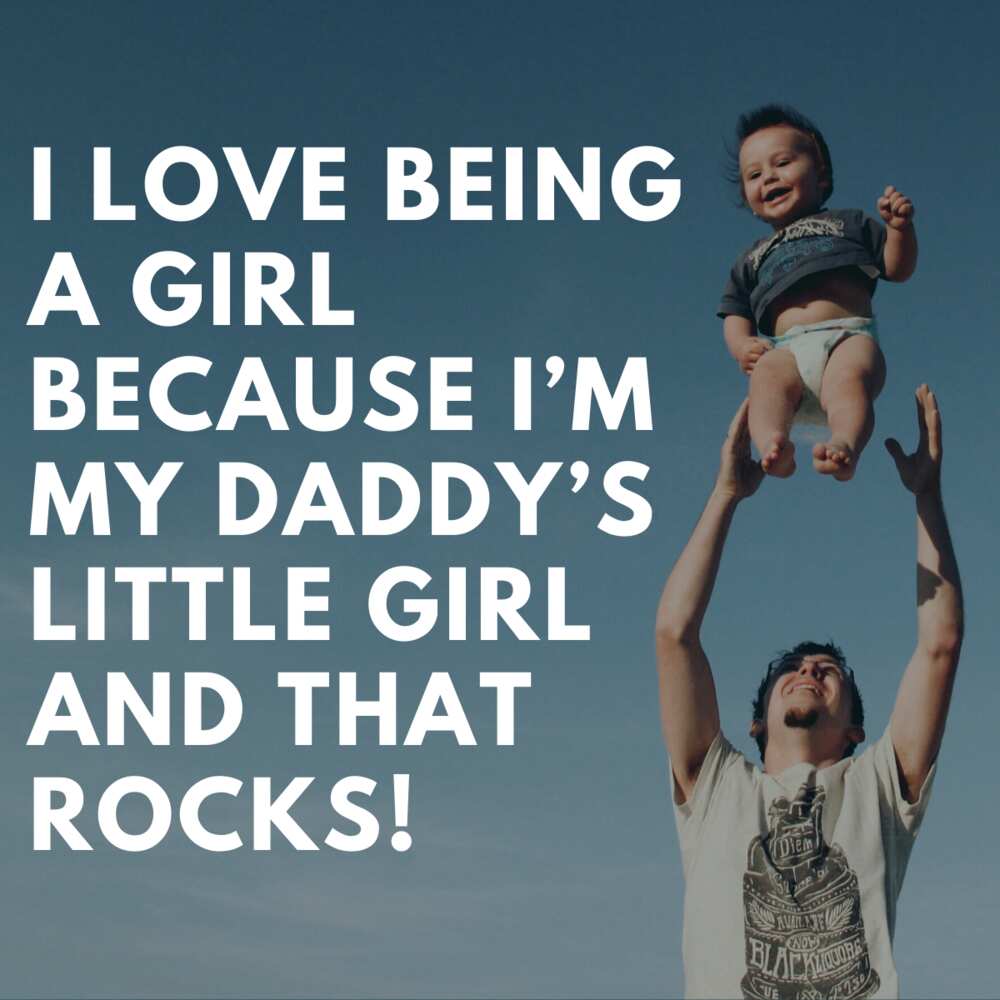 "When I come home, my daughter will run to the door and give me a big hug, and everything that's happened that day just melts away." – Hugh Jackman
"A man's daughter is his heart. Just with feet, walking out in the world." – Mat Johnson
"You might never know a man's vulnerable place until you see him with his daughter, because with her, he seem capable of more human emotions than he will ever share with anyone else." — Unknown
"I am a princess not because I have a prince, but because my father is a king."
"Daddy and daughter, not always eye to eye, but always heart to heart."
Send your father one of these quotes about dads and daughters and watch as his face lights up.
Funny dad daughter quotes
These funny daddy daughter quotes will definitely make you laugh:
"Watching your daughter being collected by her date feels like handing over a million-dollar Stradivarius to a gorilla." — Jim Bishop
"Every Dad is entitled to one hideous shirt and one horrible sweater. It's part of the Dad code." — Cheaper By the Dozen 2
"A daughter is a treasure and a cause of sleeplessness." – Ben Sirach
"You fathers will understand. You have a little girl. She looks up to you. You're her oracle. You're her hero. And then the day comes when she gets her first permanent wave and goes to her first real party, and from that day on, you're in a constant state of panic." – Stanley T. Banks
Every father can surely relate with these funny father and daughter quotes.
Dad quotes from daughter
These quotes express what a dad means to his daughter. Send them to your father and make his day:
Dad, even a fleeting memory of your loving smile is enough to light up my darkest days. I love you!
I know dad you are quiet as you always do, but in your silence, you love me all years through. I love you too and will always do.
You brought me every single toy that I wanted when I was young. I hope I can return the favor when I grow up by achieving every single goal that you always wanted me to. I love you.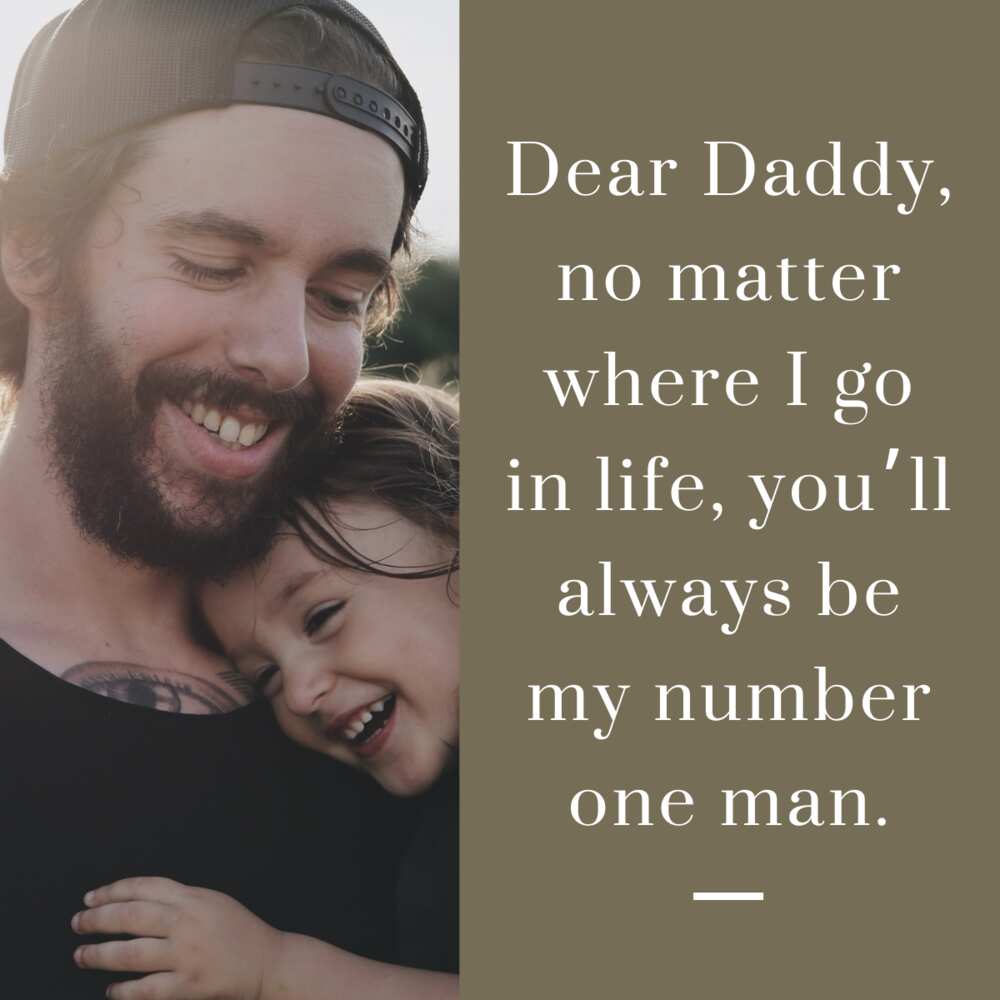 I do not know that what type of love it is that you have for us, love that makes you hug me when I am sad. I Love You, Dad!
I am going to write a letter to Facebook to put a HUG button on your profile so I can hug you anytime I want. I love you, daddy.
There may be a thousand ways to say I Love You to a father. But for me, there is just one way to love you… unconditionally. I love you, dad.
Dear Daddy, no matter where I go in life, you'll always be my number one man.
You hug me even when I am wrong, you pat me on the back even when I fail. You smile at me even when I lie, you forgive me even when I curse. If there is anything in life that keeps me going… it's you, dad.
Which of these father daughter quotes touched your heart? And which ones would you like to send to your dad to remind them how much you love them? Let us know in the comment section below.
READ ALSO: Beautiful angel quotes and sayings to calm and inspire you
Legit.ng reported that God blessed us with his angels so that they could inspire and help us. They respond to our needs and help us in different ways. In our everyday life, we encounter difficulties that sometimes discourage us.
Angels are always around to uplift us even though we may not realize it. Find out some of the beautiful angel quotes that will inspire and calm you.
Source: Legit.ng