Trump receives 'good news' as US Senate majority leader reacts to second impeachment
- US Senate majority leader, McConnell, has reacted to President Trump's second impeachment
- In what may be temporary good news for Trump, the Republican senator rejected Democrats' bid for Senate's speedy trial of the president
- McConnell's decision may see Trump serving out his final days while the Senate impeachment trial will continue after his exit
PAY ATTENTION: Join Legit.ng Telegram channel! Never miss important updates!
President Donald Trump may serve out the remainder of his term without being removed despite his second impeachment by the United States' House of Representatives.
This follows the statement by the US Senate majority leader, Mitch McConnell, rejecting the calls by the Democrats to reconvene the Senate immediately for the president's trial, CNN reports.
According to the media outfit, McConnell said the Senate won't return until Tuesday, January 19, implying that President Trump's impeachment trial won't begin until Joe Biden takes over the White House.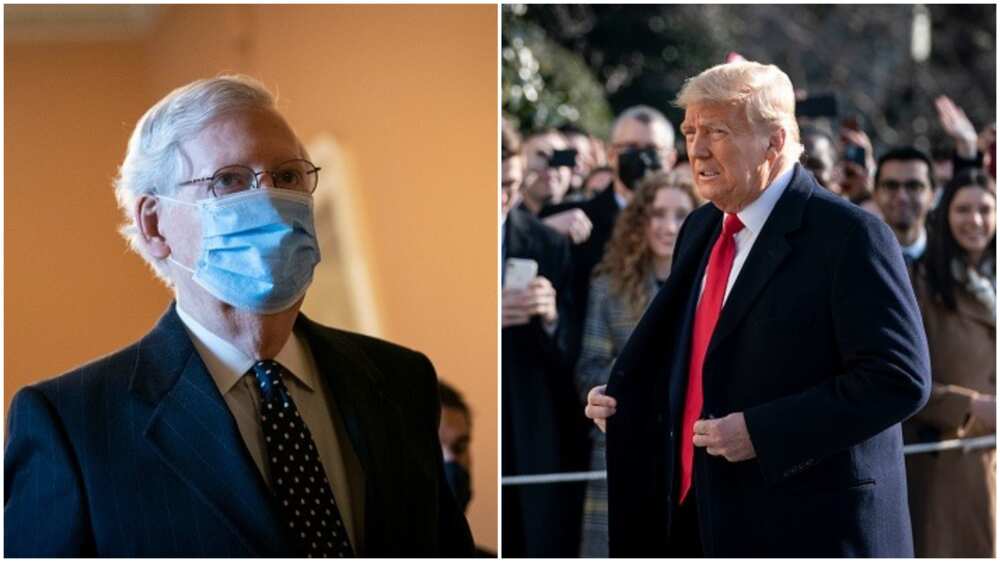 Earlier, Legit.ng reported that the US president-elect, Joe Biden, had also reacted to the impeachment of President Trump.
Biden noted that after Trump's impeachment, the process of removing him from office will continue at the Senate.
The incoming US president expressed hope that the Senate will complete the process of convicting and removing Trump while it also works on other " urgent business of this nation".
Reactions to Trump's impeachment
Meanwhile, with the second impeachment of President Trump, many people have taken to social media to react to the development.
On Twitter, @JaneyGodley wrote:
"The sweetness that Trump is impeached again on my late mums birthday today and Biden gets inaugurated on MY birthday Jan 20th"
TMZ simply mocked:
"It's official: Donald Trump is the greatest president in US history.... at getting impeached."
Also, @votevets tweeted:
"Trump always says he's done something the most of "anyone in history," and now it's true, he's the most impeached president in the history of the republic."
Another Twitter user, @DFBHarvard, wrote:
"Everything Trump did as president has been unprecedented! That's why we celebrate him as our Champion.
"Being impeached twice is classic Trump! He's walked through HELL for us! Only once in a century do we see a giant like Trump! I'm glad I was alive to experience it!"
Also, @HouseJudiciary tweeted:
"President Trump must be removed from office as swiftly as the Constitution allows. He must also be disqualified to prevent the recurrence of the extraordinary threat he presents."
3 Nigerians who shone brightly at the US elections | Legit TV
Source: Legit.ng