- It is two weeks after the Christmas and new year celebrations, but poultry farmers in Nigeria have yet to come to terms with their losses
- Many of these farmers took loans from banks with the belief that the season would bring their anticipated happiness
- However, the economic challenges that hit most families in the year affected their purchasing powers resulting in business losses for the farmers
PAY ATTENTION: Join Legit.ng Telegram channel! Never miss important updates!
Thousands of poultry farmers from across Nigeria have continued to expressed deep sadness occasioned by lack of profit and outright losses of their capital in the 2020 festive season target investment.
Legit.ng's regional reporter in Osun, Gboyega Bakare, who spoke with the unhappy farmers gathered from large and small holder farmers from across the country that the year 2020 was a terrible for the members of the Poultry Farmers Associations in Nigeria.
This sad reality is unreservedly antithetical to the popular narrative that border closure would bring about increase in demand for home grown foods and more profit for local farmers.
'I regret doing broiler business'
Revealing his state of unhappiness, a young farmer, Olanrewaju Babatunde Yussuf said:
"I regret doing broiler business this year; it was like I wasted my time, effort and money. Cost of production was too high and buyers' low purchasing power forced down the sales price. I'm out of the business"
Reacting to his statement, other members of the group equally expressed their dissatisfaction with the unreasonably high cost of day-old chicks (DOC), prohibitive price of feeds and medications which, they said, eat so much into their profits, making them lose some of their capital in the process.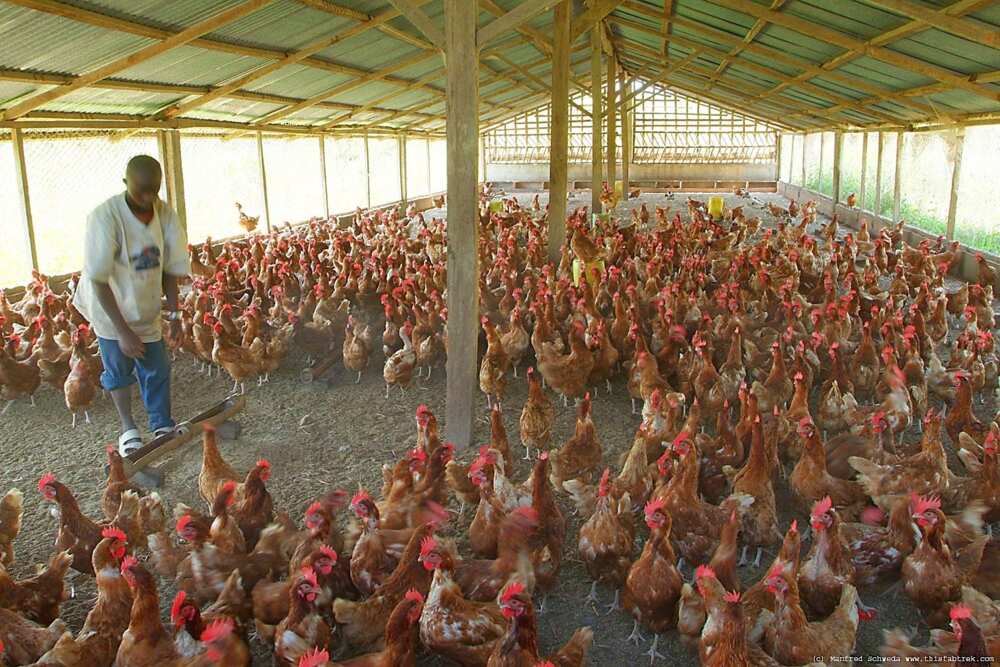 While talking to Legit.ng, a poultry farmer simply identified as Ogundare, who has his farm in Osun state, lamented bitterly:
"I have been doing poultry farming for the past seven years. 2020 went down as the worst in my professional poultry farming history.
"The downturn started around May 2020 when price of day-old chicks, which used to sell for between N120 and N200 at such a long distance from December suddenly rose to between N350 and N500, depending on the hatchery. We thought it would come down but it continued to rise until it peaked at N750/day-old chick in September.
"It was even worse for farmers in the east and north because the best hatcheries are located in the south-west; so they had to contend with logistics cost too. The cost of feeds and medications too rose sharply by 100% as a bag of 25kg feed that we used to buy for around N2800 and N3150 went up to N6000 and more. It was really a bad year for poultry farmers."
It was the same song of lamentation for Mrs Benson, a poultry farmer in Shagamu, Ogun state. She told Legit.ng:
"Many of us can never invest in poultry farming again due to huge losses we incurred last year. Our cost of production was just too high and consumers, due to the economic hardship occasioned by COVID-19, could not afford buying chicken at any price higher than the usual. So we had to sell, mostly at very low and no-gain prices to avoid feeding the birds continuously. Even at that, so many of our birds remained unsold.
"What we have learnt from this is that the government is not really serious about making the nation food-sufficient enough to consume what we produce. The business environment in Nigeria is very unpredictable."
Farmers and lack of adequate encouragement
Mrs Benson lamented that there were supposed to be regulations to protect investors in agriculture in order to encourage more participation.
She added:
"It was the rise in cost of maize, the most important item in feeds formulation that triggered the series of rising costs of farm inputs."
It is not unknown that a very large percentage of the maize used in Nigeria is imported. The border closure without a proper evaluation of its immediate effects and lack of provision for import-dependent consumers may have been a huge setback.
She said:
"One would think that government must have mandated and allowed large scale maize users like feed mills to cultivate at least 50% of their annual maize requirements before closing the border on maize importation among others. As I'm talking with you, only the price of DOC has come down to about #250, the cost of feeds still remains very high."
With the challenges raised by the affected farmers, it is hoped that the Nigerian government will rise to the occasion and evaluate related policies, while urgently addressing the needs of local farmers for the good of all Nigerians.
PAY ATTENTION: Download our mobile app to enjoy the latest news update
Legit.ng had earlier reported late 2020 how farmers in Osun state abandoned their crops in large hectares of land over various challenges.
Most of the farmers lamented poor irrigation and other facilities saying these led to the scorching of their crops by heat.
We are hungry - Traders lament on hiked prices of goods| Legit TV