Plane carrying over 62 passengers feared crashed (updated)
- Indonesia's transport ministry is making efforts to find and rescue passengers aboard a plane that has went missing shortly after take-off
- The plane with 62 people took off from the country's capital, Jakarta, but went missing shortly after
- Residents of the island where the plane is suspected to have disappeared said they found objects which could be from the aircraft, indicating it might have crashed
PAY ATTENTION: Join Legit.ng Telegram channel! Never miss important updates!
There is palpable anxiety in Indonesia as a passenger plane with 62 people on board went missing shortly after taking off from the country's capital city, Jakarta.
According to BBC, officials said the Boeing 737 plane belonging to Sriwijaya Air contact en route to Pontianak.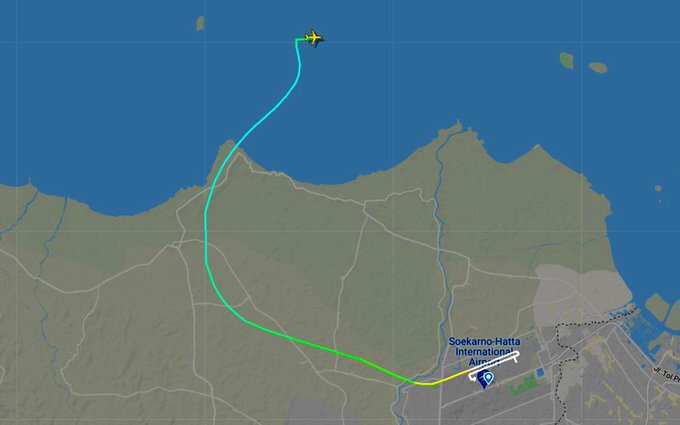 Meanwhile, it is suspected that the plane might have crashed into the sea as some residents of the island near where it disappeared said they had found objects they believed were from it.
Legit.ng gathers that eyewitnesses said they had seen and heard at least one explosion.
Fisherman Solihin, an eyewitness said he had witnessed a crash and his captain decided to return to land.
His words:
"The plane fell like lightning into the sea and exploded in the water.
"It was pretty close to us, the shards of a kind of plywood almost hit my ship."
The Indonesian Navy was reportedly deployed to look for the aircraft.
Navy official Abdul Rasyid said the force had determined the plane's coordinates and ships had been deployed to the location.
Search and rescue efforts were suspended overnight but were due to resume on Sunday, January 10.
In its own reaction, Sriwijaya Air said it was still gathering information about the flight.
Relatives of the passengers have been waiting anxiously at the airport in Pontianak, as well as at Jakarta's Soekarno-Hatta International Airport.
Yaman Zai, one of the relatives of the passengers spoke with tears:
"I have four family members on the flight - my wife and my three children.
"[My wife] sent me a picture of the baby today... How could my heart not be torn into pieces?"
BBC noted that the plane is not a 737 Max, the Boeing model which was involved in two major crashes in 2018 and 2019.
The 2018 air crash: Boeing 737 Max 8
In October 2018, an Indonesian Lion Air plane crashed into the sea shortly after take-off from Jakarta, killing 189 people.
Investigation revealed that a day before the plane crashed, an off-duty pilot prevented the same plane from crashing after the crew lost control of the Boeing 737 Max 8 aircraft.
PAY ATTENTION: Install our latest app for Android, read best news on Nigeria's #1 news app
The 2019 crash: Ethiopian Airlines plane crash
In 2019, Boeing 737 MAX 8 aircraft belonging to Ethiopian Airlines plane crashed in the early hours of Sunday, March 10.
Pius Adesanmi, a popular Nigerian professor and columnist based in Canada, was reportedly on the Ethiopian Airlines plane that crashed in the early hours of Sunday, March 10.
Pius Adesanmi, popular Nigerian professor and columnist based in Canada, was one of those who died in the crash.
Reactions flood social media
Surya Atmaja commented on Facebook:
"No more old plane...hope airline company not just thinking about profit only but safety first...so saddd.."
Made Wira Sanjaya said:
"C'mon...27 years in operation...???should be 20 years max...mmaann...they think people life its doesnt matter...lack of integrity.!"
Kieran Kelly said:
"God bless them all, we only few back from Bali to Jakarta last night. The thoughts of all the souls lost is heartbreaking"
Bashir Yahaya Salisu said:
"What a sad story, May Allah(SWT) rescue them in good condition."
Nassi, @MrsFelders, said on Twitter:
"Why are Boeing 737 planes still allied to fly? How many lives need to be lost before we realise how dangerous these planes are. Thoughts with the family"
Also, @HPDeskJet2755 commented:
"Worth noting it's not a MAX so an unrelated issue to previous two crashes."
Linda, @lindaland2, said:
"I'm just going to put this out there, but I would never take any flight out of Indonesia. I'll take a boat to any other country and then fly from there.
"Nope, not going to Indonesia, ever."
My life after the plane crash – Nigerian plane crash survivor Kechi Okwuchi speaks to Legit TV
Source: Legit.ng