Military highlights 12 successes recorded in year 2020 by troops against insurgents (see full list)
Despite the high rate of insecurity in Nigeria, the Nigerian Army has revealed that its recorded successes in the fight against insurgency between March 18 and Wednesday, December 30.
PAY ATTENTION: Join Legit.ng Telegram channel! Never miss important updates!
The coordinator, Defence media operation, John Enenche, in a statement issued on Thursday, December 31, and seen by Legit.ng, said that the Directorate of Defence Media Operations (DDMO) came into full operations on March 18.
He said that the directorate provided a single, coordinated voice to disseminate timely and credible information on all Defence Headquarters-led operations.
Enenche added that it is necessary to jog memories on the unrelenting and committed efforts of the Nigerian Military and other security agencies to resolve the security challenges across the country.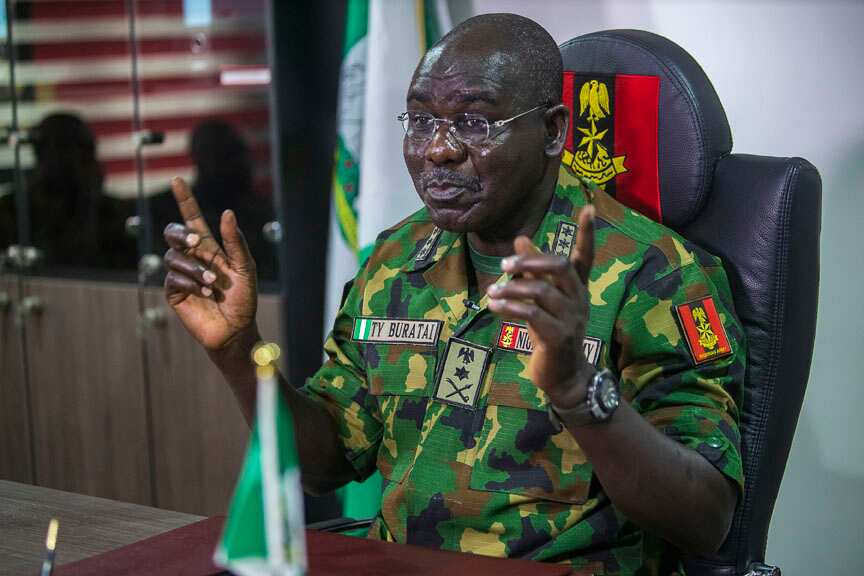 These are the 12 successes recorded by the Nigerian Military:
1. As you are aware, the Directorate of Defence Media Operations (DDMO) came into full operations on 18 March 2020. Since its establishment, the DDMO has worked assiduously to meet its mandate; to manage military operations information from all theatres of operation across the country.
2. Within the period under review, troops engaged in a series of land, maritime and air operations, involving both kinetic and non-kinetic activities across the country. The land operations conducted among others across the various theatres of operation include; clearance, ambush, raid, picketing, cordon and search operations as well as artillery bombardments and aggressive patrols.
3. Within the timeframe in focus, troops neutralized scores of terrorists and bandits, while many others were incapacitated and their camps destroyed. Our operations also inhibited activities of economic saboteurs as well as exposed and obviated other criminal activities.
4. In the northwest zone of the country, between March 18 and December 30, 2020, a cumulative total of 5,281 livestock, 6,951 rounds of ammunition and 120 assorted rifles were recovered from the armed bandits by the gallant troops in the zone. Furthermore, a total of 455 kidnapped victims were rescued and 473 armed bandits were killed in action.
5. Progressively, in the northeast zone of the country within the period, 200 kidnapped victims were rescued by the gallant troops of Operation LAFIYA DOLE. A total of 1,385 rounds of ammunition, 45 grenades as well as 95 assorted rifles were recovered from BHT/ISWAP fighters.
6. In the northcentral zone of the country, within the period, troops of Operations SAFE HAVEN, WHIRL STROKE and THUNDER STRIKE have achieved appreciable successes. A total of 130 kidnapped victims were rescued and 105 assorted rifles, as well as 513 rounds of ammunition and 1,055 rustled cattle, were recovered from armed bandits and other criminal elements in the Zone.
7. In the south-south zone, the Armed Forces of Nigeria working with other security agencies recorded remarkable results in their efforts against economic sabotage and other sundry crimes in the zone. Within the period under review, a cumulative total of 8,890,300 litres of stolen AGO and 33,516,00 litres of DPK were impounded by troops of Operation DELTA SAFE.
8. Similarly, troops of Operation AWATSE in the southwest zone between March 18 and December 30, 2020, impounded a total of 10,458,600 litres of PMS; 15,345 barrels of stolen crude oil and 345,000 litres of stolen AGO.
9. In addition to the kinetic operations, the Armed Forces of Nigeria carried out non-kinetic operations in form of Civil-Military Cooperation Activities (CIMIC). A total of 92 boreholes were sunk for host communities and 16 schools and worship centres were renovated across the country.
10. In summary, the Armed Forces of Nigeria from March 18 to December 30, 2020 neutralized 2,403 criminal elements across the country. This is in addition to scores of other terrorists and armed bandits killed during airstrikes. Troops also rescued a total of 864 kidnapped victims across the country.
11. Our operational performance for the year is a show of our commitment, synergy and determination to lay down our lives to protect our great nation. We will continue to sustain the offensive and will not relent until peace is restored to every troubled zone in Nigeria. The general public is also assured of our commitment to protect our economic assets anywhere.
12. The Military high command also commends all the gallant troops of the Armed Forces and personnel of other security agencies involved in various operations across the country for their resilience, doggedness and commitment.
PAY ATTENTION: Install our latest app for Android, read best news on Nigeria's #1 news app
Meanwhile, Legit.ng had previously reported that many insurgents were being killed during airstrikes executed by the Nigerian military on the Sambisa Forest in Borno state.
It was reported that the Defence Headquarters (DHQ) in a statement issued on Tuesday, December 29, disclosed that the operation was carried out by the Air Task Force of Operation Lafiya Dole.
How best can President Buhari tackle insecurity | - on Legit TV
Source: Legit.ng