CAN defends Bishop Kukah, says cleric never insulted Islam, called for coup
- Nigeria's Christian body, CAN, has defended Bishop Kukah's statement criticising the Buhari administration
- The Christian association said Kukah made points about the nation's insecurity and never attacked Islam or call for a coup in his statement
- The group claimed the bishop's message was distorted by MURIC, a Muslim group, and the federal government
PAY ATTENTION: Join Legit.ng Telegram channel! Never miss important updates!
The Christian Association of Nigeria has accused the federal government and the president of Muslims Rights Concern, Professor Ishaq Akintola, of twisting Bishop Mathew Kukah's statement against the Muhammadu Buhari-led government.
Legit.ng earlier reported that Kukah, bishop of Sokoto Catholic Diocese, recently issued a statement where he accused President Buhari of nepotism and incompetence.
The respected cleric also claimed that there could have been a coup or war in the country if a non-northern Muslim becomes a president and does a fraction of what President Buhari has done.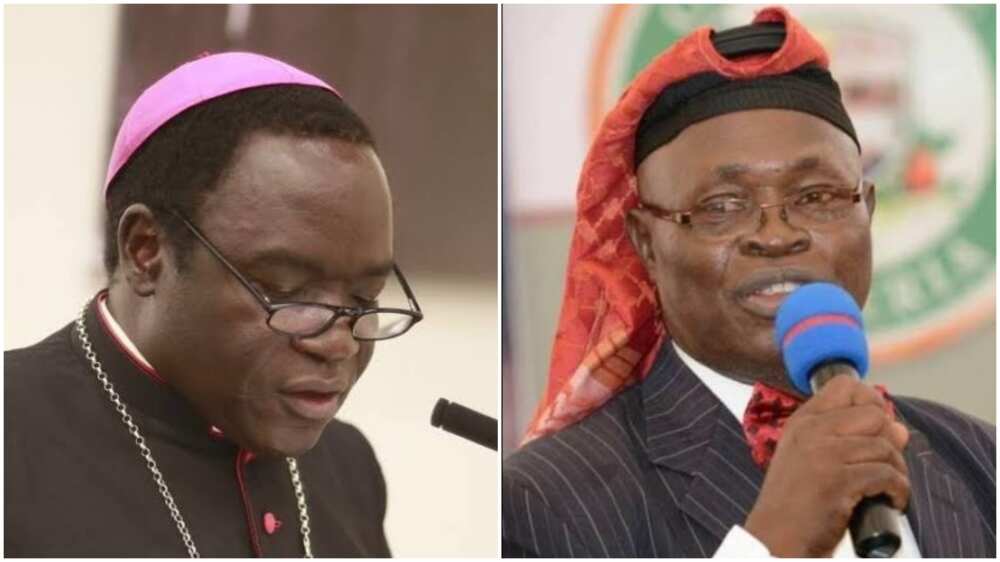 MURIC reacts, tackles Bishop Kukah
Reacting to the statement, MURIC's president, Professor Akintola criticised Bishop Kukah and accused him of disrespecting Islam.
Specifically, he said Kukah described Islam as a violent religion.
Also, the minister of information and culture, Lai Mohammed, in his reaction warned against making statements that can "trigger unintended consequences."
The minister stated that it is unbefitting of religious leaders to fan the embers of disunity and hatred.
CAN defends Kukah
The northern chapter of CAN has, however, defended Kukah, saying he never made any statement attacking Islam or calling for a coup, Vanguard reports.
The Christian body, in a statement released on Monday, December 28, said Kukah's statement was twisted.
The group said Professor Akintola's earlier statement as a reaction to Kukah's message was misleading.
The Christian body said the focus of Bishop Kukah's message was to condemn the widespread insecurity in the country, saying he never attacked Islam or called for a coup.
Ben Murray-Bruce offers to reconcile Buhari, Kukah
As the bishop's statement led to a call for his arrest by Arewa youths, Senator Ben Murray-Bruce made a reconciliation move.
Murray-Bruce, a former Peoples Democratic Party (PDP)'s lawmaker who represented Bayelsa East in the eighth Senate, said he offered himself to bring President Buhari and Bishop Kukah together for a peaceful talk.
In a similar development, Dino Melaye, a former senator, has warned President Buhari against attempting to arrest Bishop Kukah for criticising his administration.
Melaye said such an action against the religious leader would prompt a backlash from the people.
He warned that if Kukah is arrested, the president will be shown that the government is not owned by him but by the people.
Nigerians react on social media
Friday Ameh commented on Facebook:
"Bishop Kukah in his usual manner speaks the truth to power. The president should just humble himself and ponder on everything the Bishop said in the sermon instead of sending his attack dogs to lambast the Bishop"
Johnson Ogbuabor said:
"MURIC and the FG the truth is the bitter pills you must take. Nigeria is a project for all citizen so you can stampede anyone. FG you're destroying Nigeria."
Alambo Datonye Fred said:
"Instead of addressing their failed Leadership, they are blackmailing the Bishop. Truth is an open wound"
Atoki Adetola said:
"Rev Kukah message should not be seen as an attack against Buhari or the north, it is a wake up call to action. We can't all keep quiet and watch the nation of our own go into Oblivion, we have never had it worse like this. Nigeria is now the most unsecured country in Africa and one of the most insecured in the world after Afghanistan."
How best can President Buhari tackle insecurity | Legit TV
Source: Legit.ng