Chioma Ajunwa bio: age, height, husband, foundation, police rank
Chioma Ajunwa is one of the most celebrated athletes in Nigeria. She won the Olympic Gold Medal during the 1996 Olympic Games in Atlanta, Georgia. Even though her career was earlier on hit by a failed drug test, she would later re-establish herself and achieve a lot at a personal level.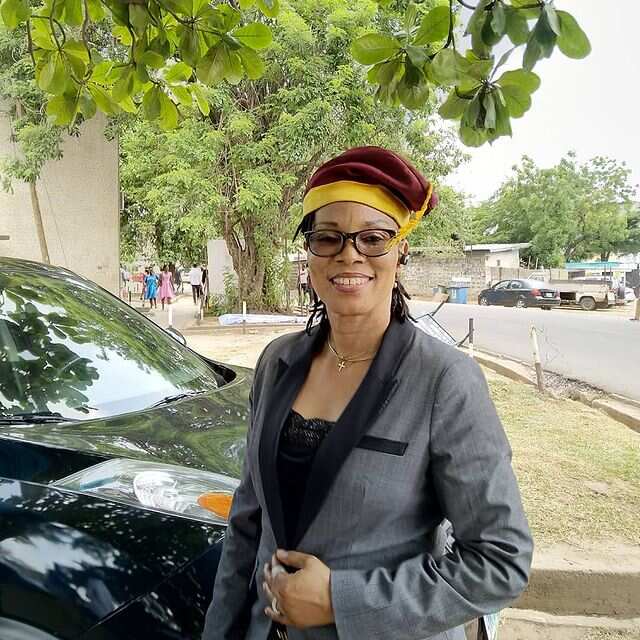 Ajunwa is a public figure who has attracted numerous fans in Africa and beyond. However, many details about her are not known, for instance, her age, state of origin and much more. Therefore, a look at this Chioma Ajunwa biography will help you to understand better who she is.
Profile summary
Full name: Chioma Ajunwa-Okpara
Date of birth: December 25th, 1970
Age: 50 years as of 2021
Zodiac sign: Capricorn
Place of birth: Umuihiokwu, Ahiazu-Mbaise, Nigeria
State: Imo State
Nationality: Nigerian
Ethnicity: Black
Gender: Female
Occupation: Former athlete, a police officer
Marital status: Married
Height: 5 feet 5 inches
Who is Chioma Ajunwa?
Chioma was born on December 25th, 1970, in Umuihiokwu, Ahiazu-Mbaise, in Nigeria. She is the last born in a family of nine, six boys and three girls. Her father died when she was still young, and the children were left solely under their mother's care.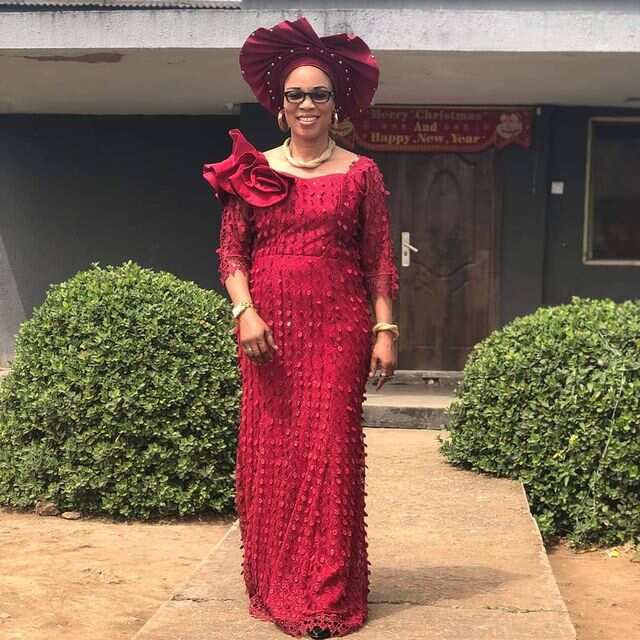 Ajunwa had a keen interest in athletics from her childhood. She gained admission into university but was unable to register due to her mother's inability to pay the fees. She ventured into mechanics to raise her varsity fee.
Where is Chioma Ajunwa from?
She is from Umuihiokwu, Ahiazu-Mbaise. She was born and raised there. The place is located in Imo State, in Nigeria.
Her career
Chioma Ajunwa is a woman who has worn many hats. She has tried a lot in her life to be where she is today.
As a mechanic
Having been brought up in a low-income family by her widowed mother, Chioma was determined to do anything to be successful. Instead of sitting idle and in self-pity, she took up a mechanic job.
At that time, the job was not ideal for women in Nigeria, and she faced discouragement even from her mother. She gave up pursuing the profession.
Football career
Ajunwa tried her luck in football. She was among the Nigerian Falcon's team members to represent the country during the 1991 Women's World Cup. Unfortunately, her soccer skills were rarely used as she was constantly benched.
She decided to quit soccer and try her luck elsewhere but blamed her coach for it. She alleged that she would have kept playing football, but a particular coach kept her on the bench even though she was among the best players.
Women's long jump
The Nigerian star was active and successful in the women's long jump competitions. Furthermore, she had specialised and was competitively involved in 100m and 200m also.
She performed remarkably well as a track and field athlete at the African Games and African Championships between 1989 and 1991. In the 1996 Olympics in Atlanta, she went on to become the first African woman, as well as the first Nigerian, to win an Olympic gold medal in a track and field event.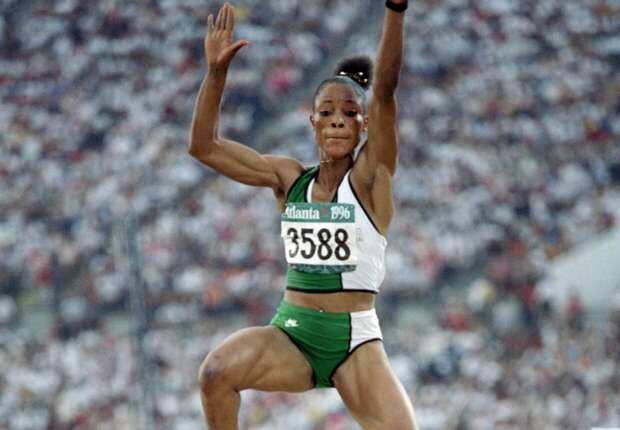 Ajunwa emerged victorious in the women's long jump event with a jump of 7.12 metres for her first attempt in the finals.
Is Chioma Ajunwa a police officer?
She has equally served the country well in the National Police Force. Chioma Ajunwa police rank is Assistant Commissioner of Police.
The talented athlete was decorated as an Assistant Commissioner of Police by the Police Service Commission during an event that took place at the Police College in Ikeja. Before her nomination, she had been serving as a Chief Superintendent of Police.
Honours and achievements
Chioma was, without a doubt, one of the most celebrated athletes of her time. This is evident from the honours and recognition she has so far received.
As an Olympic Gold Medalist, she was awarded the Member of the Order of Niger [MON] Award, during the Nigeria Golden Jubilee Independence Awards.
Imo State awarded her a Community Chieftaincy Title.
In 2011, she became the chairperson of the Women's Development Committee of Imo State Football Association, and also a member of the Committee on the Revival of the Nigeria Academicals Sports Competitions.
Chioma Ajunwa controversies in her career
Like most athletes, Chioma Ajunwa's career as an athlete has not been a walk in the park. She has gone through a lot of bottlenecks.
One notable scandal was failing the drug test in 1992. She was banned for four years from competing in continental and intercontinental track and field events.
She denied the allegation and stated that she had never deliberately gone to a pharmacist to purchase performance enhancement drugs.
In April 2010, the former athlete delivered a paper on "War against the use of illicit Drugs in Sports" during an interactive Session organised by Athletics Federation of Nigeria (AFN) for athletes. This was part of the 3rd Leg of AFN Golden League at Yaba College of Technology Sports Complex, Yaba.
She also stepped up her anti-doping initiatives by starting an integrated campaign tagged Compete Fair & Clean in the second half of 2010. The campaign involved passing anti-doping messages directly to athletes and their coaches at athletic events.
Chioma Ajunwa Foundation
After years of being active in track and field events, the Nigerian star launched Chioma Ajunwa Foundation to give back to the society that made her who she is. Among the fundamental issues the foundation deals with include youth mentorship and kicking out banned drugs form sports.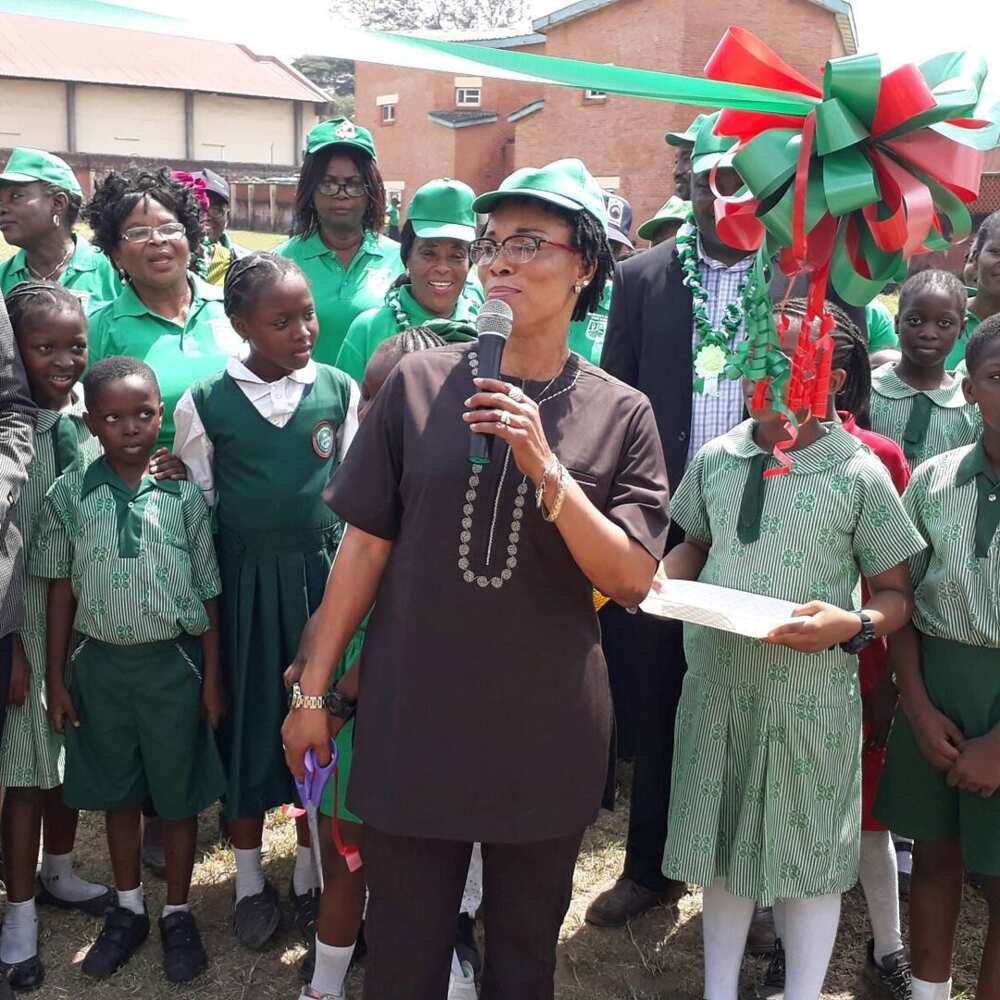 The foundation teaches women and sportsmen in Nigeria on the hazards of using banned and illegal substances.
Is Chioma Ajunwa married?
The Olympic Gold Medalist is happily married and a mother of three children. Chioma Ajunwa husband is called Howell Chidera. The couple shares two boys and a girl named Joshua, Caleb, and Rose respectively.
Chioma Ajunwa is the best example of a person who has defied the odds to become successful in life. Having been born and raised in low-income family background, she did not let that define her. She worked hard to be where she is today, and she is truly a role model to many people in the African continent.
READ ALSO: Abubakar Bukola Saraki biography: age, education, family, net worth
Legit.ng recently published an article on the biography of Bukola Saraki. The ex-Governor is one of the most popular politicians in Nigeria.
The trained doctor of medicine and surgery went against all odds to build a successful career in politics. He has been in active politics for over twenty years and has served the people of Kwara State as a Governor and Senator.
Source: Legit.ng