2020: Soyinka laments, says nobody is in charge of Nigeria
- The Federal Republic of Nigeria has been described as a country without leadership
- Nobel Laurette, Professor Wole Soyinka, made the alarming statement recently
- According to him, aside from the raging coronavirus pandemic, the year 2020 has not been a good year for him
PAY ATTENTION: Click "See First" under the "Following" tab to see Legit.ng News on your Facebook News Feed!
The year 2020 has been a terrible year, Nobel Laurette, Wole Soyinka has declared. The respected professor of Literature said the year came with many problems.
Going further, he added that Nigeria's case was worsened with the vacuum in the country's leadership.
He disclosed this at the Booksellers venue of the presentation of his new book, Chronicles of the happiest people on earth, The Punch reports.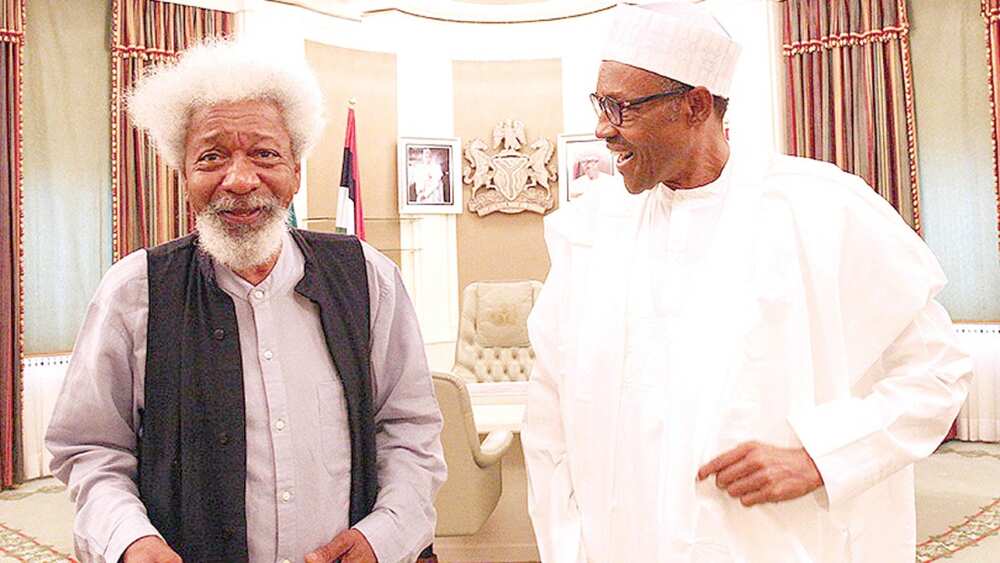 Soyinka said:
"With the turbulence that characterises year 2020, and as activities wind down, the mood has been repugnant and very negative.... As I had said before, you don't believe, in many instances, that anybody is in charge. That, really, it is a parlous condition for any nation. So, I am afraid it has not been a very good year for me generally."
As usual, Nigerians on social media reacted to Soyinka's statement.
Oluwaseun Adekunle Awolana wrote:
"Shame on all our leaders. Posterity will judge all of you people. I know that somehow God will see us through this mess we found ourselves but all the leaders who have suddenly lost their voice because of their personal agenda will end up in the drain and will not be found when Nigeria is finally liberated."
Egu Arikpo said:
"If I could tell the kind of president Buhari would make and refused to support him and even campaigned against him, then Wole Soyinka who is higher up in learning, exposure and with so much information at his disposal, supported Buhari wholeheartedly and is now regretting his actions, who is wiser? Is it not me? Educational attainment and exposure do not guarantee good decision-making ability."
Patrick Silver added:
"Wole Soyinka, so you are just waking up from your deep slumber after you allowed yourself to be deceived by an overrated political thug into supporting a candidate whose name is synonymous with crass incompetence, nepotism, tribalism, and religious fanaticism. Shame on you and your political and religious leaders who bought into this fiasco out of collective greed and irresponsibility. Was he not in charge in 1984?"
Earlier, Soyinka had commented on the security challenges being experienced in nearly all parts of Nigeria. The renowned scholar said Nigerians are not only at war but are in a war zone.
He said:
"I think we are not only at war, we are all in a war zone. There is no question about that because now, the sense of individual, collective, and community safety has virtually become equivalent to a question of survival."
Market Survey: The market is dry, everyone is broke - Market women | Legit TV
Source: Legit.ng