Lagos-Ibadan train finally begins service, one passenger shows up
- Nigerians can now travel in a comfortable train to and fro in some southwestern states
- However, the inaugural journey suffered from low patronage as it had just a passenger
- The journey time from Lagos to Ibadan is an estimated two and a half hours and will cost between N3,000 and N6,000
PAY ATTENTION: Click "See First" under the "Following" tab to see Legit.ng News on your Facebook News Feed!
Just as the beginning of every great thing starts small, so it was for Lagos-Ibadan train service as it begins operations.
According to The Nation, the railway service which commenced operation on Monday, December 7, had only one passenger as it traveled from Ibadan in Oyo state to Lagos.
The newly introduced service, provides fully air-conditioned train services in the Economy, Business and First Class categories.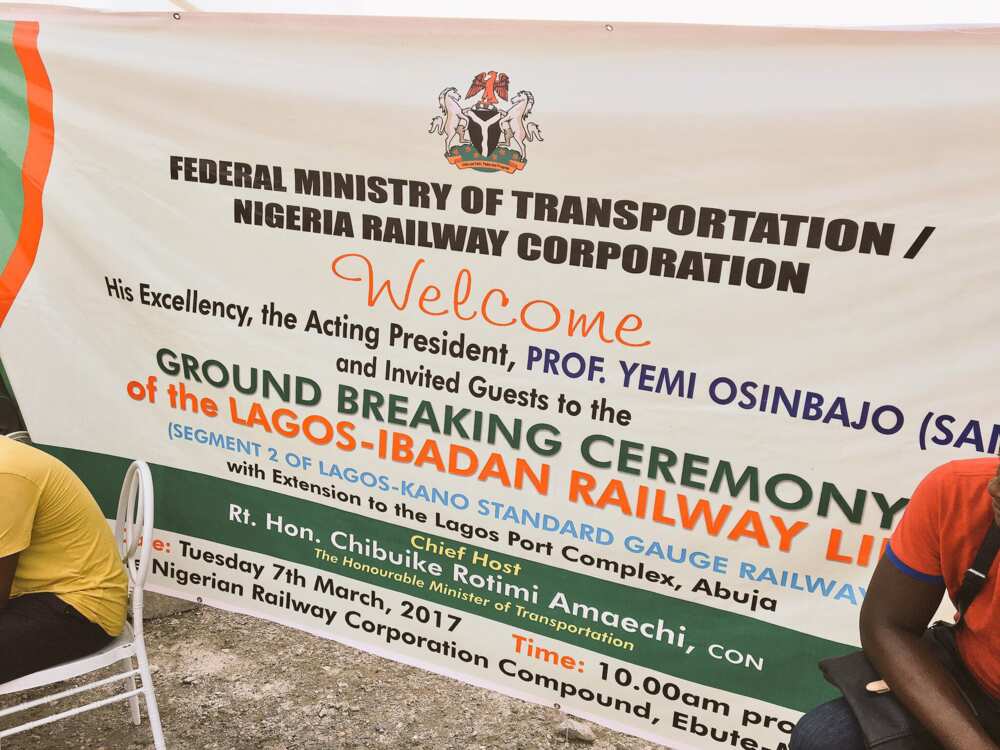 The corporation deployed only one Diesel Multiple Unit (DMU) to kick-start the operation.
The first journey from Ibadan left around 8.20 a.m and arrived Lagos at 10.40 a.m with less than five passengers on board.
No passenger was picked at Abeokuta, the Ogun state capital.
A source said of the trip:
"We had one passenger from Ibadan to Lagos, and this is not unusual. The service is just commencing. I'm sure as time goes on, the patronage will improve. Don't forget again that we are approaching Christmas and New Year when patronage is expected to drastically improve."
Also. the Railway district manager for Lagos, Jerry Oche said:
"The Lagos Ibadan standard gauge train affords members of the public the opportunity to leave Ibadan for Lagos at 8 a.m and return at 4 p.m the same day."
He also confirmed that the journey time from Lagos to Ibadan is two and a half hours.
Meanwhile, diverse reactions have followed the latest development.
George Adetayo Ademoyega wrote:
"It's too expensive but I am happy they did a wonderful job. We want more of these good things like good roads, water and electricity. God bless Nigeria."
Deji Dero said:
"The patronage will pick up. Though there are many fronts we need you to do better. We are thankful you completed this."
Falade Ismail Gbenga Kuoye also said:
"It's too costly....there are so many alternatives. The government should drastically change the fee to make it affordable for the masses. It should be a mass transit service."
Sauta Holar Abdul added:
"They borrowed money on behalf of Nigerian to build the rail transport and now they can't make the ticket fair affordable for them."
Festus Ogunyankin on his part wrote:
"In a country that the poor masses outnumbered the rich and also find it difficult to feed, they will have to plan their stipends to be able to meet all their expenses. I believe the train is for the rich, let the rich occupy."
Salami Oyeniyi said:
"When they are not meant for everybody, how would they not experience low patronage? Let them make it affordable for everybody and see how they will be having the highest patronage."
David Ologun also added:
"Let the government officials put their family members, relatives and friends in it for the trips, since nothing of government is cheap and affordable for the masses."
Adejumoh Harris Afe concluded:
"3k and 5k is too much for something that is built to actually help the masses. In other countries where they use trains, it is meant for the poor people who can't afford flight for a long-distance journey. What is then the assistance and benefit of this train to the poor masses?"
Recall that Legit.ng had reported that Nigeria's minister of transportation, Rotimi Amaechi, said the train ride from Lagos to Ibadan which is starting soon will cost between N3,000 and N6,000.
The minister stated that the train service would begin operations by January 2021.
Economy seat will cost N3,000, business class passengers will pay N5,000, while first-class seat will cost N6,000.
Buhari commissions Warri-Itakpe railway-line | Legit TV
Source: Legit.ng