How to become a Legit.ng contributor and share your own story
At Legit.ng, we strive to ensure that every voice is heard through our daily doses of user-generated content from contributors.
Simply put, people-oriented content is the main focus at Legit.ng because readers are right at the top of our priority list.
What this means is that you can express your views or share your own news at Legit.ng as a guest author. That is huge, right?
It is this top quality that stands Nigeria's #1 online news and entertainment platform apart from competitors, and all you have to do is follow the steps laid out here.
Become a Legit.ng contributor
The editorial team has made sure that contributing to Legit.ng is as easy as it can ever be. There are different ways you can allow your voice to be heard without stressing yourself out.
Below are 4 methods you can contribute to Nigeria's number one online news media.
Email
Under this method, you simply write out your report and send to our official email info@corp.legit.ng. This email is monitored daily by our editorial team and your report could be published immediately it passes the necessary editorial processes.
Submit your story
To use this method, visit our website, www.legit.ng, scroll to the bottom of the homepage. Under the More About Our Company category, click Submit Your Story.
You are automatically redirected to a Google form. In this form, write your name and your story, complete it with a title/headline and photos, if there are any, and click submit.

Facebook
Social media is a powerful tool in this age and can be used to let your voice be heard. Simply send your report/article to us as a DM (Direct Message) on our Facebook pages and our social media team will take up your story.
Our Facebook pages are:
@legitngnews
@legitngbreakingnews
@legitnggossip
@legitngdaily
@legitngbuzz
@legitngsportsnews
Twitter
Another way of contributing to Legit.ng through social media is Twitter. You can tweet at us @legitngnews. You can also DM us your report on Twitter. Our social media team is always on hand for your reports.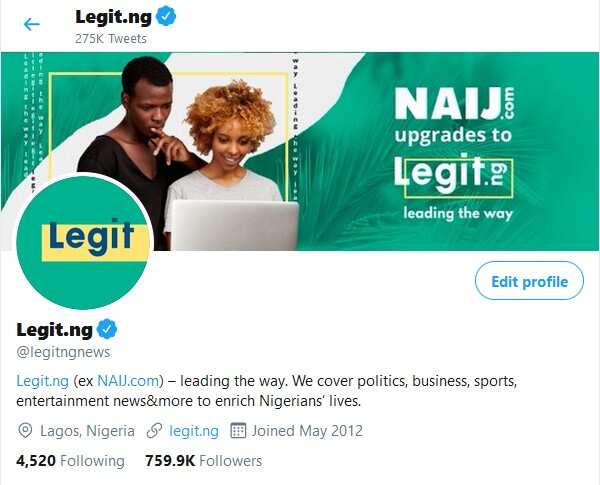 What we publish
As a contributor on Legit.ng, you can write on the following categories. Any others may not be published.
Opinions about important, trending topics
Human interest stories about talented people doing well and touching true-life stories
Breaking news reports as they happen
Professional articles on important subjects in categories, like healthcare, entertainment, culture, etc.
Interviews
Legit.ng also appreciates the submission of original photos and videos because they help us to tell your story better.
What we don't publish
As a contributor, you have to avoid presenting reports that fall within the following categories:
Unverified claims
Imbalanced presentation
Inciting articles/opinions
How to get published
Legit.ng, as Nigeria's number one online news media, maintains high standards in the publishing of reports. The reports we present to our readers are timely, factual and of high quality.
We cover all crucial topics and provide a clear explanation of the situation from all the sides involved.
As a contributor, you should meet these standards.
Factcheck
All reports published on Legit.ng are subjected to fact-checks. As a contributor hoping to have your articles on our website, yours will be too.
In verifying a report, we use internationally recognized and approved tools to confirm dates, time and location of events in news reports.
We also verify the authenticity of names, pictures and claims made in reports.
We equally subject opinion and professional articles to verification. Reports with unconfirmed and odd claims will not be published.
Quality
Articles for submission are to be well-written. They should meet international standards. Poorly-written articles with factual errors, grammatical errors, poor presentation and poor images will not be published.
With all these done, you are now a Legit.ng contributor and you are welcome to work alongside some of the most experienced online media professionals in Nigeria.
Source: Legit.ng