Daily updates: Nagorno-Karabakh conflict
Fierce fighting started in the Caucasus region of South-Eastern Europe on Sunday, September 7, following an announcement by Armenia that it was declaring martial law and mobilising its army.
PAY ATTENTION: Click "See First" under the "Following" tab to see Legit.ng News on your Facebook News Feed!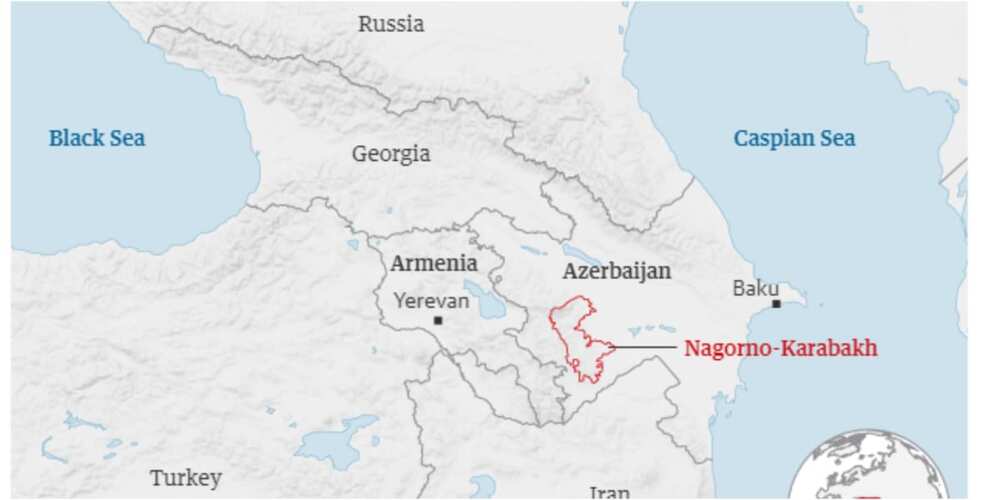 Since then Armenia and Azerbaijan forces have been engaged in fighting with dozens of deaths being reported among them, civilians.
It was reported that at the heart of the conflict was a dispute over the control of the mountainous region of Nagorno-Karabakh which has been internationally recognised as part of Azerbaijan.
Armenia claimed Azerbaijan had launched a military operation inside the breakaway region with the latter claiming it attacked only in response to Armenian shelling.
PAY ATTENTION: Install our latest app for Android, read the best news on Nigeria's #1 news app
In a joint appeal, Russian President Vladimir Putin, US President Donald Trump and Macron urged the two sides to return to negotiations aimed at resolving their longstanding territorial dispute.
Armenian Prime Minister Nikol Pashinyan and Azerbaijani leader Ilham Aliyev have both rejected the idea of holding talks.
September 28: Why Armenia and Azerbaijan are fighting each other
Armenia and Azerbaijan government both accused each other of starting the current round of fighting, however, experts said it was not clear what triggered it now.
Fighting periodically breaks out around Nagorno-Karabakh's borders, often deadly, notably in 2016 when the two countries fought an inconclusive five-day war that killed over 100 people.
Intense skirmishes are reported t have been fought again in July 2020 along the border. But independent analysts and civilians on the ground say the current fighting is far heavier than at any time since the 1990s and that the risks of a full-scale war are much higher.
The Nagorno-Karabakh had been recognised internationally as Azerbaijan's territory but the majority of its population was Armenian who resisted Azerbaijani rule for more than a century.
However, the region remained under the control of ethnic Armenians since a war ended in 1994 where tens of thousands of people died and a million others forced to leave their homes. In 1991 the region declared independence and since then it had ruled itself – with Armenian support – as the unrecognised Republic of Artsakh.
The mountainous, landlocked region inside the borders of Azerbaijan, is reported to have been a source of dispute since before the creation of the Soviet Union.
Tensions were suppressed when both Armenia and Azerbaijan were Soviet states, but they re-emerged as the cold war ended and Communist party control of the bloc dissolved.
However, Armenia and Azerbaijan never signed a peace treaty and the conflict remained unresolved, frequently seeing violent clashes for the past three decades. International mediation efforts led by Russia, France and the United States have made little headway.
The border between the two was considered one of the most militarized in the world, Laurence Broers, the Caucasus programme director at Conciliation Resources, a peace-building group told The Guardian.
September 29: Azeri Ambassador to UK calls for diplomatic solution as fighting intesifies
The disputed enclave of Nagorno- Karabakh which many countries recognise as part of Azerbaijan was a de facto independent state with an Armenian ethnic majority.
This was after Azeris were expelled during a civil war in the late 1980s and '90s and for years that conflict had been put on ice. however, the conflict has now fared up again and the concern was that outside powers like Turkey could be pulled into the dispute, further escalating it.
The ambassador of Azerbaijan to the United Kingdom, Tahir Taghizadeh called on the international community to help them find a long-term compromise He further asked for a solution including a right to return for those expelled thirty years ago.
September 30: Death toll in Nagorno-Karabakh battle rises
As the battle Between Armenian and Azerbaijani forces in the Nagorno-Karabakh region intensified, the number of casualties was reported to be nearly 100 as of September 30, 2020.
The BBC reported the self-proclaimed republic that was under the control of Ethnic Armenia reported 84 military deaths since Sunday, October 27 as well as civilian victims.
Azerbaijan, however, did not reveal its military losses but confirmed seven civilian deaths. The fighting appeared to be spilling out of Nagorno-Karabakh.
Armenia's defence ministry said a passenger bus had been hit by an Azerbaijani drone in the eastern Armenian city of Vardenis.
There were, however, no reports of casualties. Azerbaijan earlier said two of its civilians had been killed in Armenian shelling in Azerbaijan following the deaths of five people from the same family a day earlier.
October 1: Azerbaijan, Armenia defy calls for a ceasefire
Both the Azerbaijan and Armenia governments defied international calls for a ceasefire.
The United States, France and Russia jointly condemned the fighting over the disputed Nagorno-Karabakh region in the southern Caucasus.
However, Turkey which is an ally of Azerbaijan dismissed demands for a ceasefire saying it would be possible if Armenia ended its occupation of the Azerbaijan territory. In a joint statement, Russian President Vladimir Putin, French President Emmanuel Macron and US President Donald Trump all called for an immediate cessation of hostilities.
"We also call on the leaders of Armenia and Azerbaijan to immediately commit themselves to resume negotiations on the substance of the settlement in good faith and without preconditions," it read.
The three were speaking as co-chairs of the OSCE Minsk Group, which was founded in the early 1990s to try to find a peaceful solution to the Nagorno-Karabakh conflict.
Russia is said to be part of a military alliance with Armenia and has a military base in the country but it also has close ties to the government of Azerbaijan.
October 2: Armenia ready for truce talks as Nagorno-Karabakh capital is struck by missile
Armenia announced it was ready to engage with the United States, Russia and France on ending the six days of fighting with Azerbaijan that has left almost 100 people dead including civilians.
The three countries which co-chair the OSCE Minsk mediation group had called for a ceasefire, but so far Azerbaijan had not given a positive response to the proposed talks.
In the latest fighting, Azerbaijan forces said they had made further advances, but accused Armenia of artillery attacks on four villages, causing civilian casualties. Armenia says it has shot down seven drones flying near the capital, Yerevan, but the claim was rejected by Azerbaijan.
The regional capital Stepanakert was struck by drones several times in the last few days which are said to have been identifying targets for artillery fire.
At regular intervals on October 2, there was a sound of missiles landing. A rocket was reported to have come down in front of a government building on the outskirts of the town.
October 3: Civilians flee war-torn Nagorno-Karabakh region
Civilians were forced to flee the city of Stepanakert as clashes continued over the disputed Nagorno-Karabakh region. As the escalation of the conflict worsened, civilians bore the brunt of the surge in violence, the International Committee of the Red Cross said.
Civilian deaths and injuries, including children, were reported on both sides of the line of contact, and in Armenia. "We are already seeing the terrible impact this escalation is having on civilians," said Gerardo Moloeznik, the head of ICRC's sub-delegation in, Barda, Azerbaijan.
"The ICRC is ready to assist where needed, when conditions allow it, including supporting the Azerbaijan Red Crescent Society's local branches as they work in the community," he added.
People later tried to move themselves and their families to safety. Other families, including babies and children, were reported to be spending days and nights sheltering in unheated basements of their buildings, in an effort to escape the violence.
There were also reports of hundreds of homes and civilian infrastructure such as schools and hospitals destroyed by heavy artillery. Where buildings have been damaged, people were exposed to the dangers of unexploded ordnances.
October 4: Nagorno-Karabakh conflict intensifies, major cities hit
Azerbaijan's second-largest city, Ganja was shelled by Armenian forces.
Self-proclaimed authorities there said they hit Ganja's military airport after Azerbaijani forces shelled the region's capital, Stepanakert.
Azerbaijan, however, dismissed the claimed Ganja military sites were hit. More than 220 people were reported to have died since the clashes began on Sunday, September 27. There are fears that the actual death toll among the militaries from both sides as well as civilians could be much higher. This was because casualty claims had not been independently verified.
Azerbaijan's military said its forces had retaken control of seven villages since the fighting began. Nagorno-Karabakh, on the other hand, said its troops had "improved" their frontline positions. Armenia and Azerbaijan went to war over Nagorno-Karabakh in 1988-94, eventually declaring a ceasefire.
However, they have never reached a settlement over the dispute. The current fighting is the worst seen since the ceasefire and the two former Soviet republics have been blaming each other.
October 5: Armenia PM Nikol Pashinyan warns of a possible genocide in Nagorno-Karabakh
Armenia's Prime Minister Nikol Pashinyan defended his country's presence in the disputed Nagorno-Karabakh region. While referring to the region with its Armenian name for the area - Artsakh, Pashinyan said it was "Armenia, land of Armenians".
Pashinyan said the region was facing an assault from the combined forces of Azerbaijan, Turkey and what he called "terrorists" from Syria.
October 6: Iran warns of regional war as fighting rages Nagorno-Karabakh
On October 6, 2020, Iran warned the renewed fighting between its neighbours Azerbaijan and Armenia could escalate into a wider regional war.
President Hassan Rouhani said he hoped to restore stability to the region following days of heavy clashes over the disputed Nagorno-Karabakh enclave.
"We must be attentive that the war between Armenia and Azerbaijan does not become a regional war," Rouhani said.
"Peace is the basis of our work and we hope to restore stability to the region in a peaceful way," he added.
October 7: Iconic Shusha cathedral in Armenia shielded
Armenia accused Azerbaijan after a historic cathedral in Nagorno-Karabakh was shelled as fighting continued over the disputed region.
Photos showed damage to both the interior and exterior of the Holy Saviour Cathedral in Shusha city. More than 300 people were reported dead as of Wednesday, October 7, and thousands displaced since the fighting broke out on 27 September 2020.
International monitors from the US, Russia and France have begun efforts to try and end the violence. They are meeting the Azeri foreign minister in Geneva on Thursday, October 8. The Armenian foreign minister is due to meet his Russian counterpart in Moscow on Monday, October 12.
October 8: Azerbaijan denies shelling historic cathedral in Nagorno-Karabakh
Azerbaijan denied its forces had shelled a historic cathedral in Nagorno-Karabakh's city of Shusha as claimed by Armenia.
"The information about the damage to the church in Shusha has nothing to do with the military actions of the Azerbaijani army," the defence ministry said in a statement.
"Unlike the armed forces of Armenia… the Azerbaijani army does not target historical, cultural, or especially religious buildings and monuments," the statement read on.
Azerbaijan later recalled its ambassador to Greece for consultations. This was after it alleged Athens had allowed Armenian citizens from around the world to transit through its territory to join the battlefront.
"We brought to the attention of the Greek Foreign Ministry information from open sources about the arrival of Armenian citizens from foreign countries," the ministry said in a statement.
"Including from Greece, to the occupied territories of Azerbaijan to participate in military operations," the statement read on.
Armenia denied the allegations and Athens had recalled its ambassador to Azerbaijan on Wednesday after what it said were "unfounded and offensive" allegations by the Azeri government that Greece tolerated militants on its soil.
October 9: Homes and buildings destroyed in civilian areas
New explosions rocked the region on Saturday, October 10, despite a cease-fire order with Azerbaijan and Armenia immediately accusing each other of violations.
The ceasefire agreement did appear to curb artillery fire during the afternoon, with some Stepanakert residents emerging from their homes after days of heavy bombardment. Both sides accused each other of further violations on Sunday, October 11. But a senior Azerbaijani official said the truce was only meant to be temporary.
October 10: Armenia and Azerbaijan hold first direct talks
Armenia and Azerbaijan held their first direct talks since clashes over the disputed Nagorno-Karabakh region flared up nearly two weeks ago.
The talks in Moscow between the countries' foreign ministers were mediated by their Russian counterpart, Sergei Lavrov. The United Nations (UN) said it was concerned about reports that populated areas are being shelled.
More than 300 people have died and thousands displaced since the latest violence broke out on September 27. Nagorno-Karabakh is run by ethnic Armenians although it is officially part of Azerbaijan. The two former Soviet republics have blamed each other for the latest outbreak of violence - the worst in decades.
October 11: Armenia continues bombing civilians
Azerbaijani authorities reported an attack on a residential area in Ganja, the country's second-largest city on Sunday, October 11.
At least nine people were reported dead and 34 others injured during the attack. Azerbaijani President Ilham Aliev denounced the violation of the ceasefire that had just been agreed on by both sides.
The ceasefire was due to come into force on Saturday, October 10, at 12pm local time. Azerbaijan accused Armenia of not respecting the truce agreement that entered into force the day before, and of continuing the bombing of civilian areas.
In the afternoon, no exchange of prisoners or bodies which was a stated objective of the humanitarian ceasefire negotiated in Moscow had been announced.
In Ganja, journalists reported they saw Azerbaijani rescuers at work in the rubble of a building, from which two bodies were removed. A total of nine apartments were destroyed, according to witnesses, by a strike at 2am local time.
October 12: Red Cross urges Armenia, Azerbaijan to finalise prisoner, body swap
The International Committee of the Red Cross (ICRC) urged Armenia and Azerbaijan to finalise plans for it to handle the exchange of detainees and bodies from the Nagorno-Karabakh conflict.
This was after a humanitarian ceasefire was agreed on Saturday, October 10. Martin Schuepp, ICRC Eurasia regional director, told a news briefing in Geneva that it was passing proposals back and forth.
"To date, we keep discussing intensely with the sides on this topic. But no meaningful agreement has been reached yet that will allow us to actually proceed to such an exchange," he said.
"So discussions are going on with the sides, and we hope that the conditions will be met in order to actually implement such an operation in the future," he added.
The regional director further called for security guarantees to be provided for ICRC staff. Stephane Dujarric, spokesperson for UN Secretary-General Antonio Guterres said the UN was very disappointed to receive reports of ceasefire violations and considered them unacceptable.
Dujarric also called on all parties to fulfil their agreements to a ceasefire announced in Moscow. "We also share the High Commissioner for Human Rights' alarm at the suffering of civilians," Dujarric said.
October 13: Nagorno-Karabakh officials say 17 servicemen killed
Ethnic Armenian officials in Nagorno-Karabakh said 17 more servicemen had been killed in fighting with Azerbaijan.
Russia's Interfax news agency reported the new figure brought the total Armenian military death toll to 542 since fighting broke out on September 27, 2020.
Heavy fighting was also reported in the disputed region of Nagorno-Karabakh on Tuesday, October 13 despite international appeals to return to an agreed ceasefire. Authorities in Nagorno-Karabakh reported rocket and artillery fire from the Azeri side.
A drone also crashed on Iranian soil in the northwestern province of Ardebil in an area close to the border with Azerbaijan.
According to a local official who spoke with state-run IRNA, the unidentified drone crashed on agricultural lands in a village in the county of Parsabad and inflicted no damage.
There is speculation online that the drone could be an Israeli Harop operated by the Azerbaijani army. Hours later, A widely shared video purporting to show Iranians watch as Azeri and Armenian forces exchange rocket fire was debunked as fake.
Turkish Foreign Minister Mevlut Cavusoglu then announced international calls for a ceasefire between Azeri and Armenian forces in the Nagorno-Karabakh region were reasonable.
He, however, noted world powers should urge Armenia to withdraw from Azeri lands. Speaking at a news conference with his Swedish counterpart Ann Linde in Ankara, Cavusoglu said holding a meeting with all 11 members of the Minsk group would benefit talks on the issue.
The United States Secretary of State Mike Pompeo called for Armenia and Azerbaijan to implement the agreed-upon ceasefire brokered by Russia. Pompeo also asked the two countries to stop targeting civilian areas.
Armenian Prime Minister Nikol Pashinyan, n the other hand, said he believed only a change in Turkey's stance on Nagorno-Karabakh could prompt Azerbaijan to halt military action.
"I'm convinced that for as long as Turkey's position remains unchanged, Azerbaijan will not stop fighting."
Pashinyan told Reuters news agency. The Armenian leader, however, gave no indication that he saw any sign of Ankara shifting its position.
October 14: Russian reiterates calls for truce as Azerbaijan warns Armenia against hitting gas pipelines
The Russian Defence Minister Sergei Shoigu on Wednesday, October 14, appealed to his Armenian and Azerbaijani counterparts to observe a ceasefire in the Nagorno-Karabakh region.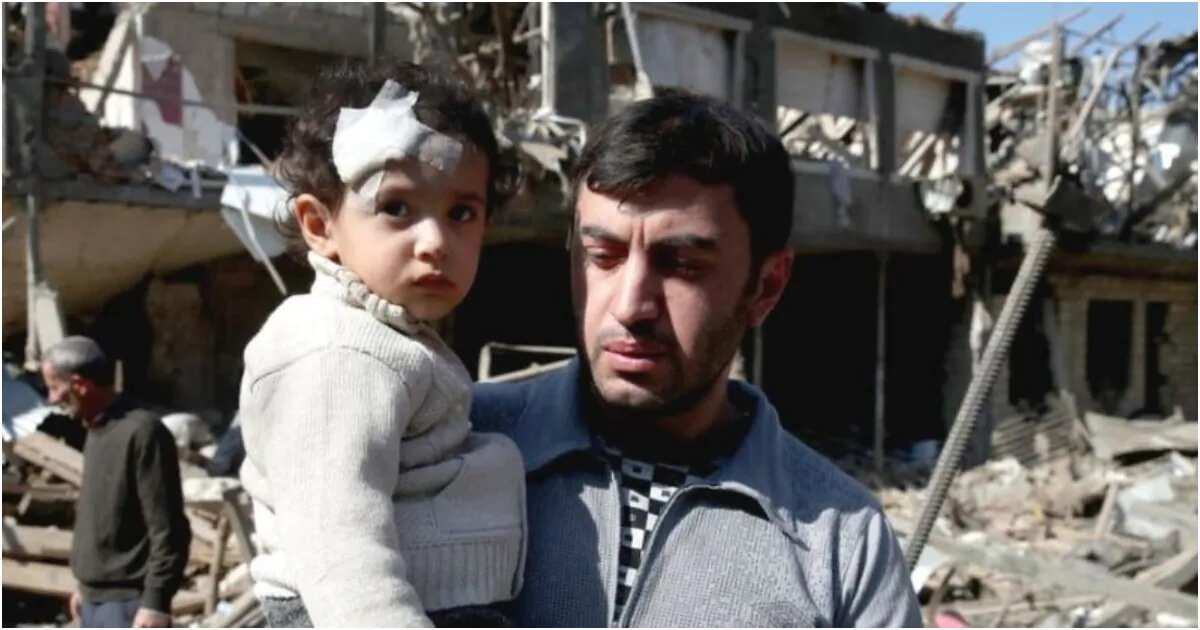 The International Committee of the Red Cross (ICRC) director for Eurasia Martin Schuepp, on the other hand, called on Azerbaijan and Armenia to cease hostilities.
"We project that at least tens of thousands of people across the region will need support over the next few months. Civilians are dying or suffering from life-changing injuries," he said.
"Homes, businesses and once-busy streets are being reduced to rubble. The elderly and babies are among those forced to spend hours in unheated basements or to leave their homes,"
Despite the calls, Azerbaijan's defence ministry announced it had destroyed two missile launch sites in Armenia that were being used to target civilian areas.
Armenia's defence ministry confirmed that areas inside the country had been targeted, but denied its forces were firing into Azerbaijan.
The ministry said it reserved the right to target any military installations and combat movements on the territory of Azerbaijan.
October 15: Armenian Prime Minister Nikol Pashinyan admits significant casualties
Armenian Prime Minister Nikol Pashinyan on Thursday, October 15, admitted his forces had suffered significant casualties in the battle with Azerbaijan. Pashinyan, however, said Armenian forces were still in general control.
October 18: Armenia, Azerbaijan agree new Nagorno-Karabakh truce
Armenia and Azerbaijan agreed to a humanitarian ceasefire from midnight, both countries said on the night of Saturday 17, 2020.
The move came after Azerbaijan said 13 civilians were killed in an Armenian missile attack on its second-biggest city, Ganja.
The overnight missile raid also wounded dozens of people who were sleeping and destroyed a row of homes.
The new agreement was announced following phone calls between Russian Foreign Minister Sergey Lavrov and his counterparts. Lavrov urged the countries to abide by a Moscow-brokered truce that had frayed immediately after it took force.
The two sides trade blame for breaching that deal. The agreement was welcomed by the French President Emmanuel Macron and stressed it should be strictly respected by both parties.
"This ceasefire must be unconditional and strictly observed by both parties," the president's office said in a statement.
"France will be very attentive to this and will remain committed so that hostilities cease permanently and that credible discussion can quickly begin," it added.
October 19: UN boss urges Nagorno-Karabakh rivals to respect truce
UN chief Antonio Guterres on Sunday, October 18, called on Armenia and Azerbaijan to respect the truce and condemned attacks on civilians in fighting over Nagorno-Karabakh.
Guterres singled out one of the deadliest attacks on civilians so far when a missile hit a residential area of Azerbaijan's second city Ganja killing 13 people including children.
Guterres made the announcement after an Armenian defence ministry spokeswoman said Azerbaijan broke the ceasefire after just four minutes by firing artillery shells and rockets.
October 20: Armenia, Azerbaijan announce US will host Nagorno-Karabakh truce talks
Armenia and Azerbaijan said on Tuesday, October 20 their foreign ministers would meet US Secretary of State Mike Pompeo in Washington on Friday, October 23.
The meeting is in efforts to end the heaviest fighting in the Nagorno-Karabakh region since the 1990s.
It was not immediately clear whether the warring sides' foreign ministers would meet Pompeo separately or at the same time, Reuters reported Azerbaijan said its foreign minister, Jeyhun Bayramov, would also meet envoys of the OSCE security and rights watchdog's so-called Minsk Group.
The group's co-chairs Russia, France and the United States have for years led mediation in the conflict. Armenia released few details about its Foreign Minister Zohrab Mnatsakanyan's plans in Washington.
Russia has until now been driving the mediation efforts but two ceasefires brokered by Moscow in early October have not stopped the fighting.
Turkey is also part of the Minsk Group but has not been involved in mediation, and its relations with its NATO allies have been further strained by the fighting.
It denied accusations that it sent mercenaries from the conflicts in Syria and Libya to fight in Nagorno-Karabakh.
The country stepped up arms sales to Azerbaijan in early 2020 but it denied any direct involvement in the fighting.
October 21: Fresh shelling at the Nagorno-Karabakh region
A truce in Nagorno-Karabakh was under severe strain after fresh clashes between Azeri and ethnic Armenian forces erupted on Tuesday, October 20.
A second attempt at a truce agreed on Saturday, October 17, had little impact on fighting that began on September 27, 2020. This was despite concerns that the fight could erupt into an all-out war involving Russia and Turkey.
Azerbaijan's Ministry of Defence reported fighting in several areas, including disputed territory close to the line of contact that divides the sides. Ethnic Armenian officials in Nagorno-Karabakh also reported fresh shelling and said fighting was particularly intense in southern areas of the conflict zone.
In less than one month of fighting, several hundred people have been killed, including dozens of civilians on both sides. Ethnic Armenian officials say at least 772 troops had died, while Azerbaijan does not disclose its military death toll.
In a tweet on Tuesday, Azerbaijani President Ilham Aliyev said his country has made territorial gains. In an interview with the BBC, Armenia's Foreign Minister Zohrab Mnatsakanyan said the country was facing three enemies – Turkey, Azerbaijan and "foreign terrorists" – who he alleged were brought from Syria.
Armenian Prime Minister Nikol Pashinyan and Aliyev told Russia's TASS news agency in separate interviews on Monday they were ready to visit Moscow for talks. The new truce was meant to come into effect at the weekend and followed a similar deal brokered by Russia a week earlier.
In both instances, Armenia and Azerbaijan accused one another of breaking the truce within hours of agreed deadlines.
Meanwhile, according to reports, the Armenian and Azeri foreign ministers were expected to hold talks with US Secretary of State Mike Pompeo in Washington, DC in separate meetings. The United States Department of State did not immediately comment.
October 22: NATO distances itself from ongoing Nagorno-Karabakh conflict
The North Atlantic Treaty Organization (NATO) Secretary-General Jens Stoltenberg has said the organisation was not a part of the conflict in Nagorno-Karabakh region.
Stoltenberg made the remarks on Wednesday, October 21, in a joint news conference with Armenia's President Armen Sarkissian.
"I reminded the [Armenian] president that NATO is not part of this conflict. Both Armenia and Azerbaijan have been valued NATO partners for more than 25 years," he said.
"NATO is deeply concerned by ongoing violations of the cease-fire, which have caused tragic loss of life," added Stoltenberg.
He further added that ending hostilities and sufferings is important for both the alliance and international security.
"It is vital that all sides now show restraint, observe the cease-fire, and de-escalate. Any targeting of civilians is unacceptable and must stop," he said.
The World Health Organisation (WHO) also expressed concerns regarding the escalation in hostilities in the areas of and around Nagorno-Karabakh.
A statement by the regional director for Europe on the Nagorno-Karabakh conflict showed hostilities were contributing to a dramatic acceleration in COVID-19 transmission.
The statement released on Thursday, October 22, further showed continued cycles of violence and subsequent population displacement will exacerbate the precariousness of the health situation.
"The conflict is causing a direct disruption to health care, further burdening health systems that are already stretched by the pandemic, the statement read.
"This comes at a time when COVID-19 case numbers across the WHO European Region continue to surge," it read on.
The organisation further urged all parties to the conflict to protect civilians and health-care facilities caring for the wounded and sick in line with international humanitarian law.
In the context of COVID-19, it noted it was especially crucial that all health workers were kept safe from violence so they could sustain the pandemic response.
October 23: Putin says nearly 5000 dead in conflict as Pompeo hosts foreign ministers from both sides
Russian President Vladimir Putin said that almost 5,000 people have been killed in fighting between Azerbaijan and Armenian forces over the disputed Nagorno-Karabakh region.
This was reportedly far higher than the death toll given by the two sides.
Putin said that he speaks to the two sides several times a day, and would not be taking sides in the conflict.
He said Moscow disagreed with Turkey - which supports Azerbaijan - over the conflict.
The Russian president also called on the United States to assist in seeking peace in the region.
The US Secretary of State Mike Pompeo met in Washington with the foreign ministers of Azerbaijan and Armenia in a bid to help end the intense fighting.
Pompeo invited Azerbaijani Foreign Minister Jeyhun Bayramv and Armenian Foreign Minister Zohrab Mnatsakanyan to meet with him separately at the State Department.
The meeting in Washington on Friday, October 23 was arranged after two failed Russian attempts to broker a cease-fire in the worst outbreak of fighting over the region.
However, Armenian Prime Minister Nikol Pashinyan had said on Wednesday, October 21, he saw no possibility of a diplomatic solution at this stage of the conflict.
For his part, Azerbaijani President Ilham Aliyev has said Armenian forces must withdraw from Nagorno-Karabakh to end the fighting.
Also Wednesday, Turkey said it will not hesitate to send troops and provide military support to help Azerbaijan if such a request is made.
Pompeo has called on other countries not to provide "fuel" for the conflict.
Shortly before the meetings in Washington began, Turkish President Tayyip Erdogan said he hoped to collaborate with Russia to resolve the conflict.
October 24: 'Execution' video surfaces prompting war crime probe
Videos of a potential war crime emerged as fighting raged around the disputed territory of Nagorno-Karabakh between Azerbaijan and ethnic Armenians.
One video posted on a messaging app showed what appeared to be two Armenians in military uniforms being captured by troops from Azerbaijan.
A second video seemingly showed the same Armenians being shot with their hands behind their backs.
Armenian authorities identified the men as 73-year-old Benik Hakobyan and 25-year-old Yuri Adamyan.
Azerbaijan, however, dismissed the videos as fake.
Europe's top human rights watchdog, the Council of Europe, has said it has received the video and will investigate all alleged human rights abuses.
According to a report by BBC, the first video appeared to show Armenians Benik Hakobyan and Yuri Adamyan being taken, prisoner.
In the video, someone speaking Russian with a heavy Azerbaijani accent ordered the men to walk forward, surrender any weapons and raise their hands.
He then speaks to the other soldiers in Azerbaijani, telling them not to hit the captives.
The younger prisoner, Yuri Adamyan, removes a helmet and his jacket before putting his hands in the air and walking out of shot.
Although the older man, Benik Hakobyan, is wearing a military-style camouflage jacket, it was unclear whether he was a soldier.
He is then pushed to the ground and appears to moan in pain. The first video was followed by a second that shows the apparent execution of the two men.
The prisoners appeared to have their hands bound behind them and are draped in the flags of Armenia and the unrecognised republic of Nagorno-Karabakh.
They were sitting on a small wall and could be seen moving slightly.
Then someone ordered in Azerbaijani: "Aim at their heads." Multiple shots are heard and the prisoners slumped to the ground.
Azerbaijan's defence ministry quickly denied these were their troops and called the videos a provocation.
The clips were deleted shortly afterwards.
October 25: Azerbaijan, Armenia agree on fresh humanitarian truce
Armenia and Azerbaijan again agreed to respect a "humanitarian ceasefire" in the conflict over the mountainous enclave of Nagorno-Karabakh.
This was according to a joint statement from the United States (US) State Department and the two governments released on Sunday, October 25. The truce was to take effect at 8am local time (04:00 GMT) on Monday, October 26.
The statement further noted the US Deputy Secretary of State Stephen Biegun also met the foreign ministers of the two countries on Saturday, October 24.
In a separate statement, the OSCE Minsk Group, formed to mediate the conflict and led by France, Russia and the United States, said its co-chairs and foreign ministers would meet again on October 29 to discuss the Nagorno-Karabakh issue.
"During their intensive discussions, the co-chairs and foreign ministers discussed implementing an immediate humanitarian ceasefire, possible parameters for monitoring the ceasefire, and initiating discussion of core substantive elements of a comprehensive solution," a statement from the Minsk Group said.
An earlier truce brought a brief lull on Saturday before each side accused the other of violating it.
Armenia on Sunday accused Azeri forces of shelling civilian settlements but Baku denied killing civilians and said it was ready to implement a ceasefire, provided Armenian forces withdrew from the battlefield.
October 26: US-brokered ceasefire violated soon after starting
Armenia and Azerbaijan accused each other of violating the US-brokered ceasefire announced in Washington on Sunday after it came into effect on Monday.
Two other ceasefires agreed earlier this month over the conflict were broken almost immediately. The "humanitarian ceasefire" was announced in a joint statement released by the US, Armenian and Azerbaijani governments.
It followed discussions between US Deputy Secretary of State Stephen Biegun, Armenian Foreign Minister Zohrab Mnatsakanyan and his Azerbaijani counterpart Jeyhun Bayramov.
The US state department said the agreement was reached following intense negotiations and US President Donald Trump tweeted on Sunday to congratulate those involved.
However, within minutes of the ceasefire coming into effect, Azerbaijan accused Armenian forces of shelling the town of Terter and nearby villages in "gross violation" of the agreement. Armenia's defence ministry said Azerbaijani artillery had fired on military positions in various parts of the front line after the ceasefire agreement had begun.
In a post on Facebook, Armenian Prime Minister Nikol Pashinyan insisted his country would continue to strictly adhere to the ceasefire regime. Hikmet Hajiyev, a spokesman for the Azerbaijani president, said Armenia was trying to preserve the status quo based on occupation further adding the Azerbaijani side was exercising restraint.
October 27: Turkey calls on Minsk Group to hold talks on Nagorno-Karabakh conflict
Turkey called on the co-chairs of the Minsk Group to start a results-oriented negotiation process aiming for a permanent solution to the conflict between Armenia and Azerbaijan.
Turkish Foreign Ministry spokesman Hami Aksoy said for the efforts of the Minsk Group to yield results, it would be necessary to take into account the recent cease-fire violations by Armenia.
The spokesman further noted it would also be important to launch such talks in line with the United Nations (UN) Security Council resolutions on the issue and international law. The Organization for Security and Co-operation in Europe (OSCE) Minsk Group – co-chaired by France, Russia, and the US – was formed in 1992 to find a peaceful solution to the conflict.
Aksoy noted that Yerevan had violated three cease-fires – one on October 10, another on October 18 and the latest going into effect on Monday, October 27, morning.
He said the latest truce had been declared to allow for the exchange of prisoners of war and bodies as a result of the initiatives of the US but was violated again "in minutes" by Armenia.
It continued its attacks on Azerbaijani positions on the front line and civilian targets in Azerbaijan's inner regions far from the conflict zone Relations between the two former Soviet republics have been tense since 1991 when the Armenian military occupied Upper Karabakh or Nagorno-Karabakh.
The region is internationally recognized territory of Azerbaijan, and the seven adjacent regions. Four UN Security Council resolutions and two from the UN General Assembly, as well as international organizations, demand the "immediate complete and unconditional withdrawal of the occupying forces" from the occupied Azerbaijani territory.
October 28: Armenia dismisses head of military intelligence unit after defeat
Yerevan dismissed the head of the Counterintelligence Department of the National Security Service of Armenia, Major General Hovhannes Karumyan.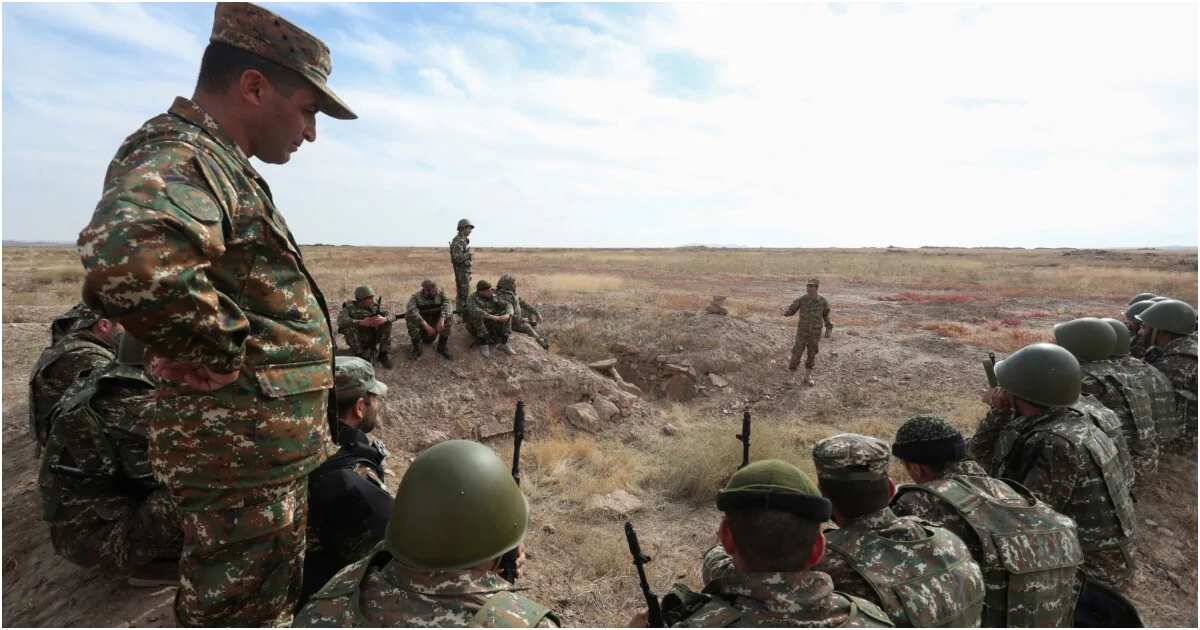 This was after suffering heavy defeat amid clashes with Azerbaijan over the occupied Nagorno-Karabakh region.
The dismissal came after Azerbaijani President Ilham Aliyev announced that the Azerbaijani army had liberated the city centre, as well as certain villages in Qubadli, Zengilan and Jabrayil. Armenia was reported to have replaced a number of commanders and top officials since the beginning of the conflict.
On Monday, October 27, Commander of the Border Forces Vaginak Sarkissian was sacked at the suggestion of Prime Minister Nikol Pashinian.
The chief of Armenian intelligence services, Argishti Kyaramyan, was also removed from duty on October 8 amid heavy losses in the fight against the Azerbaijani military.
Russia's Ria Novosti news agency reported later in the day that the Armenian Defense Ministry confirmed Qubadli's capture by Azerbaijani troops.
"Long live Azerbaijan's Army! Karabakh is Azerbaijan!" said Aliyev referring to efforts to liberate Nagorno-Karabakh, from nearly 30 years of Armenian occupation.
October 29: Armenian protesters attack Turkish citizens in France, injure 5
Members of the Armenian community wounded four Turkish citizens while demonstrating early Wednesday, October 28 on the A7 motorway, connecting France's Lyon and Marseille.
According to French media reports, the disputes erupted between Turkish citizens and Armenians supporting Yerevan in its conflict with Azerbaijan.
The fights, which drew in a dozen people, ended with five injured, four of whom are of Turkish origin. The 300-400 Armenian protesters had closed the highway to traffic from both sides.
When a group of Turkish people trying to go to work reacted to the protest, they were attacked heavily. Upon reports of the clashes, a video circulated on social media showing protesters with Armenian flags on their backs chasing after and beating down two people with sticks.
After being cut off for several hours, traffic was able to resume on the A7 at around 10 a.m. Relations between Azerbaijan and Armenia, two former Soviet republics, have been tense since 1991 when the Armenian military occupied Nagorno-Karabakh.