Jigawa women contribute money to buy car for pregnancy emergency
- Thoughtful women in a Taura local government-based community saved thousands of naira to buy a car for pregnancy emergencies
- With no ambulance and the old vehicle they used broken down, the women pooled resources together and purchased a new car
- The vehicle is already in use and was recently used to take one of the contributors to hospital for delivery
PAY ATTENTION: Click "See First" under the "Following" tab to see Legit.ng News on your Facebook News Feed!
Local women in the Jigawa state community of Bardo have purchased a car to cater to pregnancy emergencies in the area in a thoughtful that has earned them great commendations.
Channels TV reports that the women in the village contributed N1,000 each to save enough to by the car, a Volkswagen station wagon.
According to the report, the money they saved was part of the federal government's conditional cash transfer to families in the community.
"It is with the cash transfer that we are receiving from the federal, that we sat down and thought of how we could help ourselves. So, we decided to contribute N1,000 each and we bought this vehicle," one of the women, Halima Adamu Boddo said.
She explained further that getting the vehicle became necessary after the one they used for the same purpose broke down three years before.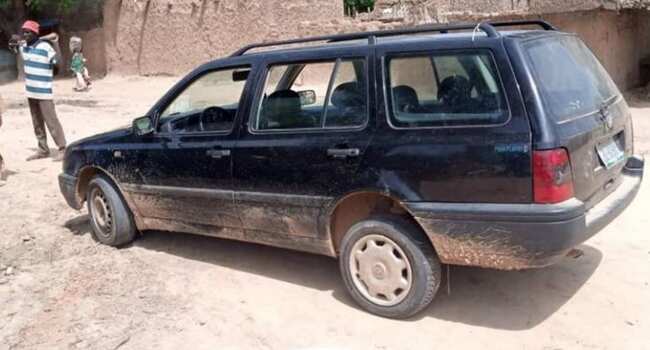 Zayya Auwalu, a co-contributor in the scheme, has already benefitted from it. The new car was used to take her to the hospital for the delivery of her new baby.
BBC Hausa reports that it is about 29 kilometres from Bardo community to the nearest maternity facility in Jahun Hospital.
The Executive Director of Rural Initiative for Comprehensive development, Hadiza Abdulwahab hailed the women for the move.
She was particularly impressed that the women were so concerned about the wellbeing of their colleagues enough to save for the car.
"For women to have thought of their fellow women is actually a sign of great altruism, therefore, these women deserve commendation," Hadiza said.
The people of Bardo hope that government will eventually come to their aid and establish a hospital closeby.
Nigeria has a steadily growing population that is plagued by a lack of adequate maternity facilities, especially in remote areas of the north.
That, however, has not reduced the rate of childbirth across the nation.
Legit.ng reported earlier that the United Nations Children's Fund (UNICEF) announced in late 2019 that an estimated 26,039 children would be born in Nigeria on 2020 New Year's Day alone.
Top 5 reasons Nigerian women are special | Legit TV
Source: Legit.ng