Lady abandoned by in-laws because of her tribe celebrates coming out strong with her kids 4 years after hubby's death
- A young widow, Dorine Darlington Obi, has accused her late husband's family of abandoning her and the kids
- Dorine who was pregnant as at when her husband died said no of her in-laws has seen her newborn child who turns four recently
- Despite all she has been, the young lady is celebrating coming out of her trying time strong
A widowed Nigerian mother, Dorine Darlington Obi, is celebrating her turn around in life four years after she was abandoned by her husband's relatives after the untimely death of her husband.
The lady narrated that she was inconsolable after her loss, and her pains were made worse by the rejection she faced from her husband's family just because she is from another tribe.
Narrating her ordeal, Dorine wrote on her Facebook page:
"At a point sometimes, I would cry while breastfeeding my son. I would apologise to him and his sister for facing such hatred. I beat myself up severally for going into a family where I was not loved ( I wasn't aware before marriage ). I was depressed at those times. Postpartum depression set in. I started seeing my getting married as the worst mistake I ever did. I was very young.
My kids were rejected. I wish Obi in his grave could see that a family he slaved for abandoned his children after his death. The only crime I committed was coming from Ngwa ( Abia State) I was told to my face severally. Till today, non of their father's family came to see their grandson and nephew. I gave myself the courage to hustle very hard and smart to give them the best I could.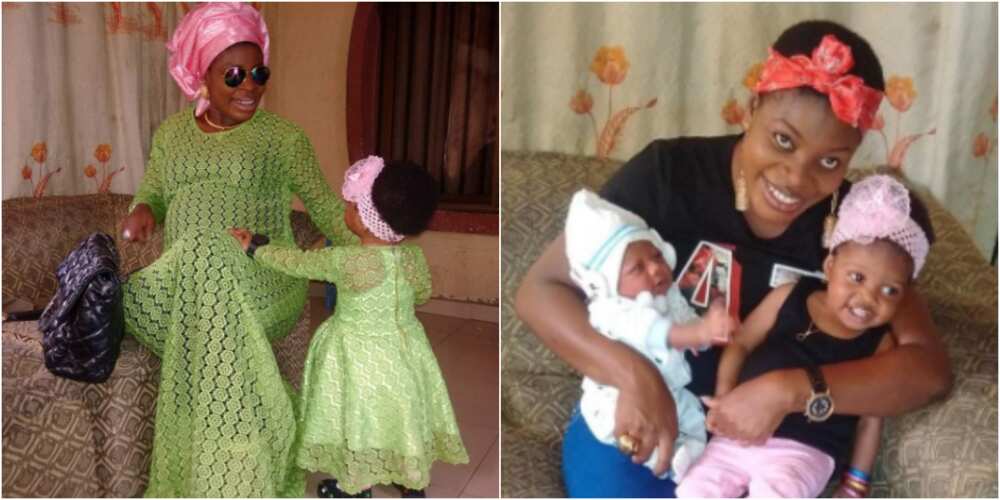 She went on to reveal that God came through for her:
God came through and bestowed strength and Grace on me. Today, we are doing well. We do not look a bit like what life put us through. Our trials have shaped me into a strong, resilient, confident, hardworking, streetwise, happy woman. When men thought I couldn't do it. God did and still does it for me. I have come to return the glory after four whole years."
Dorine who was pregnant as at the time went ahead to narrate how her pastor's wife admonished her not to still be mourning by the time she will give birth. The pastor's wife told her to end mourning and receive the newborn as a happy woman.
The lady said she asked for more time to ruminate over her loss and fixed a September 18, for coming out of it and holding a thanksgiving in the church. This is because her doctor had told her she will be delivered of her newborn on October 4, so she felt September 18, was a good date to start a new life.
Lo and behold, Dorine claimed she had a dream and God told her to shed her mourning cloth earlier so she held her thanksgiving on September 4, and miraculously gave birth on September 12.
Meanwhile, Legit.ng reported that a Nigerian man identified on Twitter as @IamTytanium took to the microblogging site to mourn his father who died of COVID-19.
According to @IamTytanium, he lost his father to COVID-19 on Wednesday, July 15. He said the deceased was a great man who was his role model.
The bereaved went on to disclose that his father left a heavy load for him to carry by virtue of his death but he will not break in the course of carrying it.
PAY ATTENTION: Do you have news to share? Contact Legit.ng instantly
Isioma Morde: 28-year-old widow says not every young lady loves prostitution | Legit TV
Source: Legit.ng