Omolara Akintayo: Nigerian lady narrates horrifying experience in Libya
- Omolara Akintayo, a Nigerian lady who travelled to Libya, says she regrets travelling to the North African country
- The 24-year-old lady says she travelled to Libya for greener pastures because her parents were languishing in poverty
- According to her, a lot of unpleasant things happened on her way to Libya which included drinking water mixed with faeces
PAY ATTENTION: Click "See First" under the "Following" tab to see Legit.ng News on your Facebook News Feed!
A 24-year-old Nigerian lady identified as Omolara Akintayo has said she regrets travelling to Libya in search of greener pastures.
In a video interview with Legit TV, the young lady said she travelled to Libya in search of greener pastures because her parents were languishing in poverty.
Omolara narrated the ordeal she went through on her way to Libya, saying she spent 14 days to get to the North African country.
According to her, while they were in the desert, some people lost their lives and others were forced to drink water mixed with faeces as there was no clean water and food.
Omolara said two of her friends were raped in the desert during their trip to Libya.
She said: "Many things happened on our way. If I had heard about them before leaving Nigeria, I wouldn't have travelled to Libya."
Omolara said terrible things would have happened to her and others who stayed alive if not for God that saved them.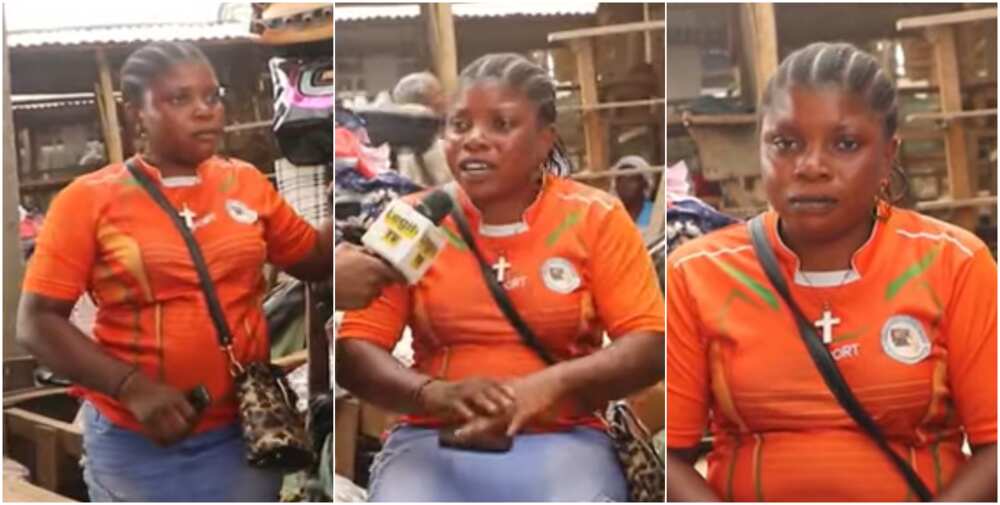 She said: "When we got to Libya, I paid the person who took me there N600,000 in one year."
The young lady said the same person she paid N600,000 abandoned her in an Arab man's house and she was not allowed to go out for a year.
She said: "This person was collecting my salary every month while I was doing all the work. I couldn't eat there because I could not eat their food there.
"Sometimes I would sleep by 2am or 3am because we had to wash plate in the Arab's house. Sometimes we would wash their faeces, dress the elderly ones. There was nothing we did not do. Chores that I couldn't do for my parents, I did them while I was there."
The young lady said she blamed herself for travelling to Libya, adding that she was unable to communicate with her parents for two years.
She said when she had an issue with her job, she was asked if she would be able to engage in prostitution but she said she couldn't, adding that she preferred to work as a cleaner.
PAY ATTENTION: Install our latest app for Android, read the best news on Nigeria's #1 news app
Omolara said: "I continued as a cleaner in an Arab man's house. For two years, I was indoors and didn't know what was happening outdoors, to the extent that I wouldn't know when my boss came to collect my salary."
She said she regained her freedom after she finished paying the person that took her to Libya.
Watch the video below:
In other news, the story of Princess Anta Madjiguene Ndiaye is one that always amazes anybody who reads it.
The Senegalese was captured and sold into slavery. Her people had to spend two centuries before they knew where she had been. In 2018, they welcomed her spirit back home with a big celebration.
Nigerians speak on slavery in Libya | Legit TV
Source: Legit.ng